Here comes the sun… As we have now changed our clocks to daylight saving time and the evenings finally begin to stretch, a sense of warmer, brighter days around the corner may be helping to keep spirits up in uncertain times. The evolving seasons and cycles of the natural world and how we respond to them have always provided material for artists. The particular blend of possibility and nostalgia which our warmest season evokes makes it an injuring inspiration.
In this Magazine article, Ciara Ball from our Visitor Engagement Team, invite us to have a look at selected artworks from the IMMA Collection that help us recall summers past and think of pleasures on the way.
……………………………………………………………………………………..
Children, Masterson's Lane (1952) and Old Men Sitting, St Stephen's Green (1952) by Nevill Johnson
Though black and white, Nevill Johnson's photographic depictions of Dublin in the 1950's are flooded with sharp summer light, the freshness of browning limbs and laundry flapping, and the relief of a city bench on a hot day.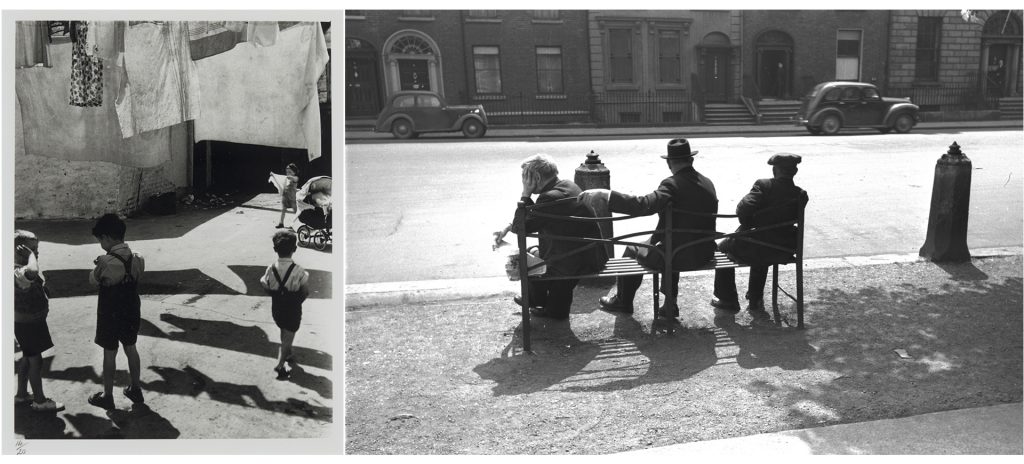 A Picnic (1940) by Louis le Brocquy
Like many youthful summer romances, this early painting by Louis le Brocquy combines a sense of idle leisure and underlying tension which belies the innocence of its title, 'The Picnic' (1940).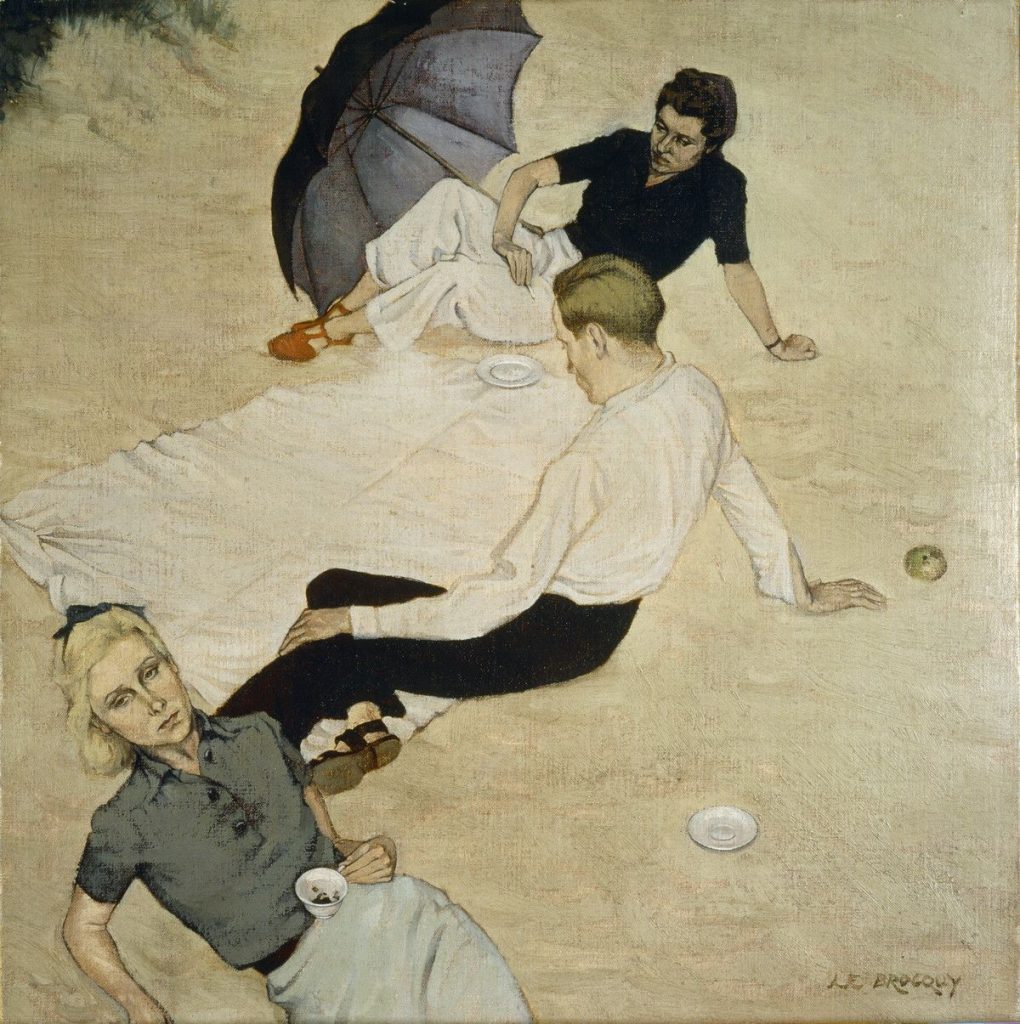 County Kerry (1988) by Harry Gruyaer
Harry Gruyaert's glowing image of sunbathers basking catlike in County Kerry takes us back to a world where tan lines were still the acceptable outcome of a blazing bank holiday.
Belgian photographer Harry Gruyaert began his 'TV Shots' series when living in London in the late 1960s. He was awarded the Kodak Prize in 1976 and joined Magnum Photos in 1981. Gruyaert has photographed worldwide and exhibited extensively since 1974. He has published ten photographic books and his work can be found in numerous collections including Centre Georges Pompidou, Paris; Metropolitan Museum Tokyo, Japan and Bibliothèque Nationale de France, Paris.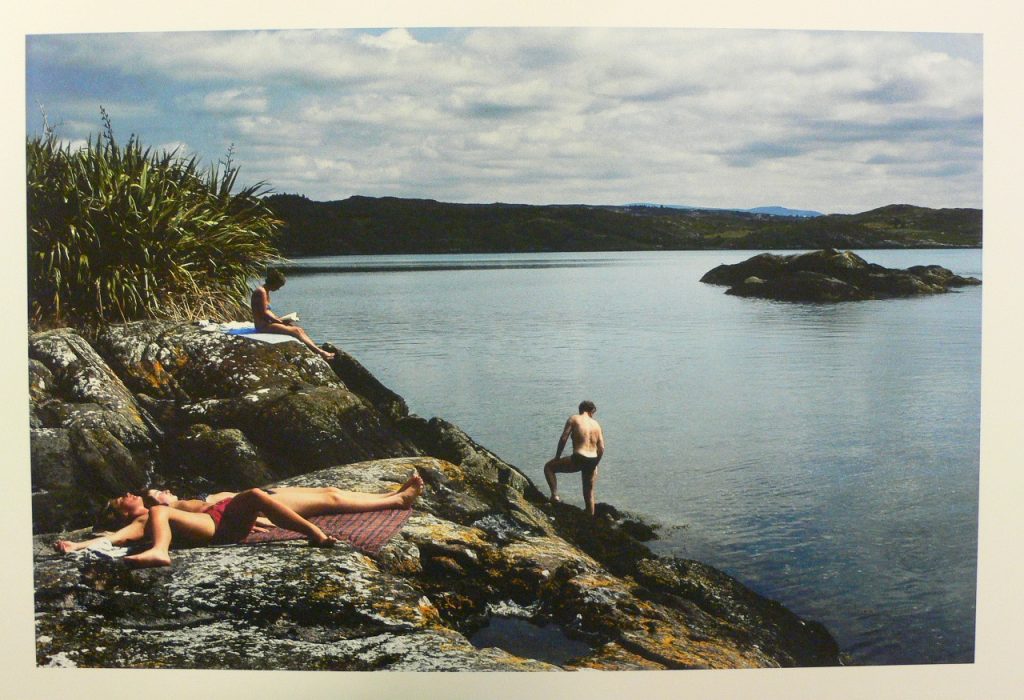 Children Showering after Swim in Porchester Pool (1989) and Swimmers, Porchester Pool, London (1988) by Elinor Wiltshire
Elinor Wiltshire's graphic needlepoint works document life in London and summer in the crowded city. As her swimmers' bob and shower in close proximity we can almost smell the chlorine and fabric softener from waiting towels.
Elinor Wiltshire (nee O'Brien) and her husband Reginald founded the Green Studios on St Stephen's Green in 1951. Following Reginald's death in 1968, Elinor sold the studio and moved to London where she worked as a botanist and researcher at the Natural History Museum. Wiltshire later donated her collection of photographic negatives and prints to the National Library of Ireland. The bulk of the work features Dublin, providing a view of life in the capital during the 1950s and 60s. Between 1982 and 1989, Wiltshire created over 50 needlepoint pieces based on life in London. She donated 12 of these pieces to IMMA in 2013.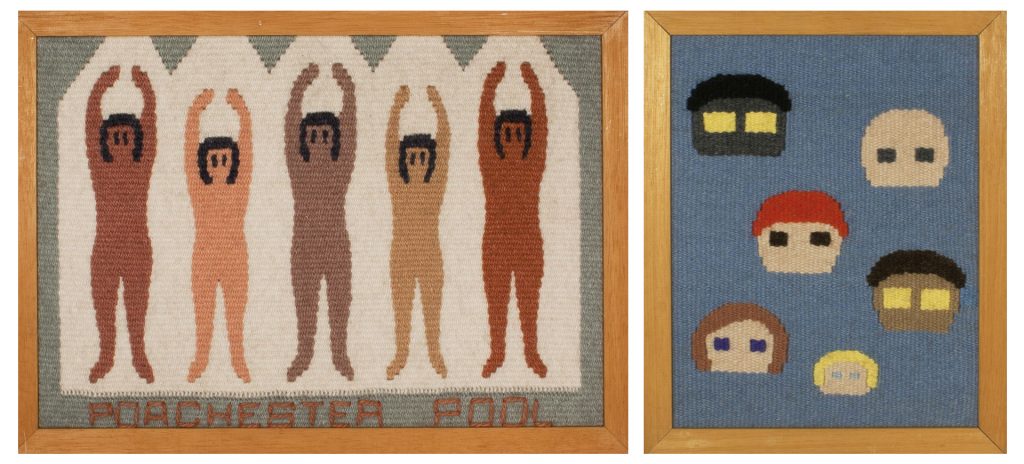 Haycock by a Bank (1975) by Charles Brady
Charles Brady's understated depiction of everyday objects is the perfect medium for illustrating the simple beauty of colour and shape in sunlight which has drawn so many artists into the open air.
Painter Charles Brady was born in New York and studied at the Art Students League there. He first visited Ireland in 1956 and settled here permanently in 1959. Brady was best known as a painter of everyday objects in an understated manner, usually on a modest scale. He exhibited extensively in Ireland and the United States and was the subject of a major retrospective at the RHA in 2001.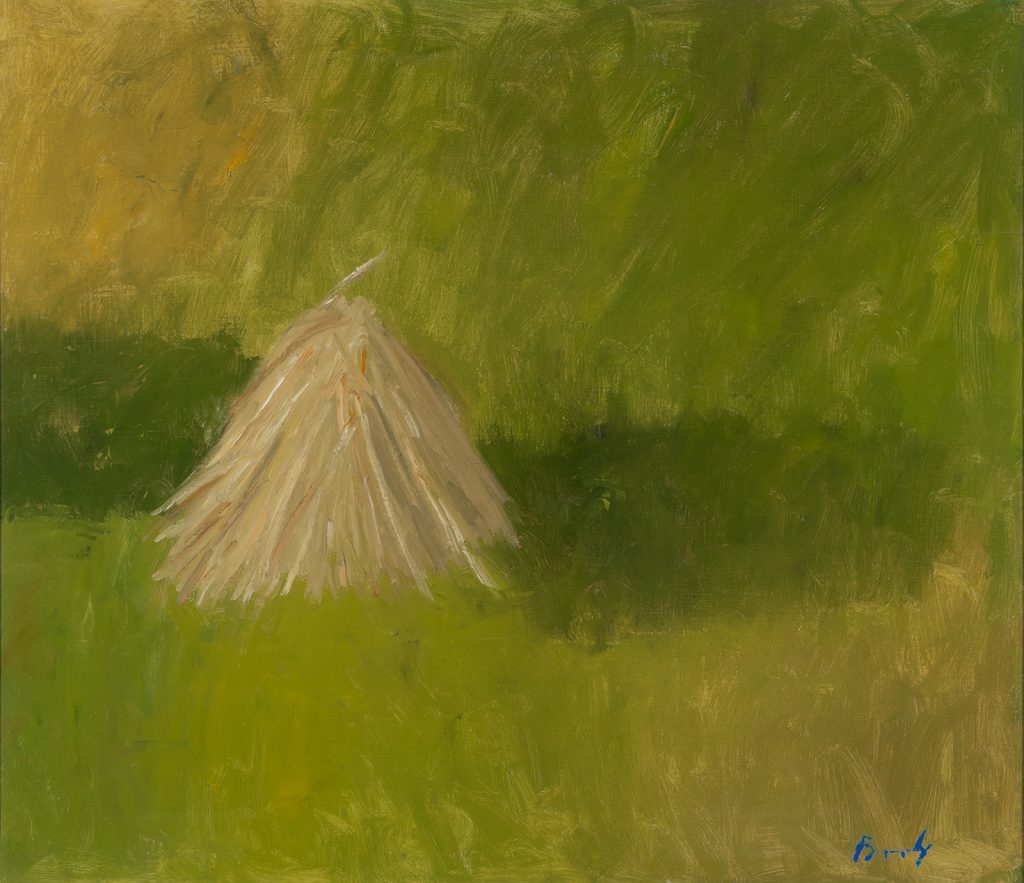 52-12-31-02 Dear B & B -Happy days in '03 (2003) and Oakland (1983) by Sol LeWitt
Even if we don't get far from home this summer we could follow the example of conceptual artist Sol LeWitt and send some postcards.
A founding figure of both Minimal and Conceptual art, Sol LeWitt was born in Hartford, Conneticut. He completed a BFA at Syracuse University in 1949 then served in the United States Army in Korea and Japan. He moved to New York in 1953 where he took classes at the Cartoonists and Illustrators School and worked as a draughtsman. LeWitt had his first solo exhibition in 1965 and during the late 1960s and early 1970s participated in several significant group exhibitions of Minimalist and Conceptual art. 'Sol LeWitt: New Wall Drawings' was shown at IMMA in 2001.
Brian O'Doherty on Sol LeWitt:
'Sol's early work is particularly wonderful – when he evolved the notion that the idea makes the work and the execution can be carried out by others. He pioneered many things – others carrying through his ideas, keeping prices on his work down so that it was accessible to those who weren't wealthy, devising infinite applications of lines (he was always a line-man), using language to describe, locate, invent, exactly fitting the work to the site, and writing some of the key texts of conceptualism. He was particularly fond of Barbara and sent her many of those famous little cards with drawings on them'.
Brian O'Doherty, 'Post War American Art: The Novak/O'Doherty Collection' (IMMA: 2011), p. 105.

Seabird on the Shore (1962) by Elizabeth Rivers
This beautiful work titled 'Seabird on the Shore, 1962' is a 1962 work by British artist Elizabeth Rivers (1903-1964). Hopefully River's stoical seagull can inspire us to embrace the elements when we once again get the chance to turn blue and shivery on an Irish beach this summer.
Rivers attended Goldsmith's College, London, and the Royal Academy Schools before going on to study under André Lhote at the École de Fresque, Paris. She travelled to the Aran Islands in 1935, intending to visit for three months; she remained there for over seven years. In 1946 her book 'Stranger in Aran' was the last work to be published by the Cuala Press. Rivers assisted stained glass artist Evie Hone between 1946 and 1955 and was a founding member of the Graphic Studio Dublin. A memorial exhibition of her work was held at the Municipal Gallery of Modern Art, Dublin, in 1966.