German artist Ulla von Brandenburg draws on a range of influences including astronomy, astrology, expressionist theatre, Hollywood film, chess, magic and pre-Freudian psychoanalysis. Her films, drawings and installations present uncertainty but also curiosity and intrigue. Based on the Marseille deck, von Brandenburg's 79 piece tarot set was created, together with designer Clemens Hanicht, on the occasion of her solo exhibition, Whose beginning is not, nor end cannot be, in IMMA in 2008. Used as a tool for divination since the late 14th century, the tarot has endured and guided for hundreds of years.
This week, Chris Jones, our Visitor Engagement Supervisor, has selected a card for you to enjoy each day. Chris explores each card with insightful details for us to ponder daily. He has also beautifully photographed the cards.
………………………………………………………….
L'Hermite – The Hermit
A most appropriate card for these days –
The Hermit tells us that now is the time to withdraw from the world and take refuge in solitude and contemplation.
This is a time for slowing down, for turning inwards, for healing, for being thankful for what we have and mindful of those who have not.
It is a time of patient waiting.
Remember that Solitude does not mean loneliness – take time to connect with others.
We have the time – take it.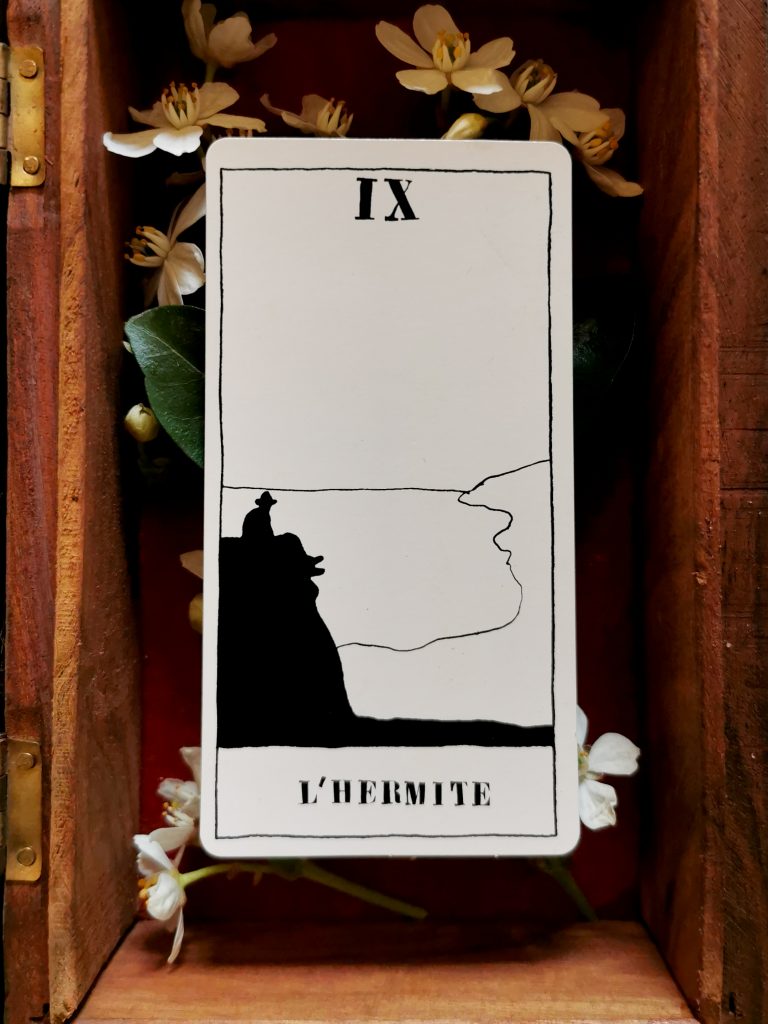 Valet de coupe – The Page of Cups
Pages are youthful messengers, harbingers of news  –
The Page of Cups often brings happy news, invitations, and sometimes even gossip.
These days we are bombarded with news from the moment we wake until we turn to sleep.
It is hard to find the truth in all of it and what to believe – limit your intake of news and refocus your energies elsewhere.
Your inner child is also represented by the Page of Cups, if you have children, build that Lego castle or paint a dragon with them – if you don't, do it anyway
Take off your shoes and play.
Sometimes, no news is good news.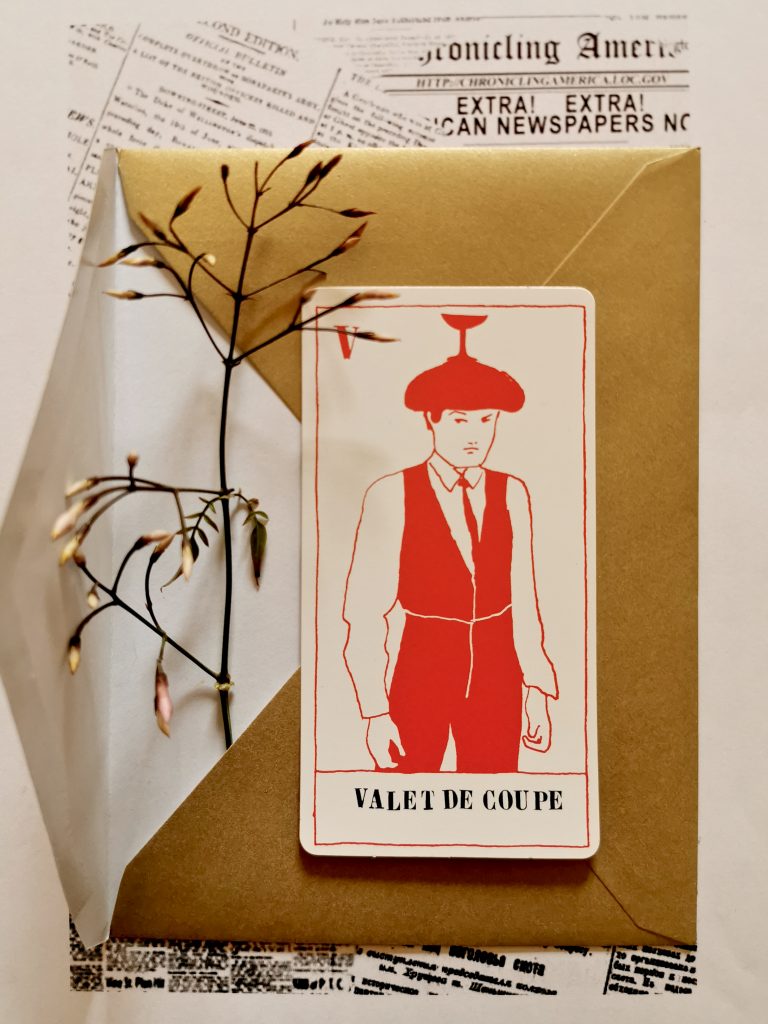 L'Imperatrice & L'Empereur – The Empress & The Emperor
 Two cards today –
The Empress and the Emperor are often read as mother and father in Tarot and they bring contrasting but complementary energies with them – day and night, yin and yang.
It's hard to think of one without thinking of the other.
In times of crisis and stress we often turn to our parents for comfort and guidance no matter how old we are, even if they have already left us, we seek them out in our minds.
It's the bedtime story, the plaster on a wounded knee, the insulation of our childhood.
Now, more than ever we are anxious in our separation, in this new vocabulary that we have – self isolation and cocooning but we can still be close in our distancing.
Find virtual ways of cherishing the Emperor or Empress in your life.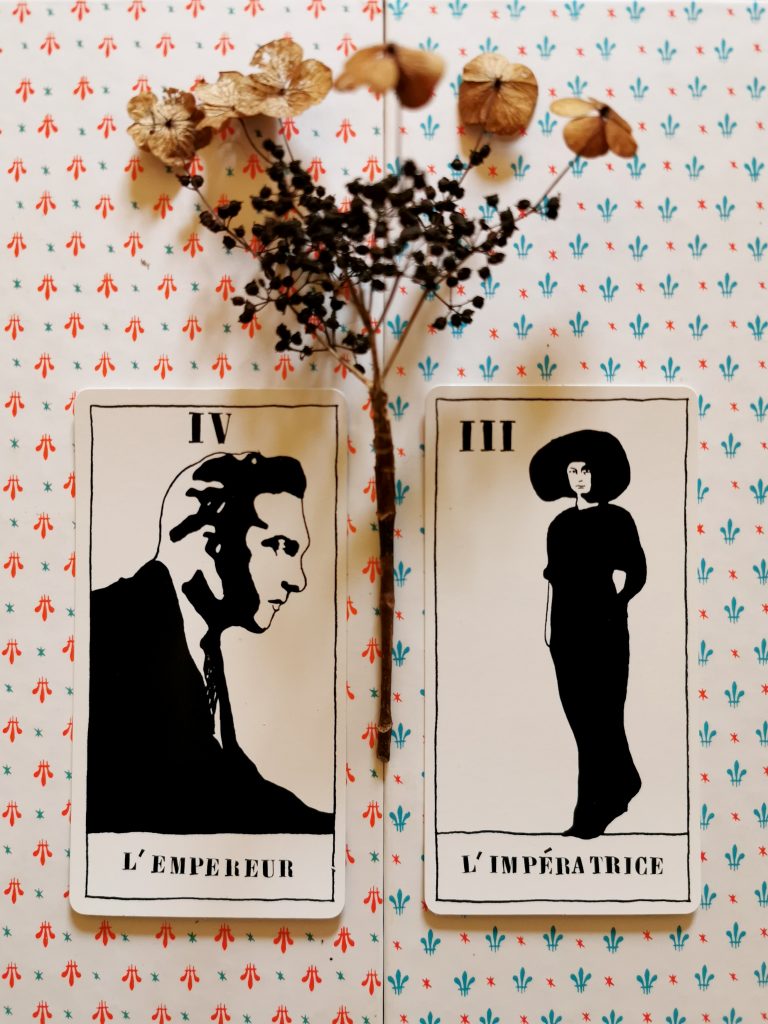 Le Diable – The Devil
The Devil card represents the darker side of you, the negative forces that can hold you back, your bad habits and fears.
Often when worry weighs on your mind the devil may creep in and take hold.
The little voice in your ear that tempts to you to dwell on negativity and it can be hard to pull back from that.
You may be feeling trapped or restricted and things are beyond your control.
Maybe you are trapped but certain things are not outside of your control – there are many ways to escape each day.
Pull out that box of old photographs and take a trip down memory lane, start a new journey and go through the hundreds of photos that you have on your devices – make sure to come back from that rabbit hole!
It can be hard to motivate ourselves and take our daily walk when we'd rather eat ice cream in front of the TV.
But sometimes it's ok to give in a little to the devil – skip that walk, just for today.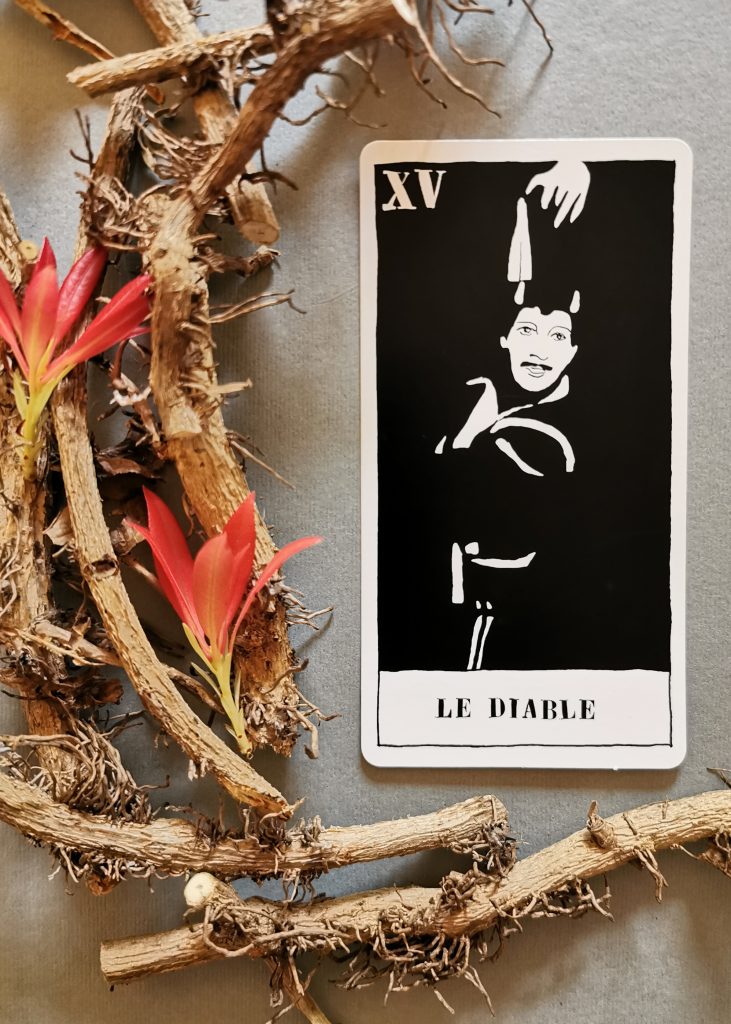 Les Amoureux – The Lovers
Probably the most famous card in Tarot –
instantly recognisable, two lovers inclined in a kiss frozen in time.
when it appears in a reading it brings news of love.
We write songs about it, poems and sonnets, we make films about it.
Absence makes it fonder, stronger, it has no boundaries – so we are told.
Romantic love? Yes, your companion in life but it also refers to all the types of love that touches us.
The fierce unconditional love of our families, our friends, even our pets who bring such great joy to our days.
While we are busy loving others we often forget ourselves in all of it and how important it is to be happy in who we are and be proud of who we love.
The poet Mary Oliver puts it plainly and beautifully is this extract from Wild Geese:
"You do not have to be good.
You do not have to walk on your knees
for a hundred miles through the desert repenting.
You only have to let the soft animal of your body
love what it loves."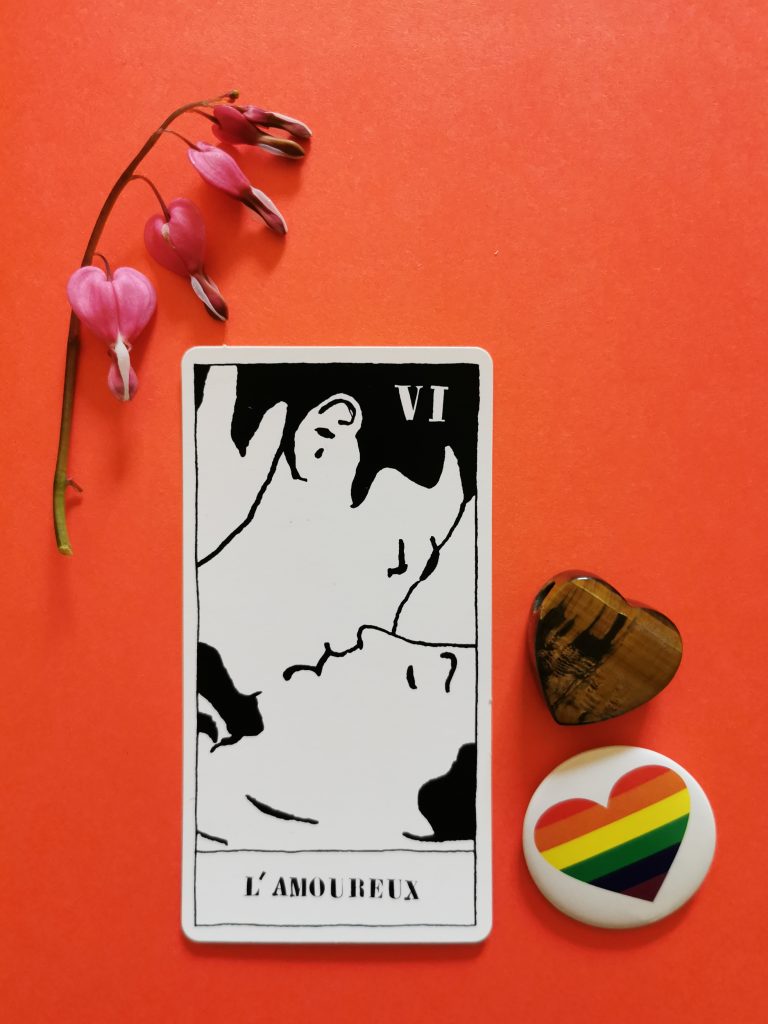 Reyne de Deniers – The Queen of Pentacles
Queens can stand for actual women in your life or aspects of personality, they can be any gender.
They are creative and nature loving, nurturing and practical and often represent people who work in these areas.
While Pentacles usually refer to matters of security and wealth they also refer to doers.
The Queen of Pentacles is exactly that and is not afraid to get her hands dirty.
She can be found in bakeries, gardens, supermarkets and in our hospitals.
She takes your temperature, administers your medicines, makes sure your food is on the shelves when you need it. Day in day out.
Now more than ever we are acutely aware of the work that these people do and what the meaning of frontline is.
Every night at 8pm applause bursts from balconies across Spain and Italy – a daily standing ovation.
Across our country on 11th April we lit up our windows for them – why not keep the light burning and do it every night?
A small gesture of gratitude in the mountain of these days.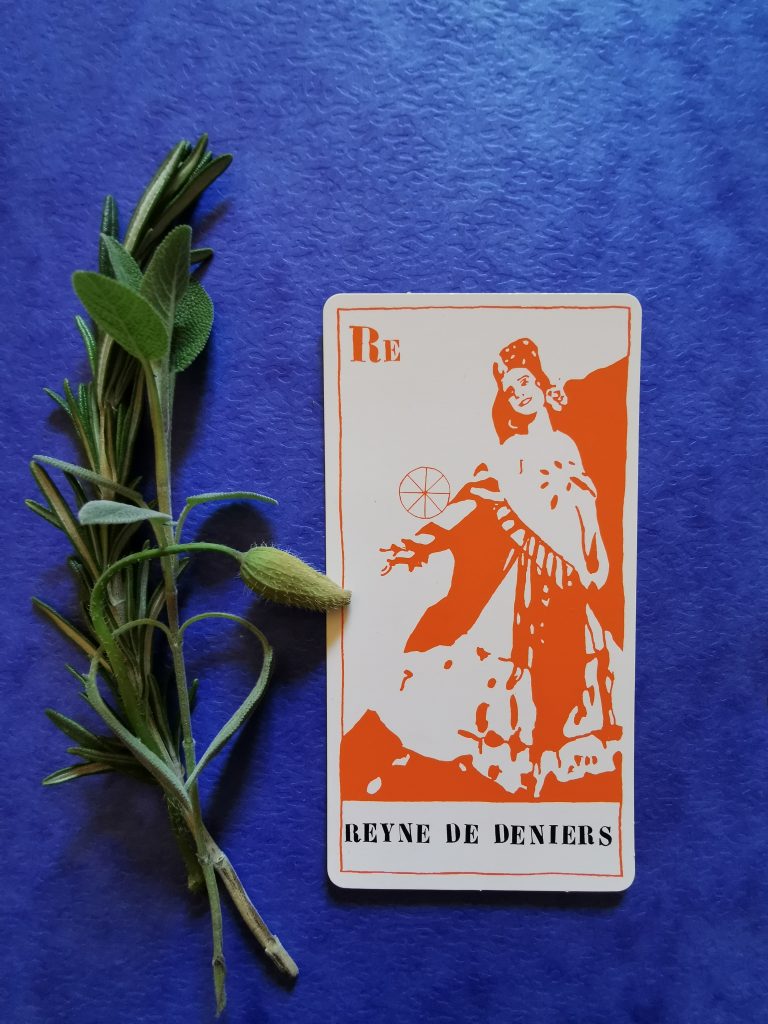 Le Soleil  – The Sun
 So we come to our last card – The Sun, perfect for our day of rest, the last day of the week.
 The giver and sustainer of all life the Sun card is one of the most powerful in the deck.
It represents the universe coming together in agreement and brings new beginnings and optimism into our lives.
We talk about the sun a lot in Ireland, we are constantly waiting for it to appear and love to reminisce of summers long past.
The healing power of the sun cannot be underestimated – We fly hundreds of miles in search of it but now we can only seek it out in our 2km radius.
We have been blessed with its company this past few weeks, we all know that the Sun can be a fleeting visitor so make sure to bring it into your life.
Plant some sunflowers seeds in your garden or a dwarf one for your windowsill.
Sunflowers always face the sun, the wind at their backs–
With the sun in our faces we look forward to new ways of living and the ending of the old.
it is the yellow brick road to healing and happiness – let's all keep following it.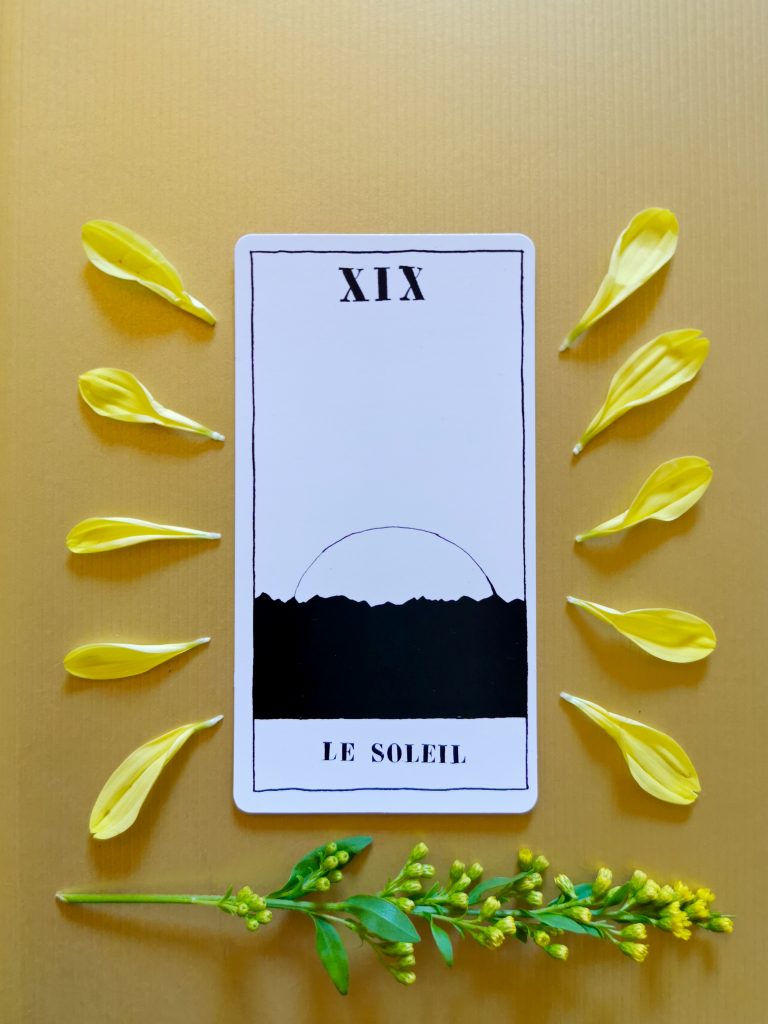 Find out more about the artist here: https://imma.ie/artists/ulla-von-brandenburg/