Seán Kissane, Curator of Exhibitions at IMMA, looks back at the exhibition on Patrick Hennessy titled De Profundis he curated in 2016. Hennessy was one of the first Irish artists to depict his life as a gay man in the face of social, religious and legal restrictions.
…………………………………………………………………………………………………………………………………………………………………………………….
In thinking about what it means to celebrate Pride Week in 2020, we can reflect on the history of Irish artists who lived in a less tolerant time and how they explored themes of LGBT+ life in their work. In 2016, IMMA staged a retrospective of Patrick Hennessy (1915-1980) with a particular focus on these themes. Hennessy was born in Cork but raised and educated in Scotland where he met another artist Henry Robertson Craig (1916-1984) who became his life partner. They were separated by the second world war at which time Hennessy's work took on a particularly melancholy mood, particularly his self-portraits and paintings about the war like Exiles (1943, Hugh Lane).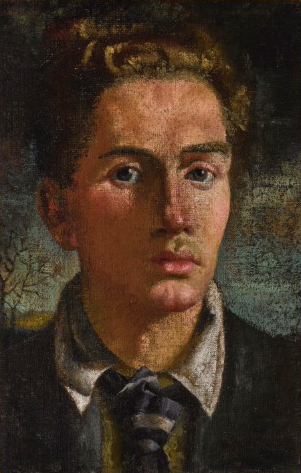 In 1946 the couple were reunited, and they lived together until Hennessy died in 1980. Although they were private about their relationship, they consistently addressed gay themes in their work, increasingly so in the 1960s and 70s. The private spaces of their relationship are seen in tender works such as Hennessy's Roses in a Bedroom (1947), a still-life of a vase of pink roses in the background of which is their unmade bed.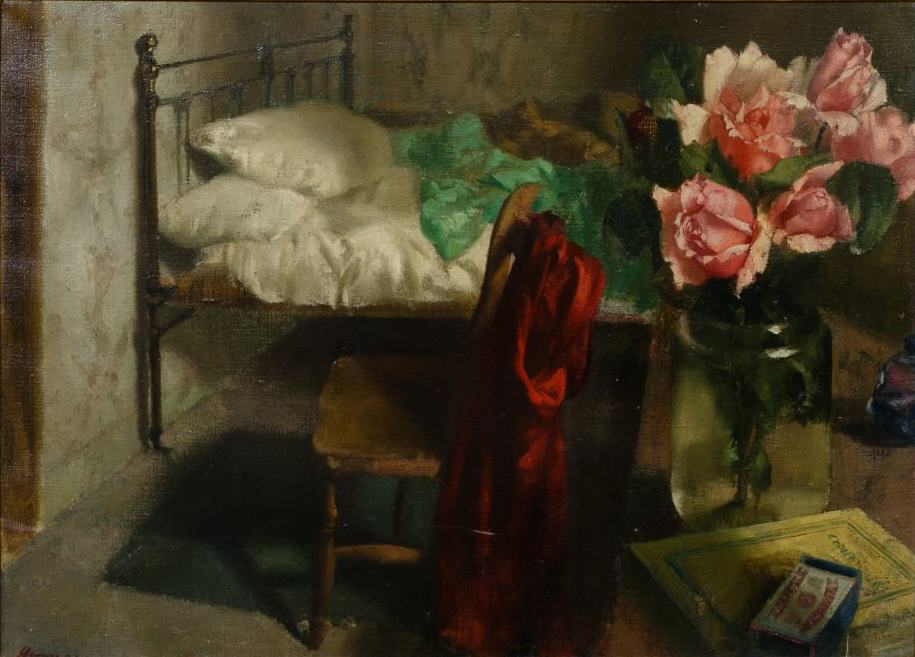 The interior of their home is depicted in The Silent Room (1948, Crawford Art Gallery) as are their pets, Self-Portrait and Cat (1978, Crawford Art Gallery). They made numerous portraits of each other, and depict each other in conversation pieces, such as Craig's Villa Domino (1968).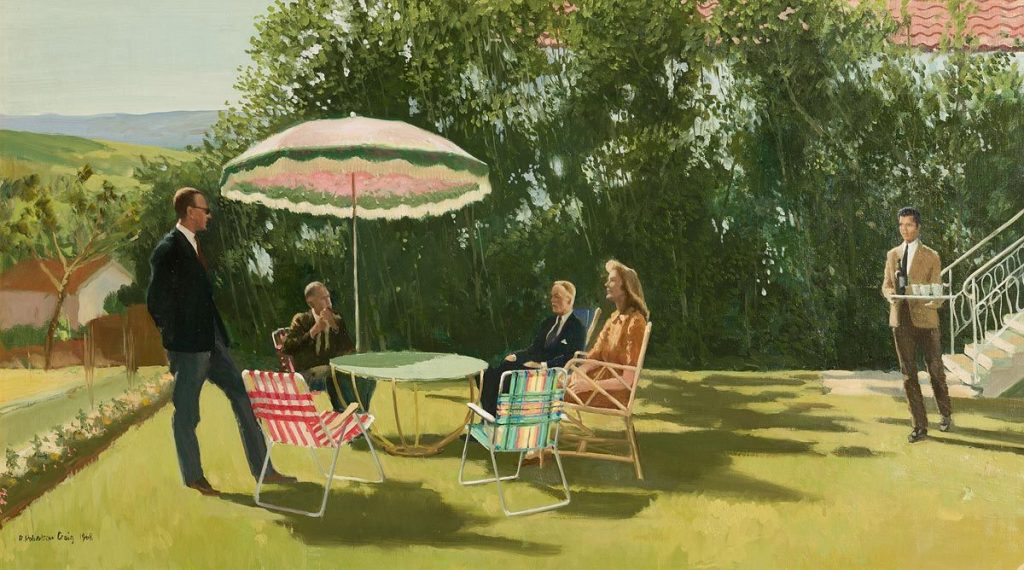 Works by Hennessy that directly address Irish identity include Lake Island (c. 1965) that consists of a man standing by a lake in a landscape reminiscent of a painting by Paul Henry (1877–1958). The man is in contemporary dress, but the view is timeless. At first glance, the scene is pleasant or innocuous. Still, through a queer lens it can be read as a visual representation of the isolation and alienation of the closeted experience. By placing this figure in the west of Ireland landscape more usually associated with virtue and Catholicism, the work can also be read both as a queering of Irish identity and the conventions of Irish landscape painting.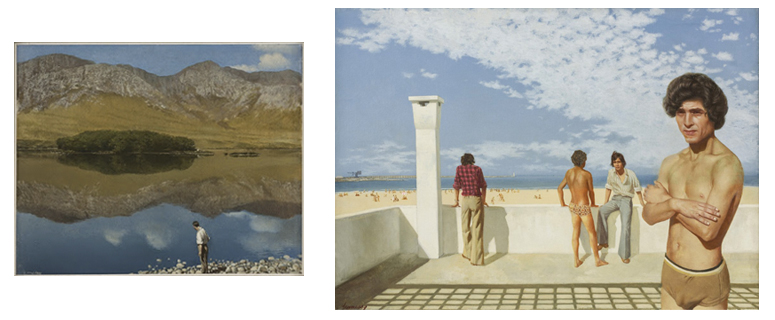 The isolated male figure appears regularly in Hennessy's work; however, Seán Alone (1977) does something different. It shows a group of adolescent boys swimming in a canal. One boy sits apart fully clothed in physical and psychological isolation observing his friends. The reasons for his unwillingness to participate is known only to him but can be imagined by the viewer. When exhibited at IMMA, this picture elicited strong responses from the audience. One man said in his youth he didn't like to swim with his friends because he thought his thin body betrayed his homosexuality. Another said he wouldn't undress because when he was a teenager, he could not control his physical responses and felt ashamed, but also afraid of the possible consequences.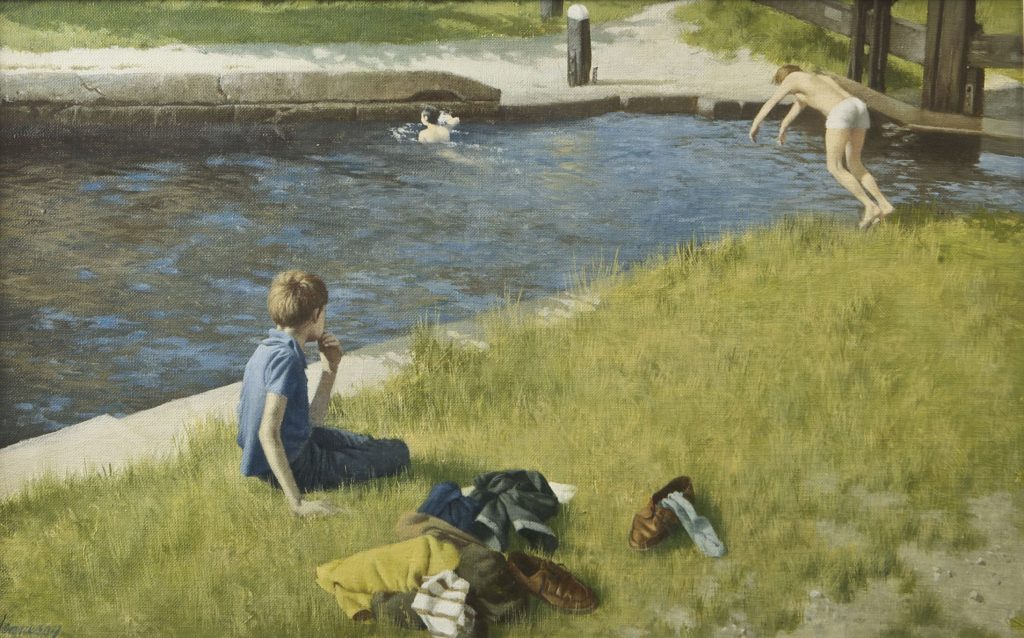 To express themes of LGBT+ life while homosexuality was still criminalised artists used codes in their works to communicate themes in a clandestine way. One of the most popular was in dress codes that signaled sexual orientation to others. For gay men, wearing a red necktie was one signifier. This is often seen in the work of Hennessy and Craig, both in self-portraits and in portraits of their friends. Another method of concealment was by representing the body, but through reference to Ancient Greece. Hennessy's Man Made Man (1965), and The Yellow Ribbon (1956, IMMA) both show the male nude but presented as statuary, or book illustrations. As the century progressed, they became more frank and they exhibited male nudes when this was not a popular theme in contemporary art.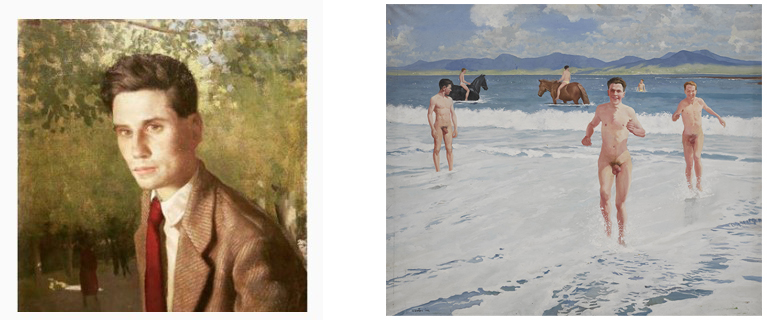 An example is Craig's Figures in the Sea (1960s, RHA) which portrays a group of six naked youths in an Irish coastal scene. Two are riding horses in the surf while two others laugh as they run out of the water towards the artist. Craig exhibited this picture at the RHA Annual Exhibition in the '60s and donated it to the RHA Collection where it remained unseen again until 2016. As a public declaration by the artist it can be seen as a step towards open expression in Ireland. In the late 50s the couple started to spend half of the year in Tangier, Morocco which had a tolerant attitude to homosexuality. There, they painted portraits of handsome men, images of gay bars, and other places where gay men met. When exhibited in Dublin in the 70s they attracted some negative comment in the press, one reviewer saying that "Hennessy's exhibition is full of stupid pictures of young men standing around on beaches in their underpants".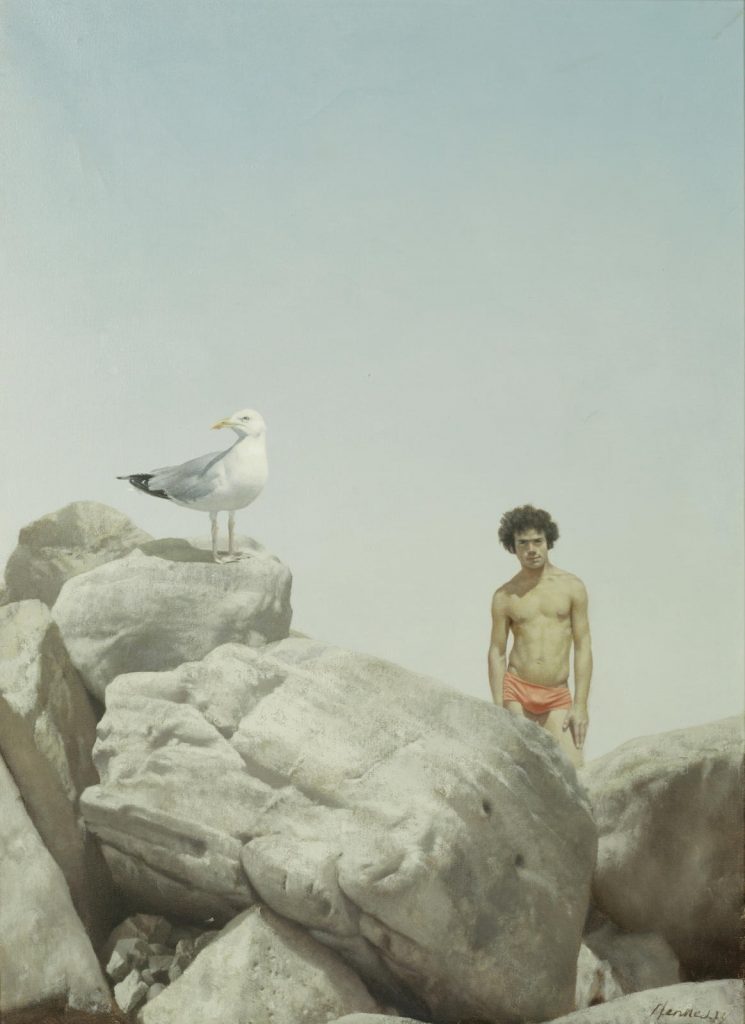 With the 20:20 vision that hindsight affords we can see that Hennessy was offering visibility of gay people and their lives; exactly what Gay Pride does today. At a time when we see the dramatic rise of right-wing conservative politics globally, and with it the restriction of rights to LGBT+ people, the joyful and exuberant images of Gay Pride in Dublin presented in the media, offers hope to people in other countries, where the LGBT+ community are subject to violent oppression and censorship.
---
Additional Resources
IMMA Modern Irish Masters
Read more about Patrick Hennessy's life and practice on the IMMA Modern Irish Masters website. www.modernirishmasters.com
IMMA Symposium, Sexuality, Identity and the State
Listen back to this symposium organised on the occasion of the exhibitions Patrick Hennessy, De Profundis  and Carol Rama, The Passion of Carol Rama. Comprising of presentations by artists, writers, curators, educators and psychoanalysts, this symposium addresses issues of gender, sexuality, identity and the state as it relates to the work of artists, Hennessey, Rama and others.
Derek Jarman, PROTEST! 
This highly praised retrospective of the work of Derek Jarman PROTEST!  is the most recent exhibition curated by Seán Kissane. A beautiful new monograph has just been published which offers a definitive overview of Derek Jarman's life and work, covering all aspects of his oeuvre. Now available from the IMMA Shop for the special price of €35.00.