Looking at the return to figuration in contemporary art practice, Altfest is one of several artists invited to respond on the affinities, methodologies and potential influences that contemporary artists continue to share with Freud. In conjunction with Altfest's memorable Artist's Talk at IMMA in June, we invite the artist to write a blog on her distinctive approach to working with life models, the rhythms and intensity of studio life and reflect on the interchanges between desire and detachment, in striking a balanced when working with her subjects.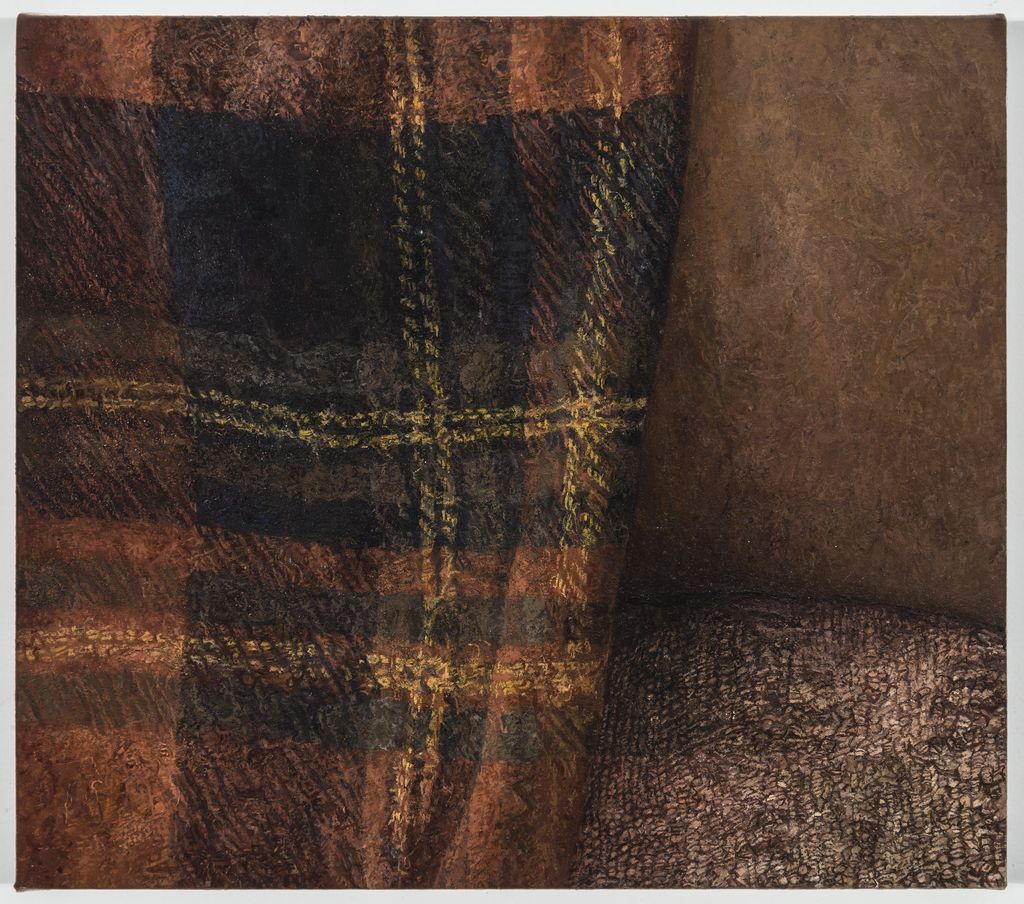 The relationship between the artist and the model is a delicate balance between professional and personal. I hire the model, pay him, set the hours, etc. I try to be fair and respectful. However, being a model is unlike many jobs. It's not normal to be asked to come in and disrobe. I sit closer to the model than most people would find comfortable. In turn, I am doing something really private in front of the model, painting, which I wouldn't do in front of most people. The model is not separate; he's an extension of that process. I need to feel that both of us are relaxed in order to concentrate. It's a wavelength that we enter, we are united in working towards the same end.
One of my paintings can take up to a year or more, and the model and I will work up to 40 hours a week. (I probably hold the time record in painting a model in a single pose.) We listen to music and podcasts; we talk about our lives. He and I can spend more time together than with our respective partners. I now have friends who once sat for me. My first model, TM, said that his then-boyfriend, now husband, noted that I'd looked at his penis longer than he had. He found that unsettling.
Our sessions are generally 25 minutes with 6 or 7 minute break in between. I make a mark on the model's skin with a thin sharpie pen and a corresponding mark on the painting so I don't lose my place. The paintings are one-to-one scale, and I measure the body with a skewer; Then put that measurement onto the canvas. I have three relationships: one with the model, one with the part of his body that I'm painting, and then one with my painting. During the painting process I often feel the strongest connection with the part of the body I'm observing.
It's not uncommon for a model to want to quit about the six-months through. Being in the same position over a long period of time puts a lot of stress on the body.  People don't know how they will feel physically in the future, months after they start, or where they will be in their lives. Another job offer can arise, for example, or they might want to move to another part of the country.
I find my models through ads on an arts website, or through a referral. I make it clear how long the painting will take, and ask for a commitment. I look for people in stable, long-term relationships, or in programs that will keep them in New York. But that doesn't always work. I have tried different bonus incentives and considered contracts. It might seem like the artist has all the power in the artist model relationship, but the model has a real power, and that is the power to leave.
When I began working with models, and was single, people would invariably ask, in studio visits, at parties, if I had ever slept with one. I got the sense that they were hoping I would say "yes".  Having sex with your model seems to be a common tradition among men. And because of the intimacy of the relationship between artist and model, I can see why. When I think about Lucian Freud, I do think about how many of his models he slept with and how many children he had with them. Also, whether or not an artist has slept with their model could change the interpretation of the work—if it's perceived as sexual. To my mind, there are many good reasons not to get romantically involved with a model. Personally, I work too long on a painting to jeopardize its completion with a romantic relationship. Maybe affairs are better for people whose paintings take less time.
Working with a model is, ultimately, impractical. Trying to get the body, which moves and changes over time, to stay still for months on end, is unnatural. It's also expensive. I've been asked, "Why not work from photographs?" Photographs would be more efficient, and easier, the thinking goes. But, my creativity comes not only from what I select to paint, but also in interpreting what I see. In the end, my job isn't to make the painting more efficiently: it's is to make the painting what it's meant to be.
A funny thing is, I am getting married to someone who looks like one of my models. He has pale skin and dark body hair. I didn't think my choice of model was about my personal preferences. I wanted to paint body hair because it gendered the subject. But maybe, after looking at them for so long, my models became my preference. And I do like being close to my source of inspiration.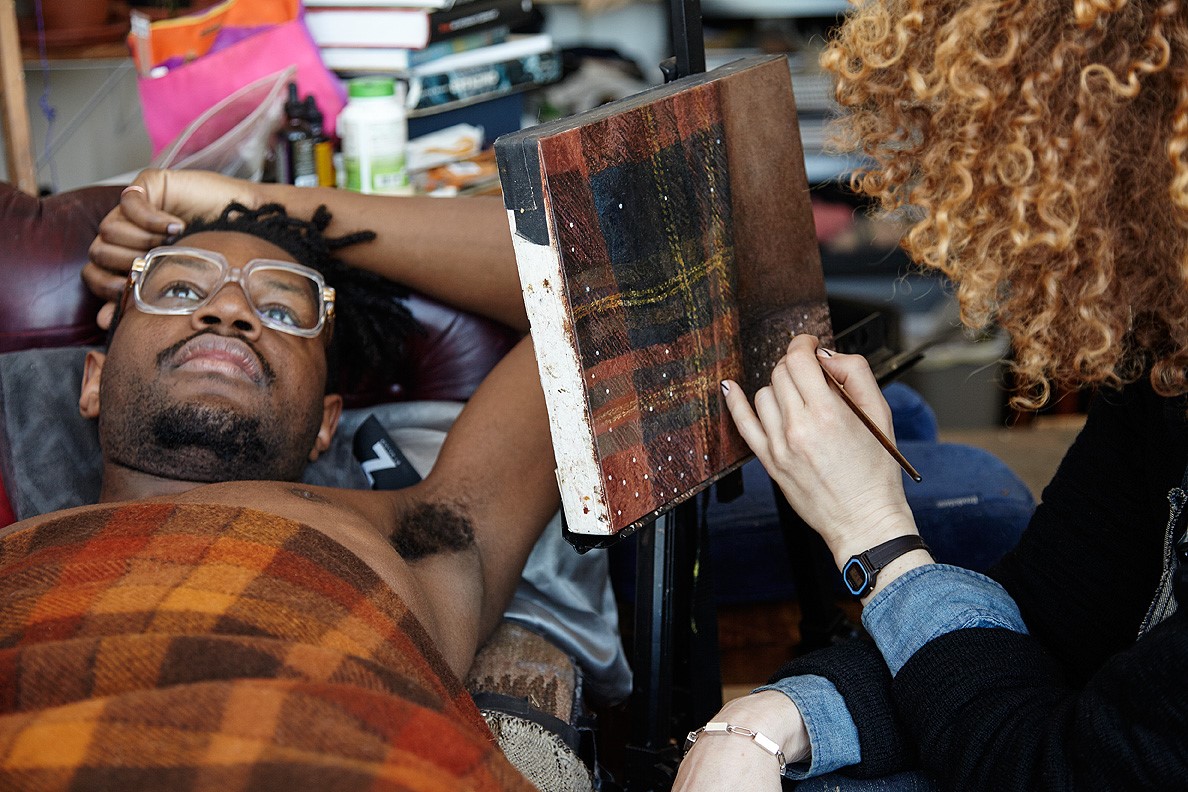 On 24.06.017, Alftest discussed her practice at IMMA, in the context of major Collection Freud Project, 2016 – 2021. Considering a subjective response to human form, Altfest's shares her own distinct and devoted approach to figurative and representational painting, responding to a selection of Freud works that most resonated with her. You can hear Altfest's Talk – Figuration and Objects, here on IMMA's Sound Cloud Channel.
About the Author / Artist
Ellen Altfest received a BFA and BA from Cornell University, an MFA from Yale University School of Art, and attended the Skowhegan School of Painting and Sculpture. Altfest has had one person exhibitions at The New Museum, New York, Milton Keynes Gallery, in England, and The Chinati Foundation, in Marfa, Texas. Her work has been included in many national and international group exhibitiions including in the 55th Venice Biennale, The Encyclopedic Palace, curated by Massimiliano Gioni, The Royal Acadamy in London, KUNSTFORENINGEN GL STRAND in Copenhagen and Dhondt Daenens Museum in Deurle, Belgium. Altfest received a Guggenheim fellowship, a Richard and Hinda Rosenthal Foundation Award from the American Academy of Arts and Letters. Altfest lives and works in New York, NY.