Over the coming months, Sandra Murphy from our Visitor Engagement Team, will keep you updated on some of the seasonal changes taking place on the grounds of IMMA. In the first Green Journal entry, we will take a look at some recent arrivals on the grounds of IMMA.
…………………………………………………………………………………………………..
Pictured is a tractor overflowing with Verbena plants ready to be dug in at the Ornamental Gardens. These plants will be providing nectar for our pollinators in early Spring. A New greenhouse is being built for Mary Condon and her gardening team in the nursery at IMMA.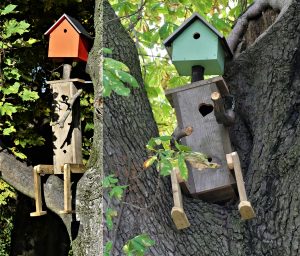 New nest boxes have been installed on the terrace, courtesy of OPW. We're really looking forward to new residents setting up house in these and we hope to keep you updated on developments early next Spring! Now is a great time to think about installing nest boxes in your own garden.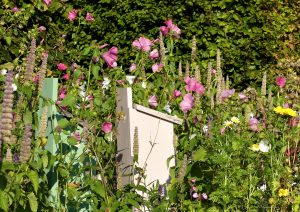 Butterfly hotels! This is our first year to introduce these boxes which provide shelter for our over wintering butterflies on the grounds of IMMA. Again, these boxes can be made for use in your own gardens.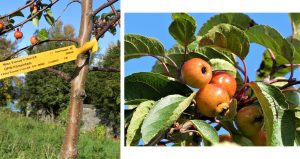 Apple trees, planted during the summer, are providing fruits which will benefit the birds at the moment and over the winter months, when food becomes scarce on the ground. The apple blossom in early Spring will provide nectar for our pollinators and produce a delicate, little flower.
Can you spot the ladybird on the left? Yes, it's a seven-spot ladybird!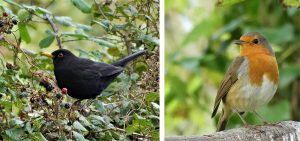 "Hope" is the thing with feathers –
 That perches in the soul –
 And sings the tune without the words –
 And never stops – at all. Emily Dickinson (1830-1886)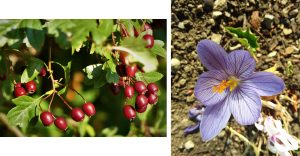 Pictured are Red Hawthorn berries in the hedgerows. Avoid cutting back these hedgerow plants during September as they provide a vital food source for wildlife when ripe. These can also be used for making jellies and jams, but leave some for the birds!
Cheery Autumn crocus can be seen in September/October underneath the sycamore trees on the terrace at IMMA. Note the beautiful purple veining and yellow saffron, which can be used in cooking.
Compliments as always to Mary Condon and her wonderful gardening team (OPW) at IMMA.