Visit IMMA
> How to get there

How to get to IMMA

How to get to IMMA @ NCH at Earlsfort Terrace

How to get from IMMA @ NCH at Earlsfort Terrace to IMMA
How to get to IMMA
New Galleries closed until 22 June due to installation of upcoming exhibition
The Museum wishes to advise visitors that, owing to the installation of a new exhibition, Cloud Illusions I Recall, the New Galleries at IMMA will be closed until 22 June 2013.

The exhibition I knOw yoU, which takes a fresh look at contemporary art in Europe, and a film work, Secretion, 2012, by internationally acclaimed Derry born artist Willie Doherty continues in our off-site location IMMA at NCH until 1 September 2013.

While the New Galleries will be closed the grounds of the Royal Hospital Kilmainham will remain open. There are four outdoor art trails available in the grounds and the café and bookshop will remain open as normal.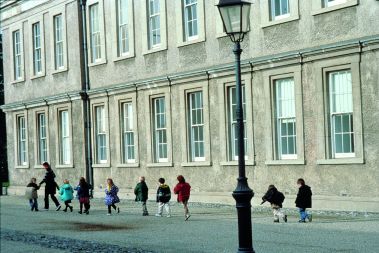 Museum Entrance on Military Road. Exhibitions are on show in the New Galleries.

By Luas: Red line to Heuston Station, 5 minute walk to Museum entrance on Military Road. For further information about Luas please click here
By bus: Buses to Heuston Station (5 minutes walk via Military Rd): 26 from Wellington Quay; 51, 79 from Aston Quay; 90 Dart Feeder Bus from Connolly and Tara Street Stations to Heuston Station.
Buses to James St (5 minutes walk via steps to Bow Lane onto Irwin St and Military Rd): 123 from O'Connell St/Dame St; 51B, 78A from Aston Quay.
By car: 10 minute drive from city centre. Parking just €2 for the first three hours.
New Parking Arrangements: Due to an increasing problem with non-Museum visitors leaving their vehicles in the IMMA car park for lengthy periods, the Museum has put in place a carefully-structured payment system, which is being operated by Park Rite. This system is designed to deter long-term parking while at the same time facilitating IMMA visitors with an initial charge of just €2 for the first three hours.
On foot: Approximately 30 to 40 minutes from city centre. The West Gate of the Irish Museum of Modern Art is currently closed until further notice to all pedestrians due to maintenance works. The East Gate shall remain open as usual.
By train: 5 minute walk from Heuston Station; from Connolly and Tara Street Stations by 90 bus to Heuston Station
Location Map


How to get to IMMA @ NCH at Earlsfort Terrace

IMMA @ NCH at Earlsfort Terrace, is located adjacent to the National Concert Hall, off St Stephen's Green, Dublin 2.



By Luas:

Green Line to Harcourt Street (5 minutes walk via St. Stephen's Green).



By bus:

Buses to Earlsfort Terrace: 14, 15, 15a, 15b, 44, 48a, 74, 74a, 128, 142.



By car:

Earlsfort Terrace is in the city centre beside St. Stephen's Green. Pay and display parking in nearby streets. Private car parks in the area include: The Royal College of Surgeons Car Park, Dawson Street Car Park, Schoolhouse Lane Car Park, St. Stephen's Green Car Park, Setanta Place Car Park.



By train:

8 minute walk from Pearse Street Station.

By bike: There are Dublin Bikes stations on Earlsfort Terrace and St Stephen's Green.

Location Map
How to get from IMMA @ NCH at Earlsfort Terrace to IMMA