Engagement and Learning
> Talks, Lectures & Events
Listen to Talks & Lectures

You can listen back to a selection of previous Talks by visiting our soundcloud channel. IMMA has a dynamic talks programme with regular contributions from artists, historians and curators, all discussing underlying themes from the Exhibitions and Collection programmes at IMMA.
Selected recordings are part of the IMMA Audio Archive in operation from 1991 to present.
Book Talks & Lectures
Booking is essential for all Talks and Lectures at IMMA. Tickets are free and open to the public unless otherwise specified. Find below details and booking information for the current programme. Please check back regularly as new talks and events are added each month.
Talks, Lectures & Events 2016
15 Sep 2016
11:30 to 12:00
Opening Gallery Talks: Invited Curators Projects
Join us for the opening of two exhibition projects, The Plough and other Stars curated by Kate Strain and Historica – Republican Aesthetics curated by Sumesh Sharma, presented concurrently in IMMA's galleries.In two short gallery talks both curators will introduce their individual exhibition ideas and the artist's they have selected to be part of their IMMA project. Conversations continue over a coffee/tea reception afterwards


22 Sep 2016
18:00 to 18:45
Artist Talk & Preview: Jaki Irvine, If the Ground Should Open…
Jaki Irvine introduces her new work and discusses the ways in which the work, and the forthcoming live performance, experiments with the Canntaireachd oral traditions of bagpipe music and a spoken-sung score. Moderated by Sarah Glennie, Director, IMMA.


28 Sep 2016
18:30 to 19:30
Art | Memory | Place : Willie Doherty, Remains
Willie Doherty discusses ongoing themes of memory and place in his acclaimed lens based practice and in particular his 2013 work Remains, currently on view, currently on view as part of IMMA Collection: A Decade


05 Oct 2016
18:30 to 19:30
Discussion/Performance: Dada & Hugo Ball's Sound Poetry
2016 marks one hundred years since Elephant Caravan/Elefantenkarawane,the first sound poem performed in Zurichs Cabaret Voltaire by its founding member Hugo Ball. Few are aware of the radical nature of this seemingly farcical movement and its role as a precursor to contemporary art and performance today. Participants Dr Selena Daly, Dr Tara Plunkett, UCD, share their research on this subject, and invite responses from their guests artist Sonia Shiel, artist Sinead Bhreathnach-Cashell and Tzarini Meyler of UCDs Drama Society.


20 Oct 2016
17:30 to 18:30
Talk & Preview: IMMA Collection: Freud Project
To coincide with the launch of the landmark IMMA Collection Lucian Freud Project selected artists and guests present a series of short responses that reflect on Freud's role and legacy in 20th-century art, drawing on Freuds paramount exponents of figurative and portrait painting.


22 Oct 2016
13:00 to 14:00
Artist Talk: Emily Jacir, Europa
Melding life with art, Emily Jacir discusses her powerful artistic development and motivations in making work that deals with the Palestinian experience.


26 Oct 2016
14:00 to 18:00
Seminar: Beyond Art Activism
How can artists and artists' collectives best navigate the passage from our current neoliberalized art landscape to a radically democratic one? Organised in collaboration with Dr Emma Mahony, NCAD; this seminar focusses on the gradual de-politicization of public art spheres, by neoliberal values and practices. Speakers include: Jonas Stahl, artist /founder of New World Summit; Mel Evans, artist / campaigner, Liberate Tate, Dr Dave Beech, Dr Andy Hewitt, Dr Mel Jordan of Freee Art Collective, Vagabond Reviews and others.


11 Nov 2016
13:00 to 14:00
Art | Memory | Place: Karen E. Till — Wounded Cites
Dr Karen Till, Senior Lecturer of Cultural Geography, Maynooth University, discusses memory, national identity, systemic violence and the possibilities of spatial justice in the cites of Berlin, Cape Town, Bogotá and Minneapolis.


26 Nov 2016
Select:Select to Select:Select
IMMA 2016 Symposium
Reflecting on the Irish national visual arts programme of 2016 this major symposium addresses key questions on the artists role and influence in re-imagining the state.


13 Dec 2016
13 Sep 2016
Live Performance: Jaki Irvine - If the Ground Should Open...
Jaki Irvine presents the entirety of her new work for IMMA, If the Ground Should Open... performed live by the project performers; Louise Phelan, Cats Irvine, Cherry Smyth, Hilary Knox, Izumi Kimura, Liz McClaren, Jane Hughes, Aura Stone and Sarah Grimes in the atmospheric surrounds of the Great Hall at IMMA, where the footage for the original sound and video work was developed. Ticket price of 8Euros includes booking fee and beverages after the performance.


Further Information
Frequently Asked Questions
IMMA Talks + Events Frequently Asked Questions
You will receive notification of your booking by email. If you are experiencing difficulties while making a booking, please check our FAQ page for help.
If your query is not addressed on the FAQ page, please contact bookingqueries@imma.ie. Emails to this address are checked between 9.30am and 11am Tuesday - Saturday.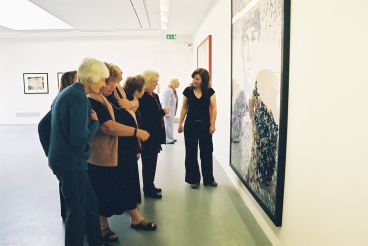 Please click

here to read IMMA's Terms & Conditions.
For further details about the programme email sophie.byrne@imma.ie, Assistant Curator, Talks and Public Programmes, IMMA.