Education and Community
> Talks, Lectures & Events
Listen to Talks & Lectures
Listen here to previous Talks and Lectures by artists, historians, curators and others, who discuss a range of themes and artworks in connection to the Exhibitions and Collection programme at IMMA. Selected recordings are part of the IMMA Audio Archive in operation from 1991 to present.
Book Talks & Lectures
Booking is essential for all Talks and Lectures at IMMA. Tickets are free and open to the public unless otherwise specified. Find below details and booking information for the current Talks and Lectures programme at IMMA.
Talks, Lectures & Events 2014
03 Dec 2014
08 Mar 2015
Irelands National Collections | Talks Series
Trove exhibition partners invite you to explore the treasures of their collections with their in house specialist team of curators and conservators through a series of talks taking place across the partner institutions ; NGI, NMI, NMI - Mayo and Crawford Gallery
25 Mar 2015
18:30 to 19:30
Artists' Response | Sarah Pierce and Gerard Byrne
Artists Sarah Pierce and Gerard Byrne will discuss past-tense fictions and ready-made dramas in response to the film processes of Teresa Hubbard/Alexander Birchler's collaborative practice.
Further Information
If you are experiencing difficulties while making a booking please email a request for ticket/s to: talksandlectures@imma.ie. You will receive notification of your booking by email. Or telephone: +353 1 612 9918.

For further information please contact Sophie Byrne, Assistant Curator: Education & Community Programmes, Tel: +353 1 612 9913, Email: sophie.byrne@imma.ie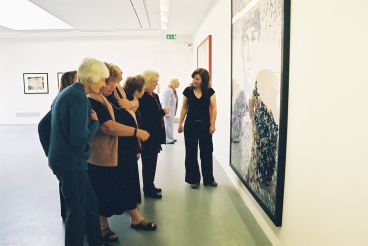 Please click

here to read IMMA's Terms & Conditions.