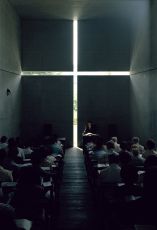 Sunday 23 September at 3.00pm
Venue Shelbourne Hall, RDS, Merrion Road, Ballsbridge, Dublin 4
Registration 2.15pm, doors close at 2.40pm. There will be no latecomers admitted.
The Irish Museum of Modern Art, the Royal Institute of the Architects of Ireland and the Kerlin Gallery present the first public appearance in Ireland by the internationally renowned Japanese architect Tadao Ando. He will present a lecture on his practice entitled Creating Dreams. Tadao Ando (born 1941 in Osaka, Japan) has led a storied life, working as a truck driver and boxer prior to settling on the profession of architecture, despite never having taken formal training in the field. He works primarily in exposed cast-in-place concrete and is renowned for an exemplary craftsmanship which invokes a Japanese sense of materiality, junction and spatial narrative through the pared aesthetics of international modernism. In 1969, he established the firm Tadao Ando Architects & Associates. In 1995, Ando won the prestigious Pritzker Architecture Prize medallion; an award generally considered to be the equivalent of the Nobel Prize in Architecture. His work is known for the creative use of natural light and for architecture that follow the natural forms of the landscape, rather than disturbing the landscape by making it conform to the constructed space of a building.
Booking Essential, booking closing Sunday 16 September
This event can be booked by email only. Please email details of the numbers and names to email: [email protected] you will receive an automatic email reply which is confirmation of your booking. Please bring it with you on the day.
All talks and lectures are free and open to the public.
This event is kindly sponsored by the Kerlin Gallery in cooperation with Yoshii Gallery, New York and The Tea Room at The Clarence Hotel.

Related Links
The Kerlin Gallery
Royal Institute of the Architects of Ireland