20 – 30 September 2012
Off-site, Clifden Arts Week, Clifden, Co Galway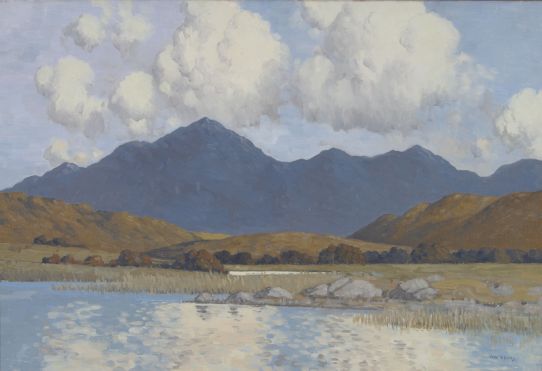 Paul Henry, Lake and Blue Mountains of Connemara, undated, Oil on canvas, Unframed: 40 x 60 cm , Collection Irish Museum of Modern Art, Heritage Gift from the McClelland Collection by Noel and Anne Marie Smyth, 2004
Captivating Brightness, an exhibition from the Collection of the Irish Museum of Modern Art, is presented to celebrate the 35th anniversary of Clifden Arts Festival. The title, Captivating Brightness, taken from the poem Ballynahinch Lake by Seamus Heaney, recognises the strong multi-disciplinary approach of the festival. The exhibition brings together some 20 works that enter the heart of the West through an exploration of major Irish and international artists all of whom have either responded directly to or have strong links with Connemara. Presenting a selection of historical works by artists such as Jack B Yeats, Paul Henry and Mainie Jellett, alongside contemporary artists such as Richard Long, Dorothy Cross and Michael Craig-Martin, further highlight the enduring ability of the West of Ireland to excite and captivate the imagination of the artist.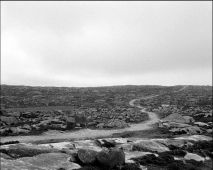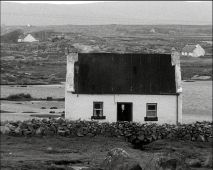 Michael Craig-Martin, Film, 1963, 16 mm Bolex transferred to DVD, Unframed: Dimensions variable , Collection Irish Museum of Modern Art, Gift, the artist, 2005
Captivating Brightness is showing in the Old Super Valu Building, Market Street, Clifden. Admission Free.
Clifden Arts Festival – Tel:  091 442 730, Email:  [email protected], Web: www.clifdenartsweek.ie 
Related Links
Captivating Brightness Exhibition Guide (Adobe PDF – 2.55MB)
Introduction to the exhibition by Desmond Lally, Arts Committee, Clifden Arts Festival (Word doc – 16.2KB)
Press Release
Clifden Arts Week