Process Room 10.08.2010- 22.08.2010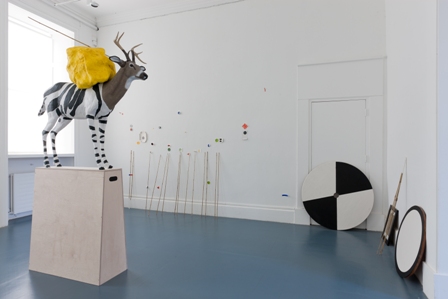 Have you seen Peter's sea cow? 
Nothing really prepares you for the actual encounter with the creature en plastique.
The relationship between language and the three dimensional material world is as complex as the one between language and colour as described by Joseph Albers, "If one says Red (the name of a color) and there are 50 people listening, it can be expected that there will be 50 reds in their minds. And one can be sure that all these reds will be very different."1
The sea cow was unknown to science until 1741 when it was discovered by German naturalist Georg W. Steller who accompanied Vitus Bering on a voyage of the Bering Strait. Within 27 years of its discovery the slow moving and easily captured sea cow was hunted to extinction. Georg W. Steller was the first and last scientist who saw the docile and seemingly tame animal. A skeleton with wrongly restored hands is on display in the Muséum National dHistoire Naturelle, Paris.
Today it will not be possible to see the sea cow (Hydrodamalis gigas) but you will be able to see Peter's sea cow in the Process Room, IMMA.
Jurack's new sculptures and drawings play with the tangible and juggle in the space of the not any more, the plenty and the tangential. Her works are self-consciously provisional: drafts or blueprints for play and points of touch. The exhibition in the Process Room also includes works by Ebru Aslan, Anne Lehmann, Katharina Dinauer, Katharina Netzle, Lena Munzig, Laura Zimmer, Elke Burhart, Anna Mählmann, Marcela Leon Espinoza, Nora Prinz, Borak Özen, Peter B., Niamh O., Kevin O., Aaron R. and Katie S. who temporarily stepped into Jurack's studio to make small sculptures and drafts for statues for the young. 
While walking through the west arch at IMMA you might hear versions of the 1934 song J'attendrai lingering in the vaulted structures of the courtyard.
Jurack (b.1962, Düsseldorf, Germany) studied Theology and Fine Art at Bonn University and Düsseldorf Kunstakademie. In 1992 she received a Master degree in Sculpture from Chelsea College of Art and Design, London. In recent sculptures Jurack emphasises the importance of play as a prime activity enabling imagination to produce results. Jurack exhibits widely as an independent artist and as co-founder of the artists' group Foreign Investment. Recent exhibitions include Inside Out, Object Gallery, Sydney (2010), Red Paradigm, Gogol Festival Kiev (2009); Irfaran, Globe Gallery, Newcastle (2009), Klasse Kamp, Kunsthalle Düsseldorf (2006).
1. Josef Albers' introduction to his seminal Interaction of Color, Yale University Press, 1963
For a printable version of this information please download the following document:Brigitte Jurack: Die Tangente berührt den Kreis in genau einem Punkt (The tangent touches the circle at only one point) (Word Doc. 2003 – 41KB) 
Click

here to return to Previous Participants
Click

here to browse ARP Projects