"My memories of appreciating Art before 5th year were bleak. I was endlessly dragged around galleries I did not want to be in by my parents, longing to find a Topshop nearby. The thing of most interest when I went to see a Damien Hirst exhibition was the café. But this has changed; in fact I've become a Contemporary Art addict." –6th year Art student
As the quote above illustrates, engaging students with Art History and Appreciation can be challenging at times. I studied Art and Design Education at NCAD and currently teach Art at a secondary school in Dublin. Over the last four years, I have been working with Lisa Moran, Curator of Education and Community Programmes in IMMA, to develop resources for second level teachers and students. Combining the wealth of knowledge and expertise available at the museum and my teaching experience, as well as invaluable feedback from students, we have been able to design resources more suitable to the needs of second level students and teachers. It is hoped that by introducing students to Contemporary Art at an early age it will facilitate a life long engagement with Art, museums and galleries.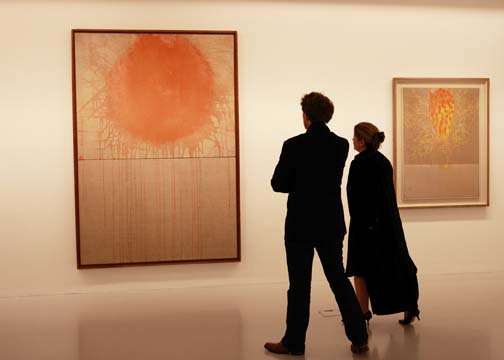 Leaving Certificate Art
One of the major challenges encountered by teachers and students of the Leaving Certificate Art course is the expansive nature of the syllabus. The curriculum has not been changed in many years, and it also has the lowest rate at higher level of all the Leaving Cert subjects. The practical section of the paper is worth 62.5% and the Art History and Appreciation section is worth 37.5% of the overall mark.
The Art History and Appreciation course is divided into three sections; Irish Art and Architecture from Prehistoric times to the present, European Art and Architecture from 1000AD to the present, and Art Appreciation covering Film Studies, Product Design, Interior Design and several other topics as well as Museum/Gallery Studies.
As the course is extremely broad, teachers are afforded autonomy in choosing the topics they will address in each section.

Engagement
Through studying the Art History and Appreciation course it is hoped that students will gain a knowledge, understanding and appreciation of Art enabling them to engage with the visual arts as adults. Ultimately, students should have the language and with that, confidence, to describe, consider, discuss, critically analyse and form their own personal opinion of Art works from any period.
So how does a teacher go about facilitating this? Waxing lyrical about the mysterious carvings at Newgrange, the exquisite craftsmanship in the Tara Brooch, the genius of Michelangelo or the revolutionary nature of Manet and the Impressionists, does not guarantee appreciation.
Similarly, organising a trip to a museum or gallery with a Contemporary Art exhibition is often insufficient in encouraging appreciation and in the majority of cases this is due to a lack of understanding and/or language to describe conceptual Art works. An initial preparatory period of introducing the vocabulary and methodology needed to describe a piece of Art enables students to begin investigating and exploring works independently. Once these skills have been developed it is possible for students to engage with Art in the classroom, museum, gallery and their everyday environment.
"How is that Art, I/my little brother/my little sister/my dog/anyone could do that?"
Anonymous and frequent!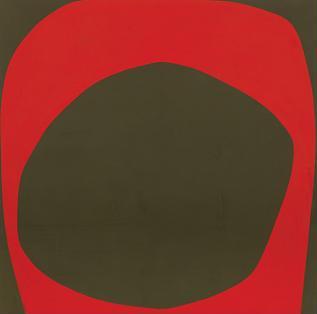 Accessible Language
Despite the initial reactions of indignation, students often come to enjoy Contemporary Art the most, once they have developed an understanding that the artist's underpinning concept or intention is at times more important than the 'finished piece.' As the role and experience of the viewer is introduced, alongside the rare chance for expression of personal response, with the freedom of no right or wrong answers, a group of confident, engaged, art critics emerge, asking insightful questions and offering considered opinions whether they like a Contemporary Art work or not.
Accessible language has proven to be paramount in facilitating this in my experience. Students are quick to dismiss and disengage if they find a text too cumbersome and it is often the explanatory information provided by a museum, gallery or artist that is key to our understanding, engagement with and appreciation of Contemporary Art.

Developing Resources
The Leaving Certificate question on a museum or gallery visit varies from year to year but broadly speaking it asks students to describe a recent exhibition they have visited in terms of layout, lighting and display; to describe one or two of their favourite works with reference to subject matter, composition, use of colour and light, technique or medium and style; and finally to design and plan an exhibition of art works in their school using the visit as inspiration. In summary, students are asked to consider the role of the curator and how the organisation of an exhibition can enhance the viewer's experience.
IMMA has an abundance of diverse experience and expertise at its disposal that has proven invaluable in providing the content for these resources. From the curators, to the technicians, invigilators, security staff and artists we have gathered 'insider' information about the particulars involved in the planning, implementation and maintenance of an exhibition.
With all this information to hand we were able to focus on designing resources that would facilitate the optimum learning and assimilation of the content. Of paramount importance is the pitch of the text as well as the layout of the material. We have been able to try out different approaches to see which ones are most successful, gather feedback from the students themselves and apply the learning to subsequent resources.

Presentation of the Material
Text is arranged under headings using succinct paragraphs, so that students may assimilate the information in manageable amounts. New vocabulary is highlighted and explained within the text as there is at times reluctance to reference dictionaries or glossaries. Images are used as much as possible to illustrate and contextualise information.

Online Availability
The resources are available to download online in PDF format, making them available nationwide.
Part 1 of each resource addresses areas for consideration when visiting any museum, gallery or exhibition.
Part 2 addresses the specific exhibition and initially outlines the role of the curator in regards to the considerations in the planning and implementation such as theme, layout, lighting, display and so on.
A brief artist's biography is included, so as to avoid students focusing on a 'life story' rather than engaging with the exhibition
Themes, concepts, artist's intention, or methodology are explained in accessible language prior to discussing the individual works.
A selection of works are chosen from each exhibition and discussed in detail using fundamental visual language as headings to arrange the information such as subject matter, composition, form, treatment of colour and light, techniques and mediums
A worksheet indicating areas for consideration whilst visiting the museum is included as well as a map of the floor plan so students may record information when they are on site
Patrick Scott, Image, Space, Light, 16 February – 18 May 2014
www.imma.ie/en/downloads/patrickscottsecondlevelresources.pdf
Eileen Gray, Architect, Designer, Painter, 12 October 2013 – 26 January 2014
www.imma.ie/en/downloads/eileengrayteachersresourcesoct2013.pdf
Alice Maher, Becoming, 6 October 2012 – 17 February 2013
www.imma.ie/en/downloads/secondlevelprogpart2alicemaher.pdf
Rivane Neuenschwander, A Day Like Any Other, November 2011 – January 2012
www.imma.ie/en/downloads/secondlevelresourcesrivaneneuenschwanderpart2.pdf
The Moderns, October 2010 – March 2011
www.imma.ie/en/downloads/visiting-an-art-museum.pdf

Going Forward
It is hoped that these resources will prove valuable tools for teachers and students in facilitating engagement with Contemporary Art, so that they may enjoy and appreciate future exhibitions in IMMA, as well as other museums and galleries.
Rebecca Devaney, Second Level Art Teacher