IMMA participated in National Drawing Day on 16 May 2015 with a free, all-ages drawing workshop. Helen O'Donoghue, Senior Curator and Head of Education and Community Programmes brings us a reflection on the event.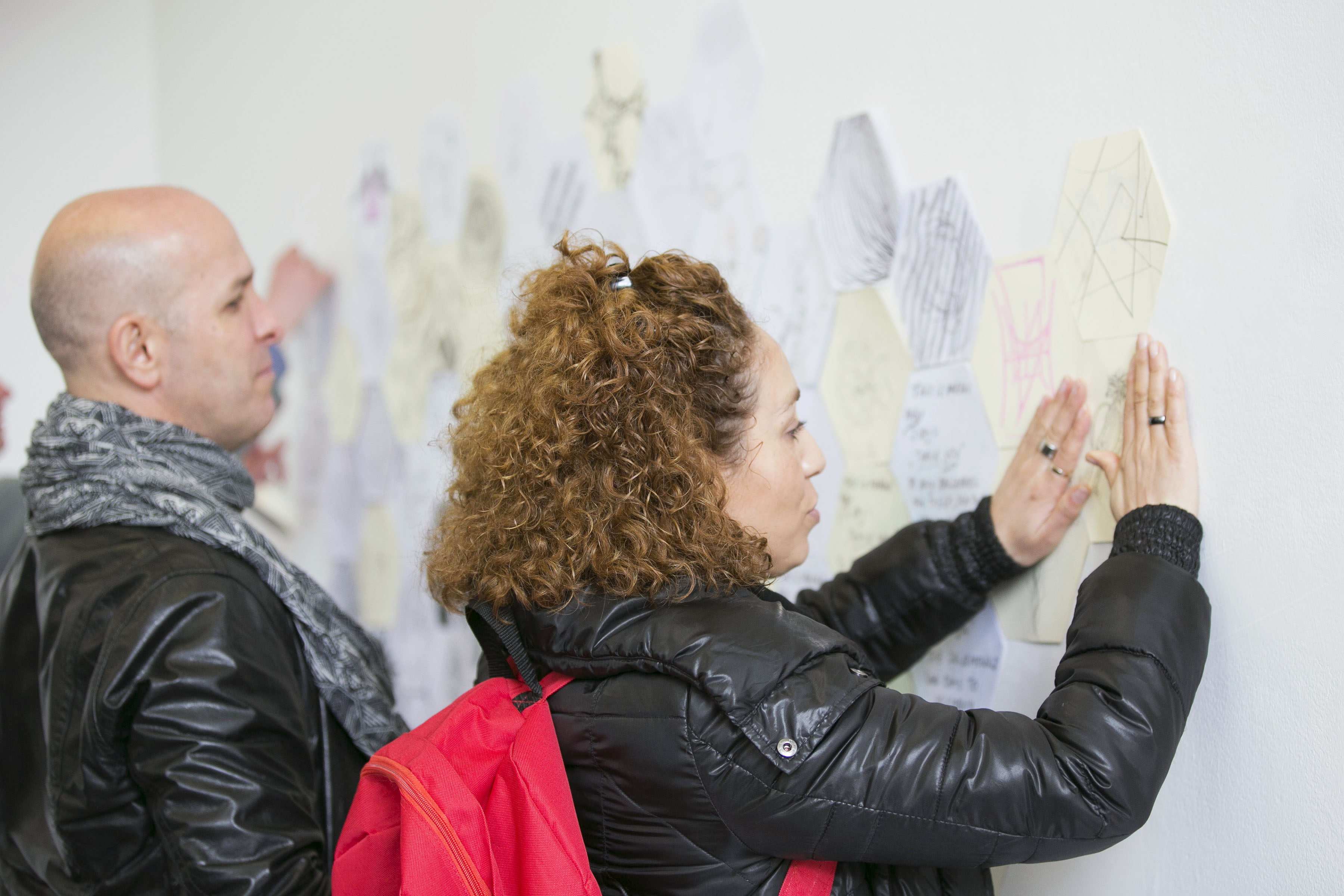 In 1983, the artist Rob Smith (whose work is in the IMMA Collection) said of drawing that it is
'a way of relating oneself to the world. A cross-over of internal to external…Finding a place in which to sit in the jungle of contemporary living.'
On Saturday 16 May 2015, IMMA was abuzz with people of all ages who were enthusiastically participating in a collaborative drawing as part of the National Drawing Day, an event which ran across 25 venues in Ireland. The invitation was to explore our primal need to draw and to engage with artwork, using our current IMMA Collection exhibition Fragments as a starting point.
Each individual was given a hexagonal shaped piece of drawing paper and a range of pencils from soft to hard. They were then sent to explore IMMA's galleries and grounds to find something that interested them and then make a drawing. The interpretation of drawing was very open from mark-making to illustration, with every mark authentic to the person who made it.
On completion, each individual was invited to add his or her hexagon to the collaborative wall drawing – a growing wall of shapes in a public space off the reception area. This cell-like structure was reminiscent of large honeycomb as more than 250 individual drawings were unified into one major group expression. The workshop which ran all day was conceived of and facilitated by two of IMMA's gallery staff, Olive Barrett and Barry Kehoe.
Barry and Olive's reflection on the day
It was a pleasure to experience the enthusiasm of the general public with regard to the current exhibition programme and Drawing Day. All age groups and many different nationalities engaged with the workshop and were reluctant to leave at the close of the day. Fascinating conversations both before and after the gallery visit occurred by the collective drawing. Visitors were enquiring if they could revisit the drawing at a later date and a teacher said he would bring the idea into his classroom!
This event captured the imagination of so many visitors who were visiting IMMA for the first time and engaged them creatively in looking at and responding to artwork for a longer duration than they might on another visit to a gallery space, experiencing what Rob Smith describes as '…finding a place in which to sit in the jungle of contemporary living.'
For people who might wish to explore drawing in IMMA's Collection in more depth, we have produced a booklet titled What is Drawing…? that will soon be available online here as well as in our bookshop.
IMMA, through its Education and Community programmes, has a number of initiatives that support people to access artworks on exhibition and participation in art making. For further details please see our website. Photos by Fiona Morgan.