Earlier this year Thaís Muniz (TM) was invited to take up one of four studios generously gifted to IMMA by the Dean Art Studios on Chatham Row in Dublin's City Centre. Joining this dynamic creative community is an exciting opportunity for the invited artists and for IMMA. Here Thaís Muniz invited Priscila Altivo to offer a brief overview of her artistic practice, Altivo's introduction is followed by a series of questions posed by IMMA to Muniz about her work and inspirations.
……………………………………………………………………………………
Sculpting textiles, connecting stories, archiving images and creating new ones to turn into inner energy. The work of Thaís Muniz chases multiple forms to integrate senses and expose stories. Ancestry, race and holistic aspects of the Afro-diaspora through shifts of space and time are translated from unwritten signs of reality and captured in her pieces. Thaís's work makes a direct connection with its viewers, inviting them to become a part of it.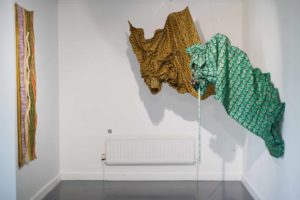 From Bahia, to Dublin, 4,923 miles separate the birthplace where Thaís was raised. It was her hometown in North-East Brazil which gave Muniz inspiration and guidance to build the movement Turbante-se in 2012. Translated as Turban Yourself, the platform is used to research, connect and share the Afro-Atlantic cultures, histories and beauty through turbans and headwraps, one of her main mediums.  
Dublin-based since 2014, the artist has been creating and collaborating with numerous projects combining urban interactions and performances, visual art and workshops. More than finding a home in Ireland, Muniz found a safe space as an IMMA invited artist at The Dean Art Studios to continue manifesting the narratives surrounding her imagination and presence.
Her approach is more than multicultural, it is multichannel. She addresses dimensions of perspectives to humanize the existence of people and places which the world at times chooses not to look at. She claims through art the direction to talk with spirit.
– Priscila Altivo
IMMA Q&A with Thaís Muniz, October 2022
Q: What or who inspires you? 
TM: People, existence, and the creation of possibilities are my main inspirations, as broad and complex as these topics are. I'm inspired by the possibilities of a better world, by my two grandmothers and my mom, by the historian and candomblé priestess Stella de Oxóssi, the writer Beatriz Nascimento, Afro-Brazilian culture, the Yoruba pantheon (also known as Orishas). Also by sharing good laughs, travelling, the sunlight, swimming in warm waters, popular celebrations such as Yemanjá's day in Salvador, being surrounded by my beloved ones, good music, good food and good memes.

The re-appropriation of stories, liberation, healing and reconstruction focusing on anti-colonial perspectives and intersectional feminism are topics I often work with. They provide me with the motivation I need to better understand my own history, reimagine realities, and continue the work of countless people that preceded my own existence to create and progressively challenge the status quo.
Q: What are you working on in your studio?
TM: I have been researching what I call the new Atlantic triangulations, an autobiographical reflection on the notions of territories and choices. I am a Brazilian woman with a strong African heritage – which is still uncertain exactly from where in the continent – who got Irish citizenship.
This triangulation has led me to deepen my questions and reflections on the sense of home, possibilities and mental health, elaborating on the relationships of replacement above the narratives of displacement, and the fake notions of choice that capitalism plays historically. Beyond that, reflecting on the connections that allow me to create opportunities for myself, my family and my continuity, through the healing of transgenerational traumas. 
Last August, I was an artist-in-residence at Cork Printmakers, and there I created a multi-layered flag to visually represent this triangular zone. For this flag, I chose to work with simple shapes combined: inverted triangles to represent a progressive and matriarchal society and circles to represent Ori (our inner strength according to Yoruba beliefs), unity and continuity. I used black layers of a see-through fabric (chiffon), that gives you alternate nuances and viewings, rethinking the idea of the solidity of a symbol that can represent a nation, a city, a club, and in this case a soul. I am working with quite a large format of screen printing (1,40m x 1m) and this work will be part of an exhibition in Edinburgh Printmakers in April 2023.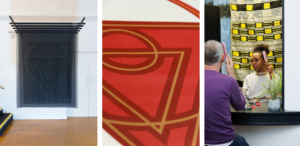 Q: Can you tell us about a recent or current exhibition you've seen that has had a resonance and impact on you and your work?
TM: In the middle of September, I saw the exhibition "In The Black Fantastic" at the Hayward Gallery, Southbank, in London, curated by Ekow Eshun. He gathered 11 contemporary artists from the African diaspora, and invited us to imagine fantastical futures as a zone of creative and cultural liberation and a means of addressing racism and social injustice by drawing on science fiction, myth and Afrofuturism. 
It was a powerful and inspirational exhibition, which gave me the opportunity to see for the first time the work of the American sculptor and performer Nick Cave (not the singer!), which included his more recent work Chained Reaction, as well as some of the pieces of the Soundsuits series. I saw the short film Prince McVeigh and the Turner Blasphemies, by Kara Walker with her iconic animated silhouettes.
I also discovered other artists such as Cauleen Smith, from Los Angeles and her multichannel video installation called Epistrophy, in which she created visions and illusions between the space, objects, screens and CCTV cameras. The collages of Rashaad Newsome, of Wangechi Mutu, but also her sculptures. I got struck by the sculpture Annunciation, by Chris Ofili, and his re-imagination of the visitation of Mary by the angel Gabriel, announcing the coming of Jesus. It was the first time I saw someone giving Mary the chance of a carnal encounter, and also becoming a powerful supernatural being. As he connected it with Homer's Odyssey, I connect it with the Yoruba pantheon where deities have both supernatural and human attributes. 
Q: If you could visit any artist in their studio who would it be? 
TM: The painter and sculptor El Anatsui. I am a big fan of his cloth-like sculptures and how he plays with the fluidity of these textiles weaved with ordinary recycling materials. I'm also fascinated by their unique volume, colours and scale. There is so much movement and strong statements about identity and colonialism through abstract imagery. Its inspiring.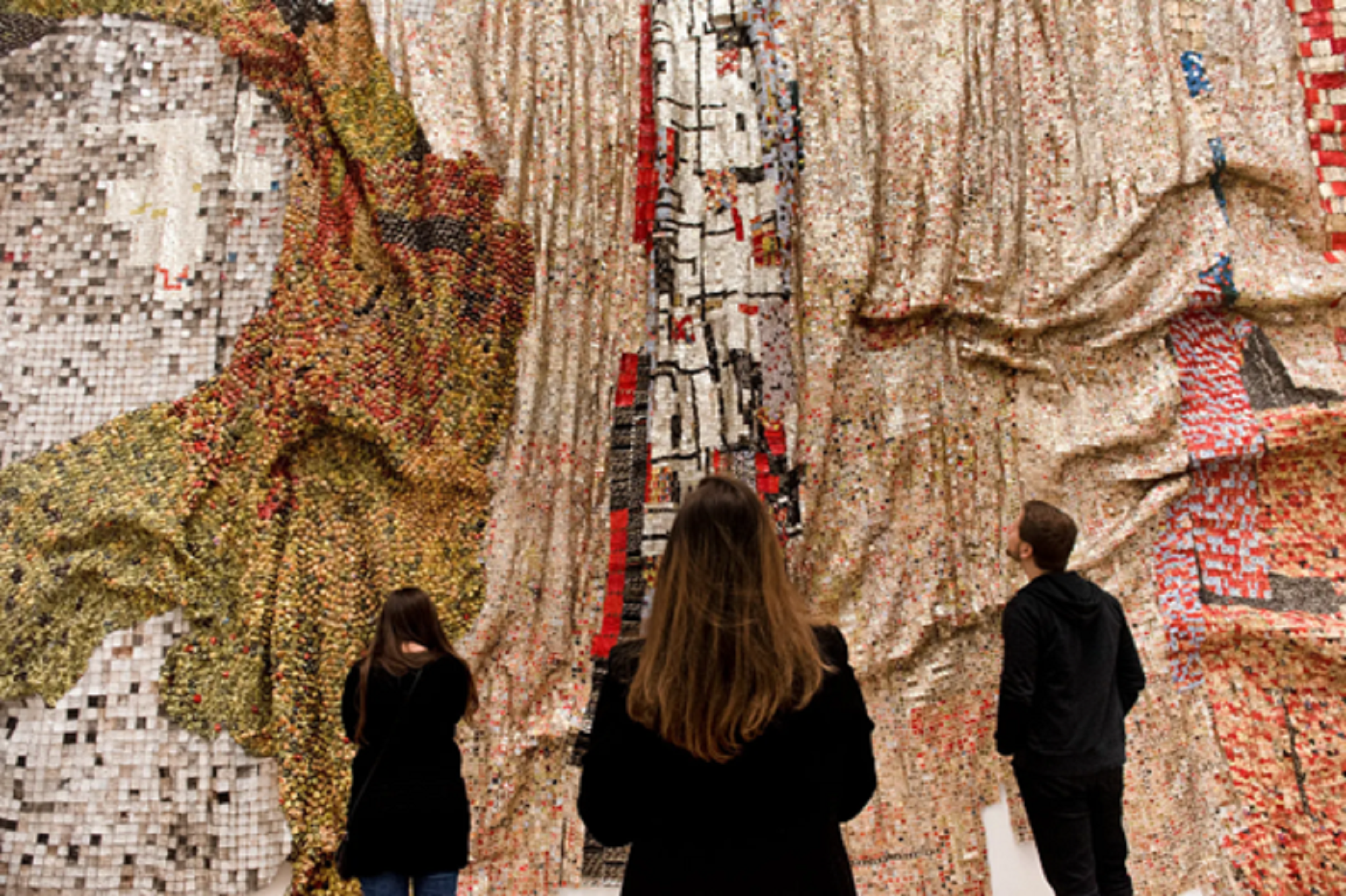 Q: If you could travel anywhere in the world for research where would you go and why? 
TM: Ghana, Benin, Togo and Nigeria are at the top of my list. I'd probably need two or three months to get a proper glimpse, but I'm fascinated by the aesthetic aspects created by Yoruba, Igbo and Ewe people, their cosmogony, the supernatural, the Vodun and the Ifa, which were reborn in Brazil as Candomblé. The arts, the textile making, the headwear and the connection of these West African countries with Brazilian culture are big inspirations for me. 
Q: What do you enjoy most about being an artist? 
TM: The ability to create narratives, fantasy and possibilities. I also love to share knowledge and materialize my visions, expressing them through different mediums. I enjoy the learning process through researching topics, linking ideas and allowing space for the unplanned. I feel excited about the movement between places I go and the exchanges I have with people. Also the flexibility.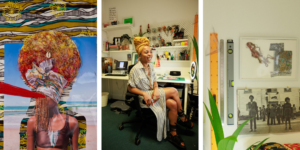 Q: What do you find challenging about being an artist? 
TM: As a full-time artist, managing the time I spend around some processes on the journey can be challenging as well as the pressure that comes with making a living as a self-employed person. Taking breaks and digesting a piece of work you have just made or presented is a great part of the practice, but sometimes you only have the opportunity to do it during the process itself or months after because of the busy routines and dynamics. 
In saying that, the positives far outweigh the negatives and I wouldn't choose another thing to do. It's difficult to explain the satisfaction I get from continuing this work, collaborating with communities and the spread of narratives which I consider important. 
—
Find out more about Thaís' work here
Find out more about The Dean Art Studios here
Thaís Muniz – @thaismunizthais
Turbante-se – @turbante.se
Priscila Altivo – @casimimuero_
Banner Image Credit: Thaís Muniz, Iansã – Urban Orishas Series by Antonello Veneri and Thais Muniz. Photo: Antonello Veneri