Businessman and collector Gordon Lambert was a loyal and generous supporter of IMMA since the campaign for its creation began in the 1980s. His private collection of over 300 artworks joined the Museum shortly after its opening in 1991. Since 2005 IMMA has also held his art library and extensive archive of letters, cards, photographs, printed material and ephemera.
In this Magazine article, Ciara Ball from our Visitor Engagement Team, invites us to have a look at selected artworks from the Gordon Lambert Collection that are part of the IMMA Permanent Collection.
………………………………………………………………………………………..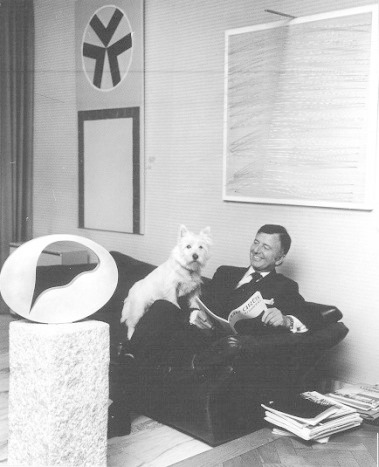 Gordon Lambert at home with his Collection, 1970
Gordon's art-filled Rathfarnham home was the first exhibition space for many significant artworks now in the IMMA Collection. This photograph from the 1970s shows him with Patrick Scott's 'Gold Painting 47', 1969, 'Oriflamme', 1957, by Jean Arp and Jesús Rafael Soto's 'Curvas Inmateriales', 1966. We hope you join us this week as we look at more works from the Gordon Lambert Collection and remember a person for whom art was a lifelong passion and a way to connect, support and share with others.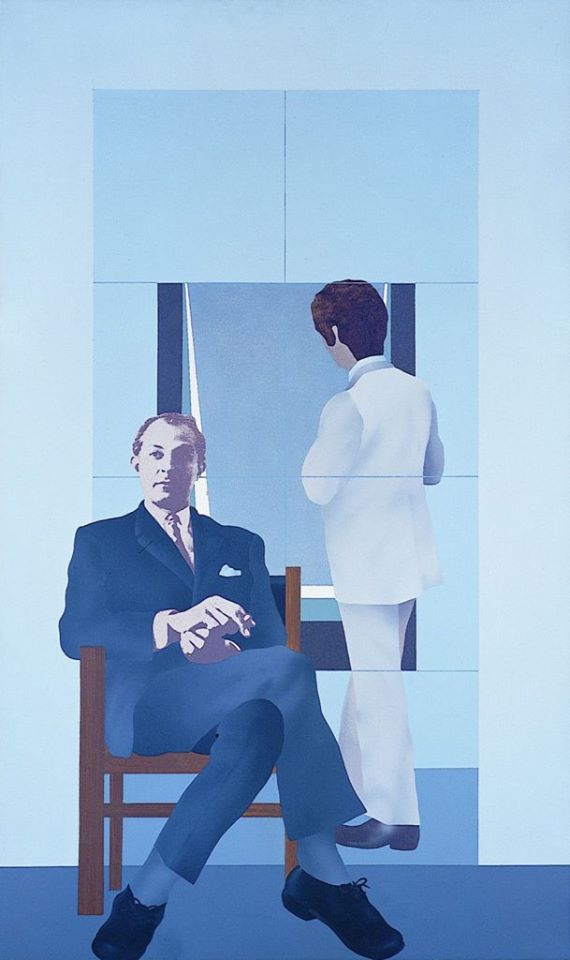 Portrait of David Hendriks (1972) by Robert Ballagh
In 1944 Gordon Lambert entered the biscuit manufacturing firm W&R Jacob and began a lifelong career with the company. It was also in the 1940s that he met the painter Cecil King, and through him a large circle of artists and gallerists, many of whom became friends and contributors to his collection. This 1972 portrait of gallery owner David Hendriks by Robert Ballagh pays tribute to one of the most significant among these. Hendriks opened his St. Stephen's Green gallery in 1956. At a time when the artistic environment in Ireland was hostile to new subjects and approaches, he provided a supportive space where contemporary artists could show and sell their work. In this portrait Hendriks's relaxed elegance draws the viewer as Gordon himself examines a Cecil King painting in the background.
Read Christina Kennedy's blog on David Hendriks here.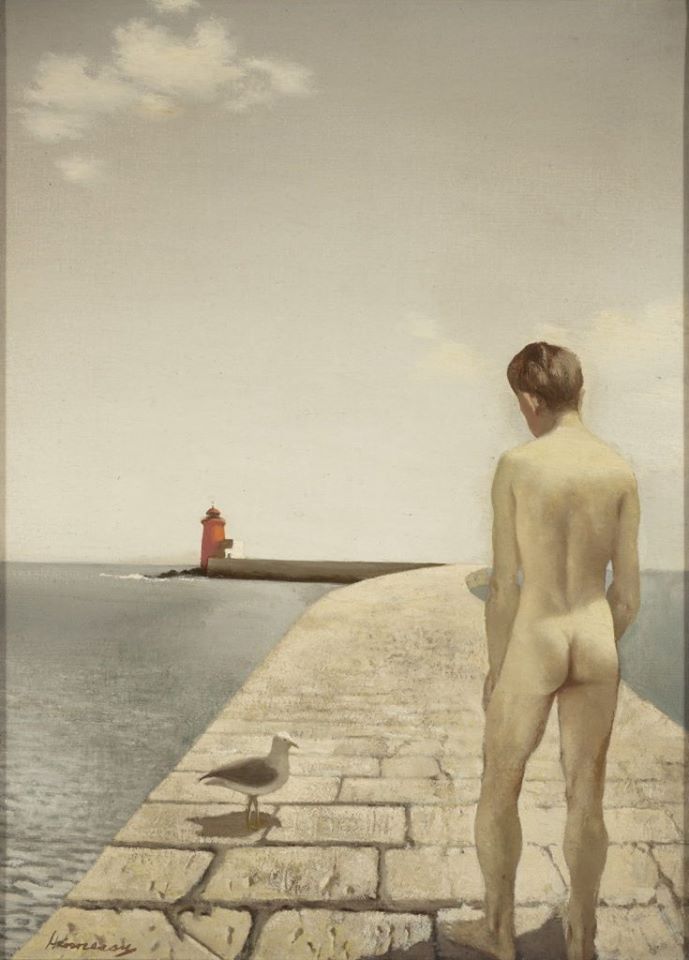 Boy and Seagull (1949) by Patrick Hennessy
One of the first works acquired by Gordon as he stared his collection in the 1950s, this painting differed dramatically from the portraits, landscapes and still life studies on which the artist's reputation was built. A close friend of David Hendriks, Hennessy was instrumental in the opening of the Ritchie Hendriks Gallery in 1956 and was part of a group of artists and collectors attempting to forge new avenues in Irish art at the time.
Explore our past Patrick Hennessy exhibition, De Profundis, 2016, https://imma.ie/whats-on/patrick-hennessy-de-profundis/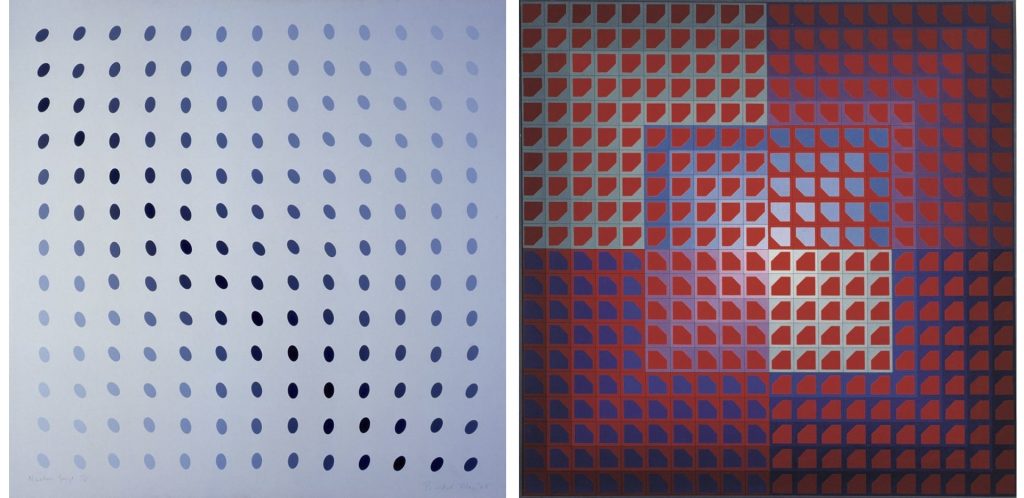 'from 19 Greys B (1968) by Bridget Riley and  'Lant' (1968) by Victor Vasarely
Gordon embraced the swinging 60s and the Op and Kinetic art movements which they inspired. During the decade he added works by international artists including François Morellet, Carlos Cruz-Diez and Julio le Parc to his collection. He waited many months for this Bridget Riley screen print to become available and described Hungarian painter Victor Vasarely as his favourite artist.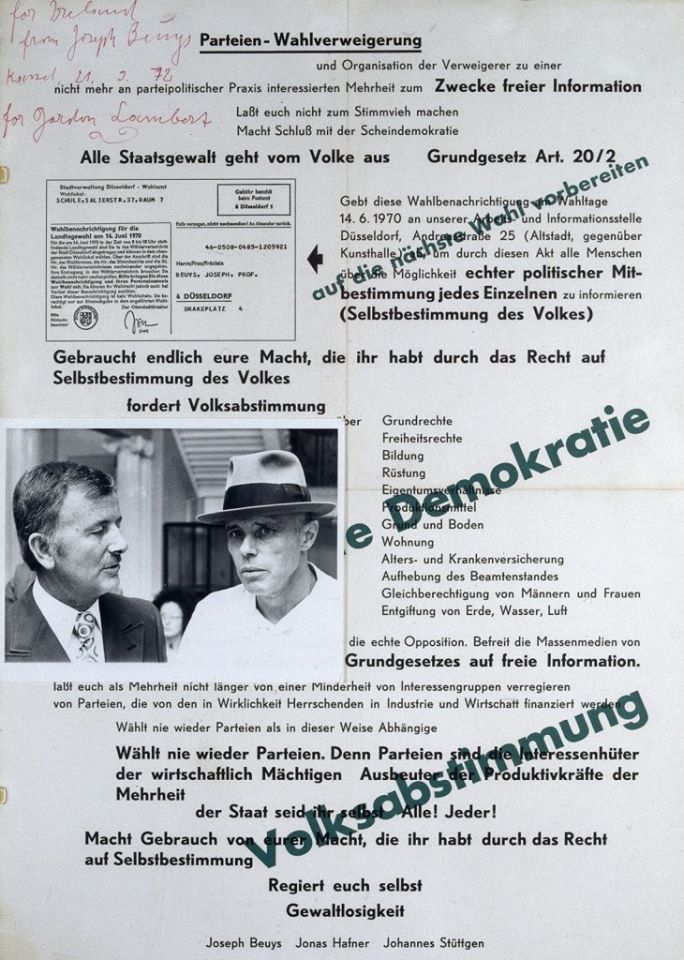 Poster signed "for Gordon Lambert" (1970) by Joseph Beuys
This is a poster made and signed for the collector by German conceptual artist Joseph Beuys. Together with art critic Dorothy Walker, Gordon was instrumental in bringing Beuys to Dublin in the early 1970s in the hope of locating his Free International University at the Royal Hospital Kilmainham. Though ultimately unsuccessful, this ambitious proposal demonstrates the commitment to contemporary art which would eventually result in the opening of IMMA on the same site.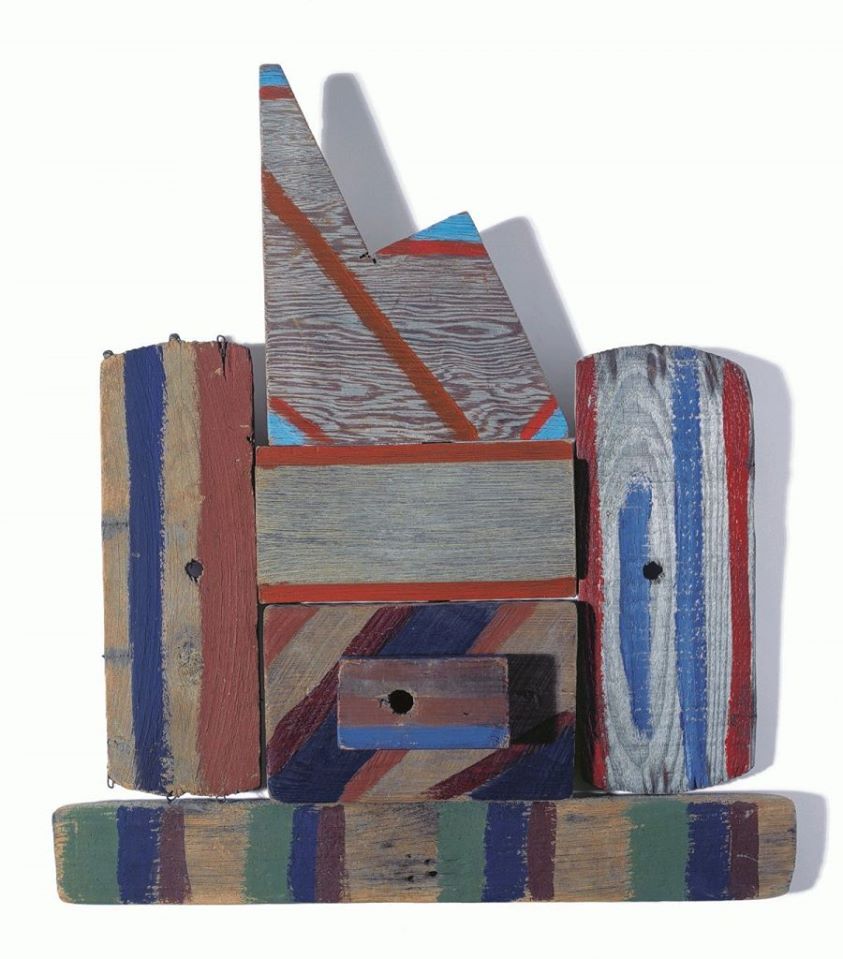 Flash (1975) by Betty Parsons
Gordon Lambert and artist and pioneering gallery owner Betty Parsons were introduced by Brian O'Doherty who showed with Betty Parsons from the 1960s onwards. During the 1940s, Parsons represented young avant-garde artists including Jackson Pollock, Mark Rothko, Barnet Newman and Agnes Martin in her gallery on 57th Street, New York. Her own innovative painting/sculptures are made from pieces of driftwood and other objects found on the beach near her Long Island home. Both a fan and friend, Gordon encouraged Parsons to visit Ireland many times.
Gordon Lambert's suitcase containing archive material
This well-worn suitcase monographed with the initials C.G.L. came to IMMA in 2005 as part of Gordon Lambert's expansive art library and archive of letters, cards, photographs, printed material and ephemera collected over six decades. The archive was catalogued with the help of a grant from the The Heritage Council in 2016. This fascinating resource documents both the building of Gordon's collection and the numerous projects, initiatives, organisations and events he undertook and supported in the arts in Ireland and internationally. It also attests to the warm and genuine affection for the people behind the objects he gathered.