Overview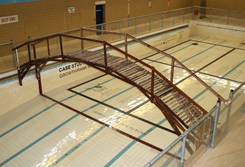 Studio 13
October 2007 – March 2008
Mixed media
Seamus Nolan's practice investigates the relative value of objects and social processes as they appear within different economies and contexts. He strives to unravel the commonplace, to recognise the inherent structure or code from which we construct and de-construct the world around us. His work is concerned with assembling alternative power relations, energy and possibility, in reconfiguring the everyday as a means to examine or question the purveyors of meaning. "It is necessary to speak about space and resources which surround us in order to develop new experiences for ourselves and our environment". His work often operates in conjunction with local community groups, and invites both a national and international audience to interact on a very personal level with this local activity, with the piece of work itself, and most importantly, with the context of its presentation. Some recent projects by Seamus Nolan include Art in the life world, the old swimming pool, Ballymun, Dublin, 2008; Demesne, The Lab, Foley Street, Dublin 2008 and Wexford Art Centre, 2007; Phoenix Park, The Kerlin Gallery, Dublin 2008; Nature Reserve, Europalia, Brussels 2007 and Pilot Archives, Venice/London 2007.
Related Links

 www.hotelballymun.com

 www.pilotlondon.org
</a /></span /></span />
The exhibition is accompanied by a fully-illustrated catalogue with texts by Michèle C Cone, art historian, critic and writer, and Enrique Juncosa, Director, IMMA.
Related Links

Press Release