Overview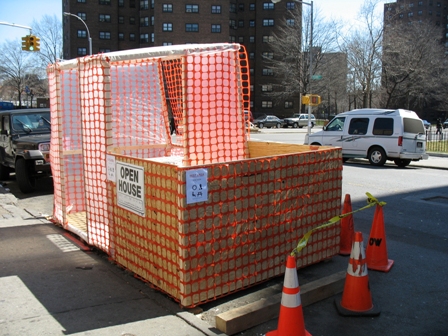 Beginning with a self-education in landscape painting, specifically the sited-ness of plein air painting, Hawke's work grew to question the landscape not as an optical organisation of colours, but as a collection of vectors of interest. He was deeply influenced by Smithson's site/non-site notion, and finished his master of fine arts and Master of Science degrees at Pratt Institute in 2002, writing his thesis on Smithson's Land Art antecedents (Grounding Art). From 2004-2007 he formed a collaboration with fellow student Sancho Silva, entitled Orange Work, the central premise of which has been to explore the possibilities for agency in adopting the guise of construction workers and employing the colour florescent orange that signals: AUTHORISED DISRUPTION.
In 2005 Hawke was a Kress Fellow at the Brooklyn Museum's Department of European Painting and Sculpture and in 2006 a participant in the Whitney Museum Independent Study Program (artist section). He has exhibited in New York at Art in General, Artist's Space, Apex Art, and Anthology Film Archives. He has participated in Creative Time's Convergence Center at the Park Avenue Armory, at the Savannah College of Art and Design, the Susquehanna Museum of Art, at the Centro Cultural de Belém in Lisbon, as well as having completed projects in Oslo and Milan. He has presented his work at the New Museum, the New School's Vera List Center, and the College Art Association and has received reviews of his work in the New York Times, Flash Art, Architect's Newspaper, the Brooklyn Rail,
http://www.rhizome.org/
and others. His studio work is represented by the Michael Kohn Gallery, Los Angeles and Pace Editions, New York. Hawke currently works as an assistant adjunct professor at Hunter College, New York.
Process Room
Hawke's work was shown in the Process Room from 7 to 19 June 2011.
Click

here
for Information and Images
Related Links