Overview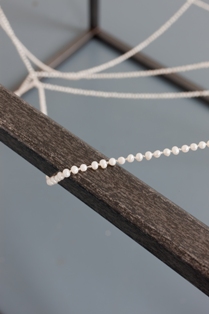 Studio 3B
March – August 2010
Mixed media/installation/drawing/photography

Aoife Collins interdisciplinary practice explores the transience and mutability of objects, ideas and public personas, especially the filtering down from 'highbrow' to popular culture and the inherent changes of form and meaning that occur in these circumstances. In effect, her practice reflects on how history, culture and fashion collide, and on the multitude of different strategies of communication. Collins work looks at the navigation of our cultural landscape, how cultural paraphernalia and ideas are disseminated and resonate with wide audiences. In regards to materials, objects and images, Collins questions their function, their potentiality to escape their positioning, and their ability to take on new identities.
Collins received a BA from the National College of Art and Design, Dublin, followed by an MA from Chelsea College of Art and Design, London. Selected residencies include Location One, New York; Skowhegan, USA, and Scottish Sculpture Workshop, Scotland. Selected exhibitions include Lost in your eyes, Form Content, London; Wet eye, Location One, New York; Culture clash, Working Rooms, London; Comfort burn, Artspace, Buffalo; Phoenix park, Kerlin Gallery, Dublin; ev+a, Limerick; Prelapsarian/here-and-now/postlapsarian, Goethe Institute, Dublin; Perspective, Ormeau Baths Gallery, Belfast, and Permaculture, Project Gallery, Dublin.
The Process Room
Aoife Collins's work was shown in the Process Room from 29 June to 11 July 2010.
Click

here for information and images