Earth Rising Festival
IMMA Presents a Four Day-Celebration of Creativity and Hope for a Sustainable Future
07/09/2023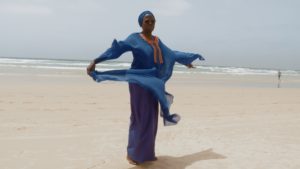 IMMA, the Irish Museum of Modern Art, is proud to present EARTH RISING, a four-day festival of free events and experiences aimed at addressing the climate crisis and inspiring collective action towards a sustainable and hopeful future. Taking place, from Thursday 21 to Sunday 24 September 2023, at the landmark Royal Hospital Kilmainham in Dublin, EARTH RISING promises an unforgettable experience that seeks to provoke, inspire, and empower audiences to become agents of change. 
As a space for dialogue and understanding, IMMA recognises the significance of the climate crisis as one of the greatest challenges of our time. EARTH RISING will be a catalyst for creative thinking, imagination, and individual agency in tacking this urgent issue, reimagining a more sustainable and liveable future for generations to come. 
The festival programme offers a diverse array of events, including over 50 artists and collaborators who will showcase their work via installations, screenings, workshops and tours; a talks stage that brings together influential voices in the fields of science, design and creativity; a dedicated food-themed site that will explore challenging topics curated by Gerry Godley and Jennie Moran; a Screening programme that includes the ground-breaking film series Leviathan Cycle by Shezad Dawood that examines climate change, migration and mental health; an exhibition by American artist Jo Baer inspired by the artist's stay in the archaeologically rich countryside of Co. Louth; and a Future Generations Tent curated especially for children and young adults by ECOUNESCO. Throughout the festival visitors can enjoy Music in the Courtyard, including an Eco Ceilí brought to you by Martin O'Donoghue and Damhsa Liomhsa, and a wide variety of food vendors. 
Annie Fletcher, Director, IMMA said "EARTH RISING embodies IMMA's commitment to fostering creative-thinking, dialogue, and understanding as we collectively address the climate crisis and envision a brighter, more sustainable future. The museum is dedicated to promoting social progress and cultural innovation through dialogue and understanding. With a mission to address contemporary challenges and inspire positive change, this festival serves as a catalyst for creative thinking and our collective agency in the face of pressing global issues".
The festival programme is available on the EARTH RISING FESTIVAL APP, which can be downloaded from the App Store and Google Play.  
Festival Highlights: 
EARTH RISING PRESENTS: Through an open call IMMA has provided funding to support over 50 artists who will showcase their work during the festival weekend. Events include workshops ranging from human-size nest making with Ilaria Delcane, Simona Roveda, Zoë Uí Fhaoláin Green and Silke Michels to cheesemaking with David Beattie and Michelle Darmody, a live cinema indoor performance from Colm Higgins and an outdoor Gaelic ritual immersive theatre piece by Sadbh Grehan, a community smokehouse by William Bock and Max Jones, a wind activated clay pipe installation by Brendan Lomax and an interactive moss-pit from RE-PEAT to name a few. 
EARTH RISING TALKS: The Earth Rising talks stage will bring together influential voices from diverse fields to explore creative solutions for environmental and societal change. Eminent author and activist, Dr. Vandana Shiva; Irish inventor and environmental advocate Fionn Ferreira; Irish broadcaster and ecologist Anja Murray, and best-selling author Eoghan Daltun are among the notable speakers. GOAL's NextGen Youth Programme will hold a panel discussion featuring their current youth participants who are travelling from Uganda, Ethiopia and Zimbabwe and will be joined by Irish participant Clodagh Sully. On Culture Night, Friday 22 September, the festival will host a special Seanchoíche storytelling evening exploring the theme of "Creativity for Change". The EARTH RISING TALKS programme is presented in partnership with the DCU Centre for Climate and Society. 
EARTH RISING FIELD KITCHEN, curated by Gerry Godley and Jennie Moran, is a dedicated food-themed site within the festival, fostering discussions, provocation, demonstrations, and conviviality. Topics explored include Imagining a different kind of Dublin Food Landscape, Grain Sovereignty, Farming in Transition, Thoughtful Meat Consumption and Who decides what Ireland eats?. With an empowered and positive stance on our shared food future, this space promises a richly diverse programme throughout the four-day event. For Culture Night the Field Kitchen will co-host a special evening of food demos, music, and dancing with Cooking for Freedom, a group of refugees in Direct Provision hostels who advocate to cook for themselves and their families.
EARTH RISING FUTURE GENERATIONS TENT, curated especially for children and young adults by ECOUNESCO, will host a vibrant programme of exhibitions, workshops, and discussions, exploring themes of biodiversity, sustainability, mental health and agency for change, involving younger generations in the crucial conversations about our planet's future. 
EARTH RISING EXHIBITON: Coming Home Late: Jo Baer in the Land of The Giants is a solo exhibition by the American artist Jo Baer that brings together a series of recent paintings inspired by the artist's stay in the archaeologically rich countryside of County Louth between 1975 and 1982. The series of six works completed between 2009 and 2013, presented alongside two additional paintings dating to 2020, was fuelled by Baer's continued research into Irish Neolithic artefacts and myths. They reflect the artist's long-life interest in history and science and trace the convergences and timelines of thought and memory between the ancient and now. 
All events and experiences at EARTH RISING are free of charge, ensuring the festival is accessible to all. However, booking in advance may be required for specific workshops and events. For updates and further details, visit www.imma.ie. 
ENDS 
For media inquiries, interviews, or additional information, please contact:
Patrice Molloy:  [email protected]
Monica Cullinane: [email protected] 
Dylan Mellody-Kelly: [email protected]  
Additional Notes for Editors 
Earth Rising Festival Details 
Admission: Free    
Dates: Thursday 21 to Sunday 24 September 2023 
Opening Times:  
Thursday 21 Sept: 11am – 7pm 
Friday 22 Sept: 11am – 9pm (Culture Night) 
Saturday 23 Sept: 11am – 7pm 
Sunday 24 Sept: 11am – 7pm  
Festival App: The festival programme is available on the EARTH RISING FESTIVAL APP 
Download from App Store (Apple iOS):
https://apps.apple.com/ie/app/earth-rising/id6464311010 
Goggle Play (Android):
https://play.google.com/store/apps/details?id=com.appmiral.earthrising

Webpage: Earth Rising Festival 
IMAGE Information  
From Leviathan Cycle by Shezad Dawood, screened on Friday 22 and Sunday 24 September.
About: Leviathan Cycle is a multi-episode film series, and part of Shezad Dawood's ground-breaking Leviathan Project. Leviathan Cycle looks at the key issue of our day: how do we understand the intersection between climate change, migration and mental health in our shared ecosystems?. In dialogue with a wide range of marine biologists, oceanographers, political scientists, neurologists, evolutionary geneticists, forensic anthropologists, trauma specialists and activists, Leviathan Cycle is set 20-50 years into the future, envisaging a future eerily like our present to consider possible links between borders, psychological trauma, and human and marine ecologies. Every film in Leviathan Cycle is a universe unto itself, and follows the journeys of a cast of characters who are the survivors of a cataclysmic solar event.
Taking a global and collective approach, Leviathan Cycle reflects on the systemic crises within our biosphere, to imagine where we might end up if we fail to gain a deeper understanding of the intersections between fields of knowledge and ways of living, across and between human and more-than-human ecologies. 
Caption: Shezad Dawood, Leviathan Cycle, Episode 7: Africana, Ken Bugul & Nemo, 2022. Single screen, HD video, 14.42. Commissioned by Toronto Biennial of Art and Leviathan –Human & Marine Ecology. Courtesy of the artist and UBIK Productions.