Exhibitions
> Current Exhibitions
Second Sight: The David Kronn Photography Collection
2 August – 9 November 2014
Garden Galleries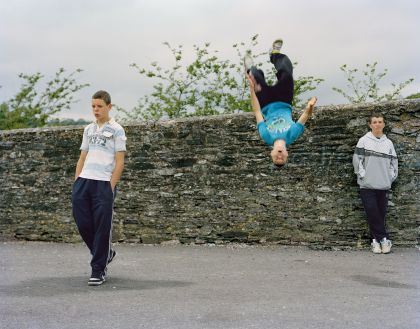 Doug Dubois, My last day at seventeen, Kieran, Dylan and Cian at Cuskinny Bay, Cobh, 2011, 61 x 76 cm, The David Kronn Collection, © Doug DuBois
Second Sight is drawn from the exceptional collection of photography amassed by Dr David Kronn for the past twenty years, and which is a promised gift to IMMA. The David Kronn Collection comprises more than 550 photographs ranging in content from 19th-century Daguerreotypes; works by icons of modern photography such as Edward Weston and August Sander; as well as works by award-winning contemporary photographers such as Trine Sondergaard and Simon Norfolk. In 2011, IMMA staged the first exhibition from this collection. Second Sight marks the donation of 50 works to IMMA from the Kronn Collection, this donation will be shown alongside a display of work by contemporary international photographers from the IMMA Collection.
A number of images of Ireland in the 1950s, 60s and 70s are represented in the IMMA Collection in works by Magnum photographers such as Abbas, Marc Riboud, Eve Arnold, Elliott Erwitt, Philip Jones Griffith and Inge Morath. Some of these will be integrated in the exhibition showing the affinities they share for instance with images of Irish life by Evelyn Hofer and Dorothea Lange from the Kronn Collection. In terms of contemporary photography, the themes, motivations, expressions and working practices that occur among artists in the IMMA Collection who use photography as their main medium or as part of their production such as Willie Doherty, Paul Seawright, Gerard Byrne, Amelia Stein or Perry Ogden for example, will be explored through juxtapositions with the Kronn Collection in ways that give rise to potential encounters and discourses. The selection of works will search for ideas in common irrespective of visual outcomes and in so doing how one collection can be folded into another.

List of Artists: Abbas, Berenice Abbott, Susan Abrams, Manuel Alvarez-Bravo, Lola Alvarez-Bravo, Eve Arnold, Karl Blossfeldt, Fergus Bourke, Hugh Brown, Gerard Byrne, Harry Callahan, Elinor Carucci, Vincent Cianni, Mark Citret, John Coplans, Gary Coyle, Tillman Crane, Steve Crouch, Edward S. Curtis, Raphael Dallaporta, Bruce Davidson, William E. Davis, Doug Dubois, Harald Edgerton, Alfred Ehrnhardt, Elliott Erwitt, Martine Franck, Helen H. Garber, Mario Giacomelli, Harry Gruyaert, Erich Hartmann, John Hinde, Evelyn Hofer, Nicolai Howalt, Karel O. Hruby, Pieter Hugo, Graciela Iturbide, Philip Jones Griffiths, Michael Kenna, Jonathan Krotinger, Dorothea Lange, Yaron Lapid, Annie Leibovitz, Joel Meyerowitz, Bart Michels, Inge Morath, Jun Morinaga, Daido Moriyama, Richard Mosse, Asako Narahashi, Nicholas Nixon, Simon Norfolk, Kenneth O'Halloran, Martin Parr, Matthew Pillsbury, Anna Rackard, Ron Rosenstock, Douglas Ryuije, August Sander, Tomoko Sawada, Paul Seawright, Paul Sepuya, Malick Sidibe, Aaron Siskind, Alec Soth, Amelia Stein, Issei Suda, Bob Thall, Tuig, Underwood, United Press International, Kazuhiko Washio, Todd Webb, Brett Weston, Scott Whittle, Ronald Wohlauer, Bruce Wrighton, Ion Zupcu.

Listen to an introduction to the exhibition by curator Sean Kissane
In this short excerpt Sean Kissane (Curator, Exhibitions, IMMA) introduces David Kronn and his substantial donation of photographic works to the IMMA Collection. This excerpt is taken from the original recording of the discussion that took place on Thursday 31 July 2014, in the Garden Galleries.
Click here to listen via IMMA's SoundCloud Channel
Talks and Events
Critical response: Justin Carville
Friday 31 October, 1.15–2.00pm, Garden Galleries
Justin Carville (lecturer, IADT) explores how photography not only documents social, cultural and geographical transformations, but shapes how Ireland is viewed by itself and the rest of the world. Click here to book
Photographer's Talk + Discussion| Amelia Stein                                                             
Tuesday 4 November, 6.00-7.00pm, Lecture Room                                                                  
Through the genus of portrait photography, Amelia Stein (photographer, Aosdána) explores the intrinsic qualities of fine black and white photography and print, in which to evoke universal themes of loss, memory and meaning in some of her most celebrated photographic projects. To follow this talk Trish Lambe (Gallery of Photography, Dublin) will steer an open discussion with Amelia Stein. Click here to book


Supported by the American Friends of the Arts in Ireland.
Visitor Information - Admission Free

Public Tours
Tour times: Wednesday 1.15pm, Saturday and Sunday 2.30pm. Each tour lasts 30 minutes. No booking required.

Opening Hours

How to get there
Related Links

Interview with David Kronn by Richard Fitzpatrick in the Irish Examiner

back