Process Room, 15.08.05- 04.09.05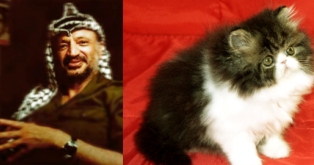 Yasser Aggour believes that his art has emerged from a particular chrysalis: economic, social and intellectual history, dandyism, the legacies of performance and conceptual art and over-exposure to erectile dysfunction commercials. His intention is to create a bewilderingly diverse body of work that is psychologically charged and leavened with sweet perversity. He has calibrated his art so that it has a range of emotional season — pathos and pathology, humour and sobriety, anger and vulnerability.
A solar system composed entirely of the eyes of Tom Cruise; a smiling Saddam looking very much like a member of the Village People; and a dying ram perched atop an enchanted vista — all images from Yasser Aggour's recent series "Called are Many". Dealing with such themes as mortality, the spiritual evacuation of nature, and finding happiness in the age of terror, each of the photographs are created by borrowing images from random websites then radically transforming them by removing and adding information.
For a printable version of this information please download the following document

Yasser Aggour Process Room doc.
Click 
here to return to Previous Participants
Click

here to browse ARP Projects