Process Room 20.09.11 – 02.10.11
The video work Visionaries & Voyeurs, II, (2009) shows a woman walking back and forth in a stage–like environment reciting a long monologue. The monologue has an overall length of approximately nine minutes, and consists of various utterances surrounding ideas of transcendence, power, violence, confrontation, relationships, personal display, social conventions, perception……..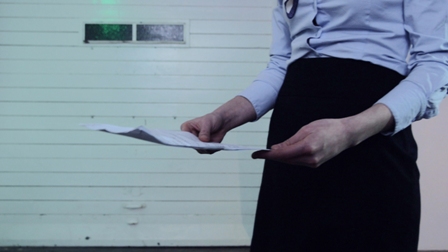 During the whole monologue, the woman's voice seems to "slide" from one utterance into the other, and her presence is accompanied and reinforced by the zigzagging camera. The camera moves the same way throughout the video's duration, following a very distinct, impassable and therefore different trajectory than the figure on the stage-like environment. As well as the camera traveling, the location seems to resist a proper definition: is it an outdoor location, a theatre stage or a movie setting.
The woman speaks carefully chosen sentences and then executes meticulous actions. She seems to perform for herself as well for an imaginary audience. The monologue may be sparse, eloquent or at times hermetic, but it provokes the audience to ask themselves how the speech works and what it demands from them.
Upcoming or recent exhibitions by Santoro include:
Aujourd'hui, Demain / Today, Yesterday, Fondation Ricard, Paris (2012); Le vingt-quatre heures, Galerie Campagne Première, Berlin (2011); Que tout le monde vive comme si personne « ne savait » : some script works, Rosascape, Paris (2011); The Unbearable Lightness of Being, Yvon Lambert, New York (2011); Man Leaving Harbour on a Ship (in a Room), La BF15, Espace d'art contemporain, Lyon (2010) and Press Art – Annette and Peter Nobel Collection, Kunstmuseum St. Gallen and Museum der Moderne, Salzburg (2010).
Further information can be found at http://www.vittoriosantoro.info/
For a printable version please download the following document: 

 Vittorio Santoro: Visionaires & Voyeurs, II (Adobe Acrobat Document, 261KB)
Click
here to return to Previous Participants
Click

here to browse ARP Projects