Process Room, 11.11.08- 23.11.08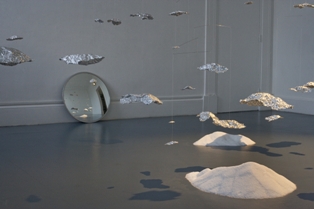 Pieces of aluminium kitchen foil float slowly through space. Shadows wander over the floor. Piles of sugar form little islands on the ground. The natural flow of air keeps the mobile going. Every visitor's movement changes the mobile's pace, but it seems to keep going in its own cosmic way. A round mirror is leaning against the wall. Kitchen foil, sugar, thread and wire are everyday materials and the way they are used in this piece changes their context and content.
Ulrich Vogl's medium is drawing and installations, what he calls "drawing sculptures". While Vogl's overall topic would be the "extension of drawing", his focus of the past three years has been on "drawing and light", working with shadows, reflections, movement and drawing. Many of his works are playful and interactive, creating its own magic without ever hiding the simplicity of its creation.
Vogl is based in Berlin, Germany. Recent solo exhibitions by Vogl include Ulrich Vogl, Benjamin Greber, Viafarini, Milan 2008; Premiere, KrasakaEckstein, Bremen, 2007 and Goldgräber, Kevin Kavanagh Gallery, Dublin, 2006. Selected group exhibitions include Villa Grisebach, Berlin, 2008; wohnen, sitzen, glauben, Kunstverein Regensburg, 2008; Better is something you build, Kevin Kavanagh, Dublin 2008; Windkanal, toilette 27, Berlin, 2007; s/w, bell street project space, Vienna, 2006; and Micro Universe, The Lab Gallery, New York, 2005. Vogl had a solo show at the Kevin Kavanagh Gallery in March 2009.
Further information on Ulrich Vogl's practice can be found at www.kevinkavanaghgallery.ie and www.ulrich-vogl.de.
For a printable version of this information please download the following document
Ulrich Vogl: of islands and clouds (Word doc 2000 – 5.16MB)
Click 
here to return to Previous Participants
Click

here to browse ARP Projects