31 May – 2 September 2012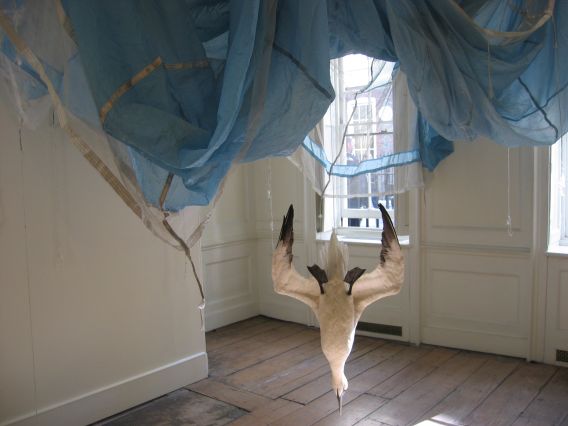 Dorothy Cross, Parachute, 2005, Dimensions variable, Parachute and gannet, Purchase, 2005, Collection Irish Museum of Modern Art

IMMA will have a city centre presence for the first time in its new exhibition space at the National Concert Hall (NCH) in Earlsfort Terrace. The building's history as a medical school has inspired a new exhibition from IMMA's Collection, Time out of Mind, curated as an open composition that will allow multiple readings and experiences. However, it will particularly engage with the theme of science in celebration of Dublin City of Science 2012. The exhibition and programme will create a lense through which to explore the connections between art and science.
Time out of Mind brings together the work of 27 leading Irish and international artists, mainly in works created from the 1990s onwards. Installed in the 14 galleries on the ground floor of the North Wing of the NCH building, the exhibition responds to the various cultural and intellectual layers of Earlsfort Terrace, in particular the building's former scientific function as part of the National University's Medical School.
Featured artists include Carlos Amorales, Lynda Benglis, Michael Craig-Martin,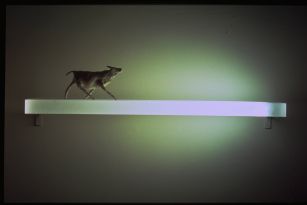 Dorothy Cross, Marcel Duchamp, Clodagh Emoe*, Chung Eun-Mo, Fergus Feehily, Barry Flanagan, Marie Foley, Anita Groener, Cristina Iglesias, Callum Innes, Isaac Julien, Elizabeth Magill, Mark Manders, Fergus Martin, Niamh McCann, Stephen McKenna, William McKeown, Linda Quinlan, Eva Rothschild, Sean Scully, Maria Simonds-Gooding, Grace Weir, Alexandra Wejchert, Daphne Wright. The exhibition also features the work Presentation Sisters by Tacita Dean, on loan from the Crawford Art Gallery, Cork, (due to technical problems this work is closed until further notice).
As part of the exhibition programme, IMMA will invite artists to reflect on their works in the exhibition in the context of current developments and new directions, and faciliatate discussion around the cultural aspects of science, the impact of science on art, their ideas and personal philosophies.
Curator Jobst Graeve has been invited to make a selection of works by Marie Foley in an installation which will accompany Foley's work, The Last Judgement, 1992, which is in the IMMA Collection.
Parodos, 2009, by Clodagh Emoe will go on exhibition as part of Time out of Mind in the Annex at the NCH from 8 August which coincides with the opening of Not I by Neil Jordan. This film installation will be on view until 9 September 2012.
An exhibition guide accompanies the exhibition.
To coincide with the exhibition, the first in a series of public seminars entitled ART + will explore the subject of collaboration between art and science on Tuesday 10 July 2012 at Earlsfort Terrace. This includes a keynote address by Siân Ede, Arts Director of the Gulbenkian Foundation, followed by a discussion with panel speakers including Dorothy Cross and Tom Cross, Marie Redmond from Creative Technologies at Trinity College, Michael John Gorman, Director of the Science Gallery, and Mick Wilson, GRADCAM Fellow at NCAD.
In addition, to mark IMMA's tenure in the NCH building, a series of lectures continues under the title Agents of Architecture in collaboration with the Irish Architecture Foundation. High profile international speakers have been invited to represent their involvement in the subject, their understanding of its definition, from the typical to the most unorthodox views. International speakers confirmed to present in the Autumn series 2012 at Earlsfort Terrace, include Anne Lacaton, Lacaton Vassal, Paris; Eva Franch, Director, Storefront for Art and Architecture, New York; alongside other national and international participants. Admission to talks and lectures is free but booking is essential, please click
here to book 
As part of a new audience building initiative for the NCH site, free guided tours of the exhibition for individual visitors and small groups will be available on Tuesday and Saturday at 4.00pm, Wednesday and Friday at 1.15pm and Thursday at 6.00pm. The exhibition will remain open until 7.00pm on Thursdays.
Information on Education Programmes that explore the Time out of Mind exhibiton is available by clicking 
here
Strands is a resource booklet with information and ideas on how to explore the Time out of Mind exhibition.
Click here to download the booklet (Acrobat Reader PDF –  488KB).
Related Links
Press Release
Click
here to read an extract printed in the Irish Times from the presentation by Sian Ede at the Art + Science Seminar which took place at IMMA on 10 July 2012.
Dublin City of Science 2012
The exhibition and related programmes are sponsored by Dublin City of Science 2012.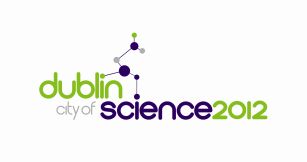 The exhibition is supported by THE IRISH TIMES and Feast Catering.