The most extensive exhibition to date from the Museum's own collection, The Moderns, explores the development of modernity in Ireland through the visual arts in the period 1900 to 1975. This part of the exhibition focuses on the 1960s and 1970s and continues through the 3rd April 2011.
The exhibition brings together exceptional examples of painting and sculpture, photography and film, architecture, literature, music and design of the period. Curated mainly from IMMA's Collection, it also includes superb loans from the public and private collections in Ireland and beyond.
The Moderns: The 1960s and 1970s explore many of the key artistic movements of the period, including the impact of the ground-breaking ROSC exhibitions in the 1960s and '70s, and of Minimal and Conceptual Art, in the works of Brian O'Doherty, Barry Flanagan and Michael Craig-Martin, will also be examined.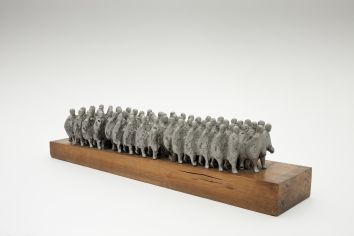 Related Links
A virtual tour of The Moderns is available please click
here to view
To view The Moderns Virtual Museum please click
here
The Moderns Exhibition Guide (pdf 276KB)
Resources for Second Level Students and Teachers
Press Release
The exhibition is sponsored by

Media Partners