The IMMA SUMMER PARTY returns for a third year on Saturday 16 July with a truly unique nighttime celebration of music, performance, food and drinks in the buildings and grounds of IMMA.
Tickets are currently SOLD OUT.
This year the music programme is being curated by Cillian Murphy. Once the singer and guitarist with a rock band, actor Cillian Murphy has a visceral love of music and an impeccable ear. Having previously collaborated with the likes of Feist, Money, I Break Horses, Orbital's Paul Hartnoll, Mark Garry, Kevin Drew of Broken Social Scene, Irish music blog Fractured Air, and The Frank and Walters. This is his first curation of a live music programme.
While each act is musically very different, all of the artists selected by Murphy are known for their unique and mesmerising live performances. From the intense soundscapes of German pianist/ composer Hauschka through the refined elegance of Gloaming composer and fiddler Caoimhín Ó Raghallaigh to the electronic disco explosion of New Jackson (DJ set) and the bewildering and energetic brilliance of Irelands own Meltybrains? audiences are in store for a creative and engaging night of live music. From the intimate to the epic, expect music to fill the Great Hall and stunning Baroque chapel, spilling out onto the formal lawns of the IMMA Gardens.
Murphy will be joined by performance curator Anna Gritz (Kunst-Werke, Berlin) who is programming a series of live interventions to take place across the site throughout the night entitled
Preserves and Presences .
As always delicious food and drinks will be available to purchase on the night and the grounds will be open to art and culture lovers throughout the night.
A highlight of the summer calendar the IMMA Summer Party has sold out every year.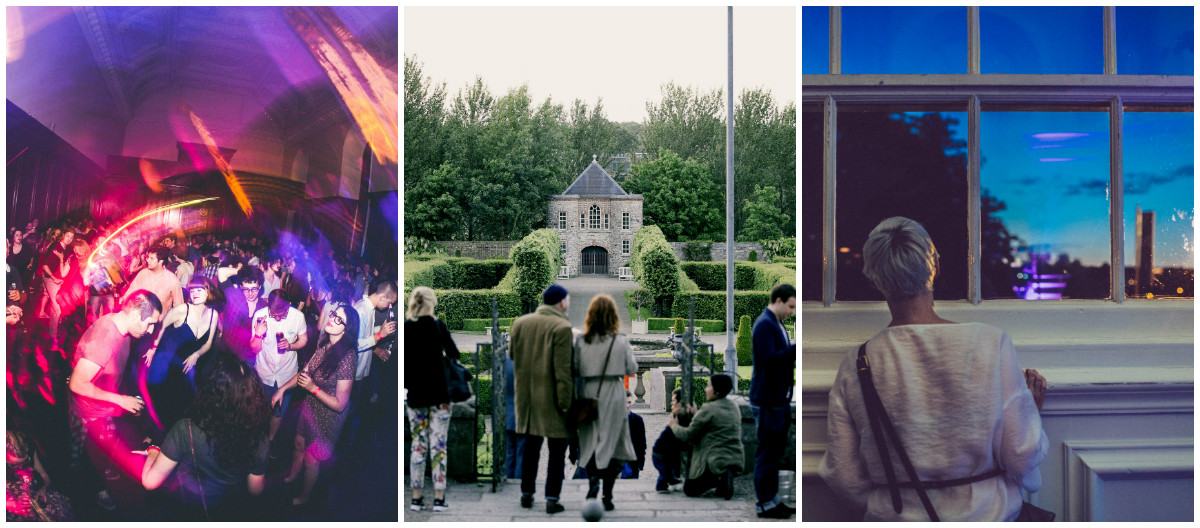 Music Programme
Hauschka (Listen)
German pianist Hauschka (real name Volker Berttelmann) is one of the most recognisable 21st-century proponents of prepared piano. When you listen to his music this makes more sense than you might at first think: the sound of Hauschka is both instinctive and fuelled by a love of rhythm.
"One thing about Hauschka's music is that once you've seen it performed live (..) it's impossible to dissociate the visual from the sounds you're hearing. (..)some of it even comes mid-song, and watching him reach one hand into his instrument's guts to jam sticks into its strings—while still playing with his other hand—makes for one of the more visually interesting piano performances you'll ever witness." (Undertheradarmag.com)
New Jackson (DJ set) (Listen)
From his studio near the sea, New Jackson makes nocturnal house music with a ghostly disco tint. The Dubliner's putting the finishing touches to his first release of 2016 – a debut outing on the Maeve label, with his debut LP and further 12"s on the way. 2015's highlights include a collaboration with Fort Romeau, 'Not A Word', which featured on the UK producer's album on Ghostly, and a return to hometown label Major Problems with the 'Metroflex' 12".
"New Jackson bashes through electronic pitch changes, dressed in funky rhythms and topped off with some mechanical synth work…his set was a masterclass in live-electronic performance."  –GoldenPlec
Caoimhín Ó Raghallaigh (Listen)
One of the most exciting and innovative traditional musician of his generation and member of The Gloaming, Caoimhín Ó Raghallaigh makes music on a 10- string fiddle called the hardanger d'amore, and travels the world as a solo musician, in duos with Dan Trueman, Mick O'Brien and Brendan Begley, and as a member of The Gloaming and This is How We Fly. He has performed on some of the most beautiful stages in the world, including the Sydney Opera House, the Royal Albert Hall and the Lincoln Center. He has made twelve recordings to date, ranging from quite traditional to fairly out there, and continues to explore the region where traditional music begins to disintegrate. His is currently musician-in-residence in the John Field Room at the National Concert Hall.
"[Caoimhín Ó Raghallaigh is] the most imaginative and fascinating musician in all of trad" Earle Hitchner, Irish Echo
Meltybrains? (Listen)
Meltybrains? was born with the recording of a number of electronic vocal-based songs, taking 'lyrics' from household objects such as bills, cigarette packets and deodorant cans. From the word go this was a band who did things differently. Since their first appearances back in Dublin 2012, Meltybrains? have garnered a strong reputation for their unabashed creativity, picking up a loyal following that has helped them sell out shows across Ireland, the UK and the US. The band has also enjoyed great success playing at major music festivals including SXSW and Electric Picnic.
"They literally blew my mind. They're such accomplished musicians. All I can say is see Meltybrains? when you can. They are incredible live" Niamh Hegarty (BBC NI).
Performance Programme
Preserves and Presences
Adam Christensen / Beth Collar / Christodoulos Panayiotou / Tai Shani / Jala Wahid
What is that space between something being present and the many ways this presence can be preserved, conjured, or resurrected. When something is not itself anymore, but its preserved, pickled, cured, version – when states are altered and one thing stands in for another. Stirred by Matthew Dickman's poem Canopic Jars, throughout the night and across the site of IMMA's summer festival, the programme brings together music and dance performances, films, installations and readings by artists Adam Christensen, Beth Collar, Christodoulos Panayiotou, Tai Shani, and Jala Wahid that attempt to capture or recall something perishable as a way to think about what it means to be present in the first place.
Programmed by Anna Gritz
Artist Biographies
Adam Christensen (b.1979) is an artist based in London. Chrsitensen works primarily in video and performance, but also writes, makes music, installations and painting. The work draws on elements of biography and theatricality that combine and intertwine with the audience blurring the lines between the artist and viewer, life and fiction. He also performs with the music project Ectopia. Recent exhibitions include: Why can't we just enjoy it the way it is, Artes, Porto (2015); Impossible Love, as part of Curated By, Projektraum Viktor Bucher, Vienna (2015), Does Not Equal, W139, Amsterdam (2015); Its raining btw x, Southard Reid, London (2014); Je suis Féministe, Unit 21, Penarth Centre, London (2014).
Beth Collar (b. 1984, Cambridge, UK) is an artist currently based in Bristol. She's recently had solo shows at Fig-2, Institute of Contemporary Art, London (2015) and Happy Birthday Gallery, London (2015) and solo performances for The Cipher and the Frame at Cubitt, London (2015) and a Saturday Live at the Serpentine Gallery, London (2015). Other group exhibitions include Secret Surface, where meaning materializes at KW, Berlin (2016), A Million Lines at the Bunkier Sztuki Collection, Krakow (2015), The Spirit of the Staircase at The Sunday Painter (2015), Secret Agent at the Finnish Museum of Photography, Helsinki (2015), Anatomy of Anxieties, Edouard Malingue Gallery, Hong Kong (2014), From script to reading to exhibition to performance to print, Rowing, London (2013). Other performances have taken place at Bob Cobbiiiiiiiiing Live at Raven Row, London (2015), Palimpsest, performance with William Cobbing, Hayward Gallery Project Space, London (2014), a live, online performance with Field Broadcast (2014), ANTIKNOW, Flat Time House, London (2014), She currently's in a group exhibition, Tarantallegra, at Hester, NYC, and Tall Tales, a touring group exhibition at Rochdale, which moves to the Glasgow Women's Library in October. She is the 2016-17 winner of the Mark Tanner Sculpture Award.
Christodoulos Panayiotou's (b. 1978, Limassol, Cyprus) wide-ranging research focuses on the identi cation and uncovering of hidden narratives in the visual records of history and time. Solo exhibitions of his work have been held (amongst other) at Rodeo Gallery, London; Galerie Kamel Mennour, Paris; The Venice Biennial, The Cyprus Pavillion, Venice, Italy; Moderna Museet, Stockholm, Sweden; Casino Luxembourg, Luxembourg; CCA Kitakyushu, Japan; Centre d'Art Contemporain de Brétigny, France; Museum of Contemporary Art, St. Louis, USA; Museum of Contemporary Art, Leipzig, Germany; Kunsthalle Zürich, Switzerland and Cubitt, London, UK. He has participated in major international survey exhibitions, including the 8th Berlin Biennale; 7th Liverpool Biennial; Documenta 13, Kassel; 6th Taipei Biennale and Busan Biennale 2008. His work was also shown in a number of museum exhibitions including: Centre Pompidou, paris, France; Museion, Bolzano, Italy; Migros Museum, Zürich, Switzerland; CCA Wattis Institute for Contemporary Arts, San Francisco, USA; Joan Miro Foundation, Barcelona, Spain; Witte de With, Rotterdam, The Netherlands; Bonniers Konsthall, Stockholm, Sweden; Philadelphia Museum of Art, USA; Ashkal Alwan Center for Contemporary Arts, Beirut, Lebanon; Artist Space, New York, USA, MoCA Miami, USA.
with
Jean Capeille was born in Paris where he studied in the Conservatoire National Supérieur de Musique et de Danse in the contemporary section. Since then he worked as a freelancer and worked collaborated with different artists and places (CAC bretigny with Jesse ash, Kadist art fondation with Arseniy Zhilyaev) and recently for Christodoulos Panayiotou for the Venice Biennale, in parallel of his dance activities he studying Art History at the Sorbonne.
Tai Shani's multidisciplinary practice revolves around experimental narrative texts, which alternate between familiar narrative tropes and structures and theoretical prose to explore the construction of subjectivity, excess and affect in relation to post-patriarchal realism. Shani's on-going project, Dark Continent Productions, includes films and performances, forming a mythology that conceptualises the 'epic' to test the potentials of feminist politics and ideologies, a platform to imagine a post-patriarchal world. Shani has presented her work extensively in the UK and abroad, including Tensta Konsthall, Stockholm (2016); Serpentine Galeries (2016); Schirn Kunsthalle, Frankfurt (2015); Southbank Centre, London (2014-15); Arnolfini, Bristol (2013); Matt's Gallery, London (2012) and FRAC Nord-Pas de Calais and Loop Festival, Barcelona (2011).
Jala Wahid (b. 1988) is an artist based in London. She graduated in Fine Art at Goldsmiths College, London in 2014. Recent exhibitions include Basic Instinct, Seventeen; CONDO, The Sunday Painter; and Promise Me, Jupiter Woods. She is co-editor of SALT. magazine, a feminism and contemporary art publication.
Anna Gritz is curator at the Kunst-Werke, Berlin. Until recently she has worked as a curator at the South London Gallery (SLG) and previously at the ICA, London, where she curated exhibitions and commissioned new works by artists including Juliette Blightman, Michael Smith, Bonnie Camplin, Jill Magid, Lis Rhodes amongst others as well as the group exhibitions 'Last Seen Entering the Biltmore', 2014 and independently 'Duh – Art and Stupidity' (co-curated with Paul Clinton) at Focal Point Gallery, 2015. Further recent projects include: 'Sand in the Vaseline', Material Art Fair, Mexico City (2015); 'My Vocabulary Did This To Me', SLG (2014); 'Bonnie Camplin: The Military Industrial Complex', SLG (2014); 'Modern Draperies', SLG (2013); 'Asco: Your art Disgusts me', SLG (2013); 'Soundworks', ICA (2012); 'Lis Rhodes: Dissonance and Disturbance', ICA (2012). Her writing has been included in Art Monthly; Art Agenda; frieze; frieze d/e; Mousse and Cura, exhibition catalogues and books.