Sitting, Arthouse, Stradbally, Co Laois
1 July – 1 September
Open: Monday to Friday 1pm-5pm; Saturday 10am-1pm, and Sunday 2pm-5pm.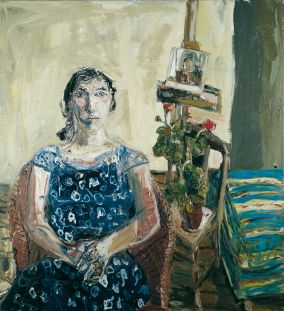 Nick Miller, Noreen with Polaroid, 1994 – 1995, Oil on linen, Unframed: 183 x 168 cm , Collection Irish Museum of Modern Art, Donation, 2011
Key Dates:
Nick Miller in Residence 12 -20  July
Viewing and public talk 20 July at 3pm
Screening of documentary 27 August at 7pm
A souvenir booklet recording the residency will be published in Autumn 2014.
Sitting is the title given to the residency, by artist Nick Miller, at the Laois Arthouse, Stradbally, Co Laois, taking place from 11 to 20 July 2014, when over the course of ten days, Nick Miller will invite the public to sit for portraits in his studio. The theme for this residency continues a long term involvement with contemporary portraiture that is central to his artistic practice and more particularly follows from a project Miller carried out in Brooklyn, NYC, where he spent 40 days painting a portrait a day. All portraits will go on display until the 1 September.
A further lasting legacy of Nick Miller's residency is the commissioning of Nick Miller to paint the portraits in oil of well known artist Cathy Carmen, and writer Pat Boran from Laois. Carmen and Boran were selected as sitters in recognition of their contribution to the arts in Ireland and as a welcome addition to the Laois County Art Collection.
Sitting includes an exhibition of selected portrait related works by Miller on loan from the Irish Museum of Modern Art's Collection running until 1 September 2014. IMMA lends extensively from the collection to partner organisations creating wider access to the collection on a national level. Such collaborations allow IMMA the opportunity to contribute to distinctive exhibitions and projects such as Sitting. Works include, Corban; 1996, Nature with History; 1997, Noreen with Polaroid; 1994, Patrick Hall; 1994, and Reflection with Painting; 1994.
Nick Miller moved from London to Ireland in 1984, and has been based in Co Sligo since 1992. His work, whatever his subject: a person, an object, or landscape, is concerned with portraiture and with how we experience and meet the world.  His paintings and drawings of friends and family members and colleagues, sometimes made from an unusually close range, parallel landscapes painted from a mobile studio devised to minimise the separation between artist and subject.  Miller has exhibited in Ireland and internationally since the 1980s.  His work is represented in many public and private collections. Miller was elected to Aosdána in 2001.
On the 20 July at 3pm, the final day of the residency, the public are invited to an open day at the Laois Arthouse. Christina Kennedy, Head of the Collections of IMMA, will interview Nick Miller on his process, as well as viewing of the portraits undertaken during the residency and the IMMA art exhibits. Lisa Fingleton will document the residency and the documentary will be screened in the Library, the Laois Arthouse on Wednesday 27 August. Fingleton is an award winning artist and filmmaker, originally from Stradbally, Co. Laois.
This project is funded by the Percent for Art Scheme and Laois County Council. Sitting is curated by Arts Officer, Muireann Ní Chonaill.
Watch Film Clip – Sitting: A Portrait Project by Nick Miller
Sitting: A Portrait Project by Nick Miller by Lisa Fingleton
Related Links
Twitter: @ArthouseLibrary 
Facebook: facebook.com/arthouseandlibrary
Website: www.arthouse.ie
Nick Miller is represented by Rubicon Gallery /Projects. More info at www.rubicongallery.ie  and on the artist at www.nickmiller.ie