Garden Galleries, IMMA, 16 February – extended to 22 June
VISUAL Centre for Contemporary Art, Carlow, 16 February – 11 May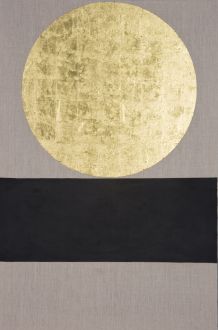 Patrick Scott, Meditation Painting 28, 2006, Gold Leaf & acrylic on unprimed Canvas, 122  x 81 cm, Collection Irish Museum of Modern Art, Donation, the artist, 2013
Admission:
IMMA: Admission: €5.00 full price, €3.00 concession (senior citizens, unwaged), under 18's and those in full time education free. Admission free for all on Fridays.
IMMA and VISUAL, Carlow, are delighted to present a major exhibition of the work of Irish artist Patrick Scott, showing across the two venues as a single exhibition. Patrick Scott: Image Space Light brings together the most comprehensive representation of this remarkable artist's 75 year long career. Scott had his first exhibition in 1941 with the White Stag Group. The exhibition brings together more than 100 pieces that illustrate the breadth and longevity of his career as an architect, designer and artist. The exhibition at IMMA concentrates on Scott's early works from the 1940s to the early 70s while VISUAL displays works from the 1960s to the present.
Artist Corban Walker has been invited to guest-curate a selection of Patrick Scott's works for the Link Gallery in VISUAL. Focusing on the theme of the grid in Scott's work and responding to Scott's graphic design work, Walker has also created a site-specific installation for the window area in the Link Gallery.
Patrick Scott (1921 – 2014) was born in Kilbrittain, Co Cork, and trained as an architect. From 1945 he spent 15 years working with Michael Scott in the architectural practice of what became Scott Tallon Walker, where his innate talent as an artist and designer developed in unison.  He became a leading graphic designer with the Signa Design Consultancy (set up in 1953 by Michael Scott and Louis le Brocquy), all the while continuing to test various ideas in his painting. On winning a National Prize at the Guggenheim International Award in 1960 and representing Ireland at the XXX Venice Biennale in the same year, Scott became a full-time artist.
IMMA Blog – Read blog on Patrick Scott by curator Christina Kennedy.
IMMA YouTube – Watch a video documenting the exhibitions at IMMA and VISUAL.
Patrick Scott IMAGE SPACE LIGHT will travel to Glebe Gallery, Churchill, Co. Donegal, 14 July  – 29 August 2014 and Regional Cultural Centre, Letterkenny, Co. Donegal, 14 July – 27 September 2014.
Detailed timeline of Patrick Scott's biography
Explore Patrick Scott's timeline with detailed biography and images.
[iframe frameborder='0′ style='border-width:0;' id='tl-timeline-iframe' width='900′ height='480′ src='http://www.tiki-toki.com/timeline/embed/223251/6898994786/'][/iframe] [script type='text/javascript'] if (window.postMessage) { var tlMouseupFunc = function() { var tlFrame = document.getElementById('tl-timeline-iframe'); if (tlFrame.contentWindow && tlFrame.contentWindow.postMessage) { tlFrame.contentWindow.postMessage('mouseup','*'); } } if (typeof window.addEventListener != 'undefined') { window.addEventListener('mouseup', tlMouseupFunc, false); } else if (typeof window.attachEvent != 'undefined') { window.attachEvent('onmouseup', tlMouseupFunc); } } [/script]
Patrick Scott Publication
A major publication, produced by IMMA, accompanies the exhibition which comprises a lead essay by Mel Gooding and a collection of insights from writers, artists, curators and collectors who were invited to ponder on aspects of Scott's life and work. They are Mary Ann Bolger, Michael Craig-Martin, Barbara Dawson, Margaret Downes, Christina Kennedy, Roisín Kennedy, Des Lally, Peter Lamb, Padraic Moore, Brian O'Doherty, James O'Nolan, Stephen Pearce, Raymund Ryan, Ronald Tallon and Corban Walker. Price €25.00. Click here to buy online from the IMMA Shop.
Patrick Scott Limited Edition Prints for Sale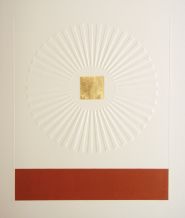 Patrick Scott, Untitled, 2009, Intaglio, embossing, carborundum and hand applied 23.5 carat gold leafPrint size: 73 x 60 cmSigned and numbered by artistEdition of 75Published by IMMA Editions in association with Stoney Road Press
Also on sale is this stunning limited edition print produced by Patrick Scott for IMMA in 2009. This carborundum embossed print with gold leaf is embossed to create the same subtle qualities achieved in his paintings. This print, Untitled, 2009, is an edition of 75, signed and numbered by Scott and is on sale at €2,000. The edition is on view in the exhibition in the Garden Galleries. For more information and to buy please click here.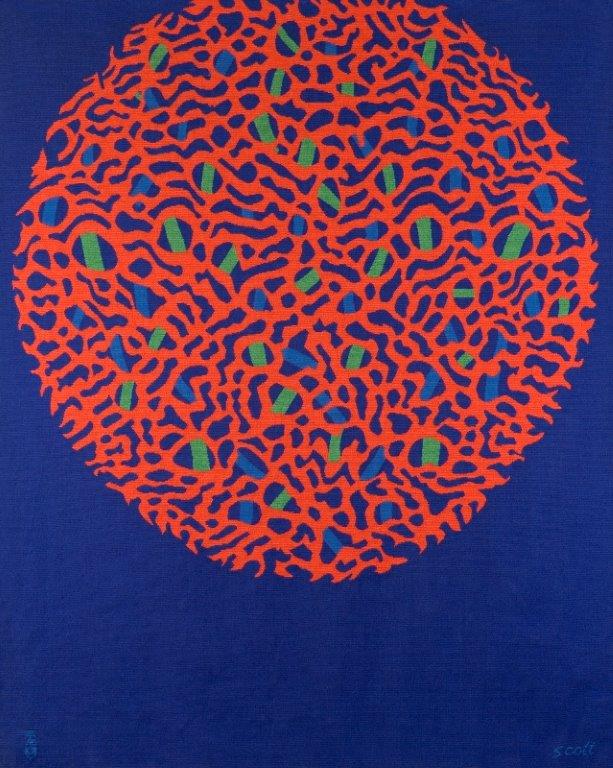 Patrick Scott, Device (1971), 2013, 21 x 29.7cm, Printed using a digital press onto 340grs Splendorgel Extra White, Edition of 500 with artist's stamp and numbered.
This print is now Sold Out. To celebrate the exhibition a limited edition print by Patrick Scott of his tapestry Device (1971), which is held in the IMMA Collection, is available to buy for just €50. An edition of 500, the Patrick Scott print is being produced especially for this exhibition. This offer is a great opportunity to snatch up a print by one of Ireland's greatest artists and to start, or add to, your art collection. 
Talks and Lectures
IMMA + IAF | Site Specific Discussion – Busaras and its Pioneers
Saturday 21 June 2014, Doors open at 1.00pm.
1.30pm-3.00pm Busaras, Dublin
Meeting Point-Information Desk
(Entrance of Department of Social Protection, adjacent to the Busaras building and opposite the Luas Line)                                                                                                    
To mark the final weekend of the exhibition the IAF invite you to experience one of the artist's  most significant collaborations with the architectural firm Michael Scott and Associates (later from 1975, Scott Tallon Walker) within their iconic building of Busaras, Dublin (1944-53). This site- specific discussion will give a range of perspectives on the history of this building and offers the opportunity to pay tribute to the legacy of Pat Scott's pioneering role in modern art and design, including the artist's mosaics that remain an enduring feature of one of the city's most celebrated public buildings. Click here to book.
This event is in collaboration with the Irish Architecture Foundation. Booking is essential and can be made at www.imma.ie/talksandlectures
Listen to lectures on Patrick Scott available on IMMA's SoundCloud Channel
Click here to listen to the lecture on Patrick Scott, Radiant Negation – A Modern Master, by Mel Gooding  (UK writer and art critic). This lecture took place on Saturday 15 February 2014.
Click here to listen to the lecture on Patrick Scott and the White Stag Group by Róisín Kennedy (Lecturer in Art History and Cultural Policy, UCD). This talk took place on Thursday 27 February 2014.

Click here to listen to an interview from our archives with Patrick Scott, recorded in 1993 at IMMA, with Ruth Ferguson (inaugural Curator of the IMMA Collection).
Resources for Schools Programme
Teachers' Resources Patrick Scott IMAGE SPACE LIGHT (Adobe PDF – 4.84MB) 
Information and resources for teachers and students about the Patrick Scott exhibition focusing on a select number of art works featured in the exhibition. Click here for more information on IMMA's Second Level Programme
Click here for Primary Teachers' Notes on the Patrick Scott exhibition Image Space Light. For further information on the Primary School Programme please click here
Patrick Scott Documentary – Golden Boy
Sé Merry Doyle's documentary 'Golden Boy', the most definitive film portrait of one of Irelands most famous living artists, will be shown as part of the exhibition. The film charts the artist's journey from his childhood in Cork and his embracing of modernism when he encountered the White Stag Group during WW2. Patrick recalls his time as an architect with Michael Scott before he decided to be a full time painter in the early 50's. Locations include his home and studio in Dublin and his family home Kilbrittain County Cork. The film features his great friend Seamus Heaney, Dorothy Walker and Stephen Pearce. Patrick takes centre stage alongside his best friends, his cats!
Produced by Maria Doyle Kennedy and Andrea Pitt for Mermaid Films, Directed by Sé Merry Doyle, Music by Kieran Kennedy.
Visitor Information
Public Tours
Tour times: Wednesday 1.15pm, Saturday and Sunday 2.30pm. Each tour lasts 30 minutes. No booking required.
Book a Guided Tour
Pre-booked guided tours are available for special interest groups including schools, colleges and adult education. Booking required two weeks in advance.
Tour times: Tuesday to Friday at 9.30am; 10:00am, 10.30am, 11.00am and 2.30pm.
Opening Hours
How to get there
Related Links
VISUAL Centre for Contemporary Art & The George Bernard Shaw Theatre, Carlow
The Irish Museum of Modern Art is very sad to announce the death of the great Irish artist Patrick Scott today (Friday 14 February 2014).


Press Release
The exhibition is kindly supported by Irish Rail, Colourtrend and THE IRISH TIMES.

Media Sponsor: