The Process Room, 27.07.2010- 08.08.2010
The video piece on show in the Process Room is a project dealing with ideas about narrative and chance in the moving image. Last Night will be developed through a continuously changing process over the fortnight of its creation and exhibition, where every night the artist will be filming random footage around Dublin city, creating a sequence of the passing of time, as is dictated by chance observations made in public space after the darkest hour. On the following day each film will be screened in the process room creating a small growing archive of the recent past.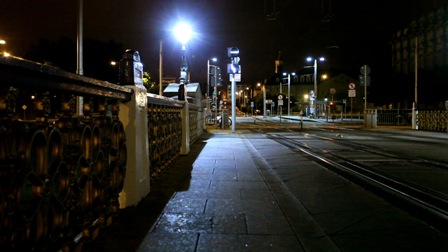 Using the city as his studio over the next two weeks, Oswaldo will develop an expanding piece of film which will not finish until the end of the show. The process of the work will be constrained by the limitations of time letting chance drive the sequence of narrative, liberating the creative process and allowing the events to be articulated in an abstract time.
In Psychoanalysis it is considered that chance exists only within a linguistic determination, as the unknown utterance of the unconscious. Perceived as traumatic, chance claims its specific place as a gap that breaks the order of conscious events with unpredictability. This project will use the disrupting attribute of chance as part of the creative process through the "preponderance of the small". Night by night Ruiz will sew a filmic narrative of minor events taken from external reality where it will be possible to trace development and change in the passing of time. The resulting films on show can be read through the coincidence of signals in a diachronic way.
Oswaldo Ruiz (b. 1977, Monterrey, México) trained initially as an architect, he demonstrates in his photographic work and videos a meticulous interest in space and atmospheric constructions. Ruiz builds his work with light and shadow, aiming to constantly resignify the narrative present in images and space. He studied contemporary art and psychoanalysis at the Universitat Autònoma de Barcelona in 2001 and received a Master degree on Fine Arts from Central Saint Martins College of Art and Design in London, in 2007.
For a printable version of this information please download the following document
Oswaldo Ruiz: Last Night 27.07.10 – 08.08.10 (Word Doc 2003, 33KB)
Ruiz has had solo shows in Monterrey and New York. Selected exhibitions include: Record 02: A Second Glance, at the Museum of Contemporary Art of Monterrey 2009; XIII Photography Biennial, Centro de la Imagen, Mexico City 2009; 1st Biennial of Young Artists, Museum of Modern Art, Moscow, Russia 2008; Twilight Suite, Louise T. Blouin Foundation, London 2008; 100 Contemporary Photographers of Mexico, Fototeca Nacional, Mexico 2008
This exhibition is kindly supported by the Embassy of Mexico, Ireland.
Click the links below to view clips from Oswaldo Ruizs video work Last Night:

http://www.facebook.com/photo.php?v=480512768135

http://www.facebook.com/photo.php?v=482682613135

http://www.facebook.com/IrishMuseumofModernArt#!/photo.php?v=484044813135
Click
here to return to Previous Participants
Click

here to browse ARP Projects