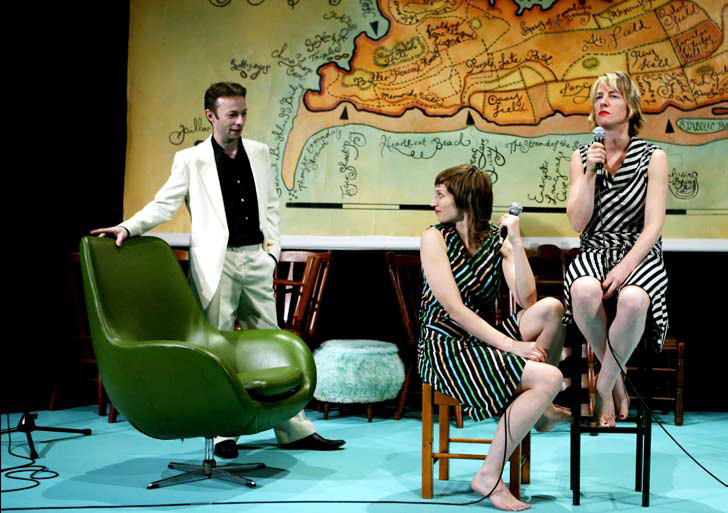 7 – 8 May 2011, Performance
The Scavenger's Daughters, a performance work by leading Irish artist Orla Barry, will be staged at the Irish Museum of Modern Arts (IMMA) on Saturday 7 and Sunday 8 May 2011. The work is an ambiguous portrait of two sisters and, like much of Barry's work, is rooted in the tensions between visual and literary representation. It comes to IMMA following performances at some of Europe's leading visual art institutions, including Tate Modern, London, De Appel, Amsterdam, and STUK kunstencentrum, Leuven. The Scavenger's Daughters is the first in a series of wide- ranging performances at IMMA during May to mark the 20th anniversary of the foundation of the Museum in 1991.
The Scavenger's Daughters weaves together three monologues, which constantly fail to form a narrative dialogue. The title refers to the act of scavenging for words, ideas, food and emotions. The work employs a powerful combination of poetic writing and theatrical performance to reveal a fictional narrative concerned with intimate relationships and the inability to communicate, providing a unique visual and physical experience of language.
The eponymous sisters could be taken to represent simply sisterhood. However, they could also be lovers, or two opposite aspects of one mind: the intellectual as opposed to the corporeal, adult versus adolescent, a world of reason as against a world of play.
The Scavenger's Daughters is performed by Kate McIntosh, Ineke Lievens and Miles O'Shea.
Orla Barry's work is rooted in language. The artist composes poetic prose – textual fragments that bring together philosophical meditations, casual thoughts, biographical facts as well as fictional elements and (nonsensical) associations. In her photographic series, publications, films and performances, Barry dwells on themes such as linguistic intoxication, proximity and distance, melancholy and frivolity, friendship and family relationships, the things that bring us together and those that keep us apart.
Born in Wexford, Orla Barry has lived in Belgium for 16 years, but still gets the inspiration for and creates most of her work in Ireland. She has exhibited extensively internationally, including solo shows in Brussels, Antwerp, Milan, London and Amsterdam. Her work has been included in prestigious group exhibitions, such as Manifesta 2, Luxembourg, and Prix de la Jeune Peinture Belge, Brussels. A major exhibition, Orla Barry: Portable Stones and Other Works, was shown at IMMA in 2006. She was short-listed for the IMMA Glen Dimplex Artist's Award in 1999 and participated on IMMA's Artists' Residency Programme.
The performance begins at 8.00pm.
Admission is free but booking is essential. Please email [email protected] to reserve a place.