12 October 2013 – 13 April 2014 – Admission Free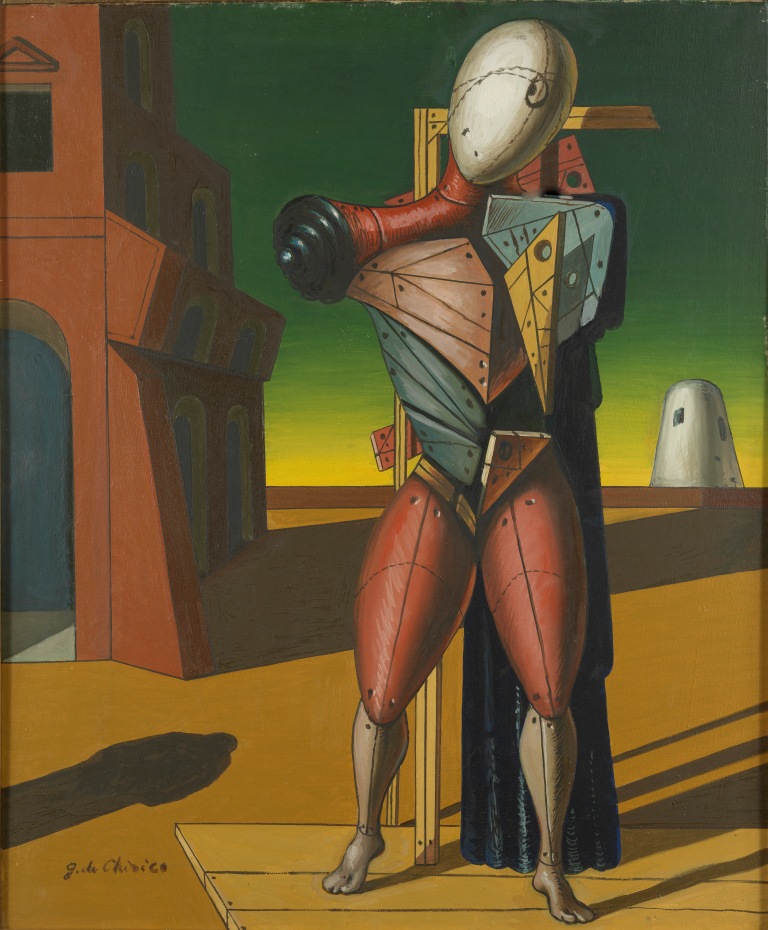 Giorgio de Chirico, Il Trovatore, c.1960, Oil on canvas, 60 x 48 cm
Collection Irish Museum of Modern Art, Heritage Gift, Private Collection, 2008
Drawing on IMMA's Collection, One Foot in the Real World, includes works that explore the urban environment, the everyday or the domestic. Prompted by the recent Eileen Gray, Leonora Carrington and Klara Lidén exhibitions ; the exhibition One Foot in the Real World addresses the psychology of space; scale and the body gravity and transformation. Elements of architecture and design recur as points of departure in the works; such as bricks; the keyhole; the window; the door and the table.
The exhibition title calls to mind architectural scale drawings where an inch in the drawing is one foot in the real world, the title also evokes a more poetic in-between state or probing of reality – ideas central to many of the artworks in the exhibition.
 
Since its inception in 1991, IMMA's temporary exhibition programme has given rise to a number of works by internationally renowned artists, made in response to the Museum's own architecture. Examples include Still Falling, 1991, a massive cast iron and air sculpture by Antony Gormley and Juan Muñoz's Dublin Rain Room, 1994, a scale model of one of the gallery spaces where it perpetually rains indoors. These works, which have not been shown since the '90s, will be re-installed in the rooms for which they were originally conceived.
Using dress as a symbol, Louise Bourgeois Untitled, 2001 is a hand-stitched sculpture made from her old clothes which deals with gender identity, the home and her place in it. The table as a metaphor for the body; a site for discussion or production; or a framing or display device is seen in works by Dorothy Cross, Michael Craig-Martin and Liam Gillick. Georgio De Chirico's painting Il Trovatore, 1960, is exemplary of his creation of metaphysical space using strangely juxtaposed objects and architecture in a theatrical tableau; his work has been influential to a host of contemporary artists such as Mark Manders and Juan Muñoz.
Lens-based works by Gerard Byrne and Hermione Wiltshire take sexuality and lifestyle, documentary fact and reality as their starting points, these ideas are explored against particular architectural tropes. The politics of division of space, territory and identity are further explored by Candida Höfer. Michael Snow's film, Solar Breath, Northern Caryatids, 2002, which is a continuation of Snow's longstanding interest in perception, optics and natural phenomena, is being shown for the first time since its acquisition by IMMA in 2007.
Throughout the exhibition, works in a variety of media engage with architectural elements and employ the language of architecture and design such as the scale model and the prototype. A number of maquettes and drawings for installation art – both realised and proposed – will show the working process behind the scenes; including pieces by Richard Wilson, Sol le Witt and Lawrence Weiner.
List of exhibiting artists:
Max Bill, Louise Bourgeois, Charles Brady, Sarah Browne, Gerard Byrne, Christo, Maureen Connor, Michael Craig-Martin, Dorothy Cross, Giorgio de Chirico, Iran do Espírito Santo, Brian Duggan, Liam Gillick, Antony Gormley, Candida Höfer, William Hogarth, Paddy Jolley; Rebecca Trost; Inger Lise Hansen, Anthony Key, Cecil King, Sol LeWitt, Mark Manders, Bea McMahon, Juan Muñoz, Thomas Scheibitz, Michael Snow, Michael Warren, Lawrence Weiner, Richard Wilson, Hermione Wiltshire.
One Foot in the Real World is curated by Marguerite O'Molloy, Assistant Curator: Collections, IMMA.
Watch video on the exhibition with curator Marguerite O'Molloy
Click here to watch video on the exhibition on IMMA's Youtube Channel
Strands
Strands is a series of information sheets created in response to works from IMMA's Collection. Artist Christine Mackey has developed a range of responses to three works from IMMA's Collection featured in the exhibition One Foot in the Real World. These strands are intended for anyone interested in information and ideas to explore the exhibition further.
Please download these information sheets for use before, during or after a visit to the exhibition.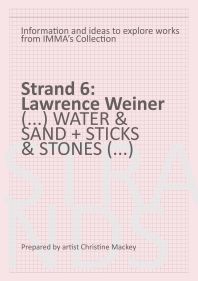 Strand 6: Lawrence Weiner (Acrobat Reader PDF – 1.39MB)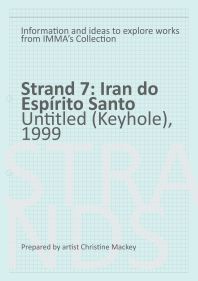 Strand 7: Iran do Espírito Santo (Acrobat Reader PD – 1.07MB)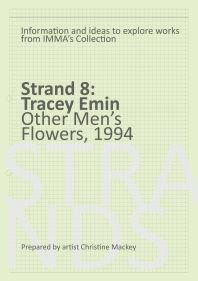 Strand 8: Tracey Emin (Acrobat Reader PDF – 0.99MB)
Related Links
Click here to download the list of works in the exhibition (Word doc – 878KB)
Click here to read the IMMA Blog by curator Marguerite O'Molloy – Installing One Foot in the Real World
Also on IMMA's Blog poet
Alice Lyons tells us about her new work something permanent 
Supported by: