Project Space 16.10.14.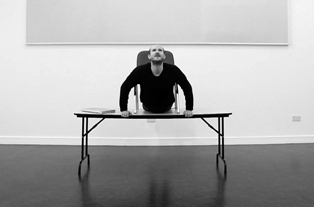 Car Dealing and Art Making – Are there Similarities?
Currently in residence at IMMA Naomi Sex is a Dublin-based visual artist who has been practicing for over fifteen years. Her work has received numerous awards, residencies and state commissions. Most recently she conceived, scripted and produced a major unprecedented live event entitled The Synchronised Lecture Series which was awarded the Arts Council Project Award and the Dublin City Council, Incubation Space Award for 2013. 
The event featured in nine key Irish educational institutions simultaneously with a different actor performing live to scripted dialogue in each venue. Now, with the support of IMMA, the piece is being re-performed as a stand-alone work. Naomi Sex is a Lecturer in Fine Art at The Dublin Institute of Technology.