This exhibition is a large-scale retrospective of the work of the internationally-acclaimed painter and installation artist Michael Craig-Martin. This is only the second retrospective of Craig-Martin's work; the first took place in 1989 at the Whitechapel Art Gallery, London. The exhibition comprises some 50 works which span Craig-Martin's entire career and includes sculptures, wall-drawings, text pieces, neon works, paintings and a newly commissioned wall painting in the courtyard at IMMA. Craig-Martin's early practice involved the use of ready-mades, inspired by Marcel Duchamp, such as in the iconic conceptual work An Oak Tree, 1973. During the 1990s the focus of his work shifted to painting, and to increasingly complex site-specific wall paintings. The use of ready-mades in his earlier work developed into the depiction of ready-mades in his new practice. The earliest work in the exhibition Film, 1963, is Craig-Martin's only film work to date and was made in Connemara while he was a student at Yale.
Born in Dublin in 1941, Craig-Martin was brought up in the United States and educated at Yale. He returned to Europe in the mid-'60s, where he became one of the key figures of the first generation of British conceptual artists. As Professor of Fine Art in Goldsmiths College, London, in the 1970s and 80s, Craig-Martin was a key influence on the yBa generation of artists – Tracey Emin, Damien Hirst, Gary Hume, Sarah Lucas and many more. He has shown in numerous solo and group exhibitions both in Britain and internationally. He has produced installations for the Projects exhibition series at the Museum of Modern Art, New York, 1991, and at the Centre Pompidou in Paris, 1994. In 1993 he returned to Goldsmiths College as Millard Professor of Fine Art and in 1998 he represented Britain at the Bienal de São Paulo in Brazil.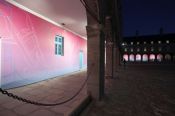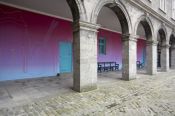 The exhibition is presented in association with
THE IRISH TIMES.
An illustrated book written by award-winning art critic, historian, broadcaster and curator Richard Cork, accompanies the exhibition. The book is published by Thames & Hudson in association with IMMA (price €35.00). To buy the book click
here
The exhibition is also be accompanied by an interview book. This is one in a new series of interviews, artists' statements and essays, being published by IMMA, which will form a collectable edition on Irish and international artists. Michael Craig-Martin is interviewed by Rachael Thomas, Senior Curator: Head of Exhibitions, IMMA.
Related Links
Press Release
A Limited Edition print by Michael Craig-Martin is available to buy, please follow the link to
IMMA Edition: Michael Craig-Martin
To buy the catalogue from this exhibition click
here
www.michaelcraig-martin.com/