Process Room, 04.06.04- 27.06.04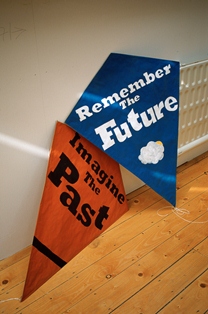 Matthew Bakkom is an artist who works from a basis in concept in order to creat organisations, events, objects, installations and images. He has a special interest in history, language and community and often intends his work as a specific compliment to the site of its production.
Inspired by the unique location and resources of the Irish Museum of Modern Art as well as the current political climate, Bakkom has dedicated his efforts in the Process Room to the creation of a Kite Club for the museum. Over the course of 3 weeks he will encourage interest in and production/ flying of kites by museum visitors and staff. Throughout this period Bakkom can be found in the Process Room designing, building, and describing the project.
The artist encourages visitors to join the club. "Whether you seek to satisfy your curiosity or share your knowledge, I hope that the IMMA Kite Club will help us all discover how archaic technology can be a vehicle for contemporary ideas."
For a printable version of this information please download the following document

Matthew Bakkom, Process Room doc.
Click
here to return to Previous Participants
Click

here to browse ARP Projects