7 September – 31 October, The Courtyard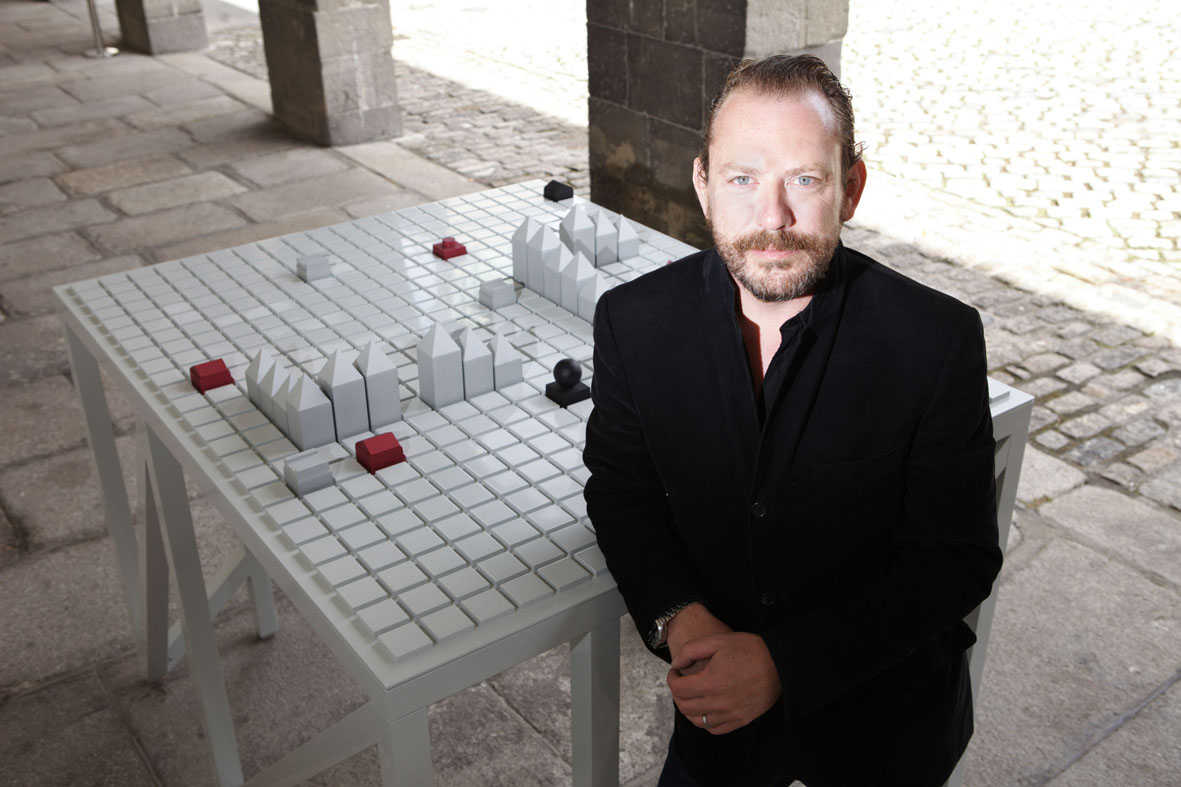 British artist Liam Gillick presents a site-specific work especially commissioned for IMMA in the form of a newly-designed version of The Game of War (Le Jeu de la Guerre). In 1977, the French Situationist Guy Debord founded the company Strategic and Historical Games, with the goal of producing the Kriegspiel, a 'game of war'. Inspired by military theory and the European campaigns of Napoleon, Debord's game is a chess-variant played by two opposing players on a game board of 500 squares arranged in rows of 20 by 25 squares. The game is located in the public areas of IMMA adjacent to the courtyard. An instruction booklet and the game pieces may be borrowed from the Museum. In addition, specialist gamers will be invited to play during the course of the installation.
Based in London and New York, Gillick's solo exhibitions include Whitechapel Gallery, London, 2002, Palais de Tokyo, 2005 and the MCA, Chicago, 2008-2010. He was nominated for the Turner Prize in 2002 and the Vincent Award at the Stedelijk Museum, Amsterdam, in 2008. In 2006 he was a central figure in the free art school project unitednationsplaza in Berlin that travelled to Mexico City and New York.
Gillick has published a number of texts that function in parallel to his artwork. He was selected to represent Germany for the 53rd Venice Biennale in 2009. A major exhibition of his work opened at the Kunst und Ausstellungshalle der Bundesrepublik Deutschland in 2010. He has taught at Columbia University in New York since 1997 and the Centre for Curatorial Studies at Bard College since 2008.
This exhibition has been made possible by an anonymous philanthropic donation. It has received a stipend from the American Friends of the Arts in Ireland (via philanthropist Cormac O'Malley) towards an accompanying lecture.
To Play the Game:
The playing pieces for A Game of War Structure are located in the main reception of IMMA. To obtain them, you will be asked to leave your passport or driving license with reception. On returning the full set of pieces, your passport/driving licence will be returned to you.  You can download the form that needs to be submitted with the passport/driving licence
here in advance of your visit to the museum.  Availability of the game is in a first come, first serviced basis. It is not possible to book a game in advance due to varying game lengths.
To download the rules for the game please click
here
Related Links
Lecture: Tim Stott presents A Game of War : Model and Symbol on Friday 14 October at 4.00pm. To book please click
here
Press Release
http://www.liamgillick.info/