Process Room, 18.05.2010- 30.05.2010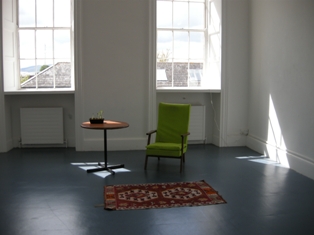 Juliette Blightman uses film to capture moments in which time seems to stand still. Her films are not staged, each scene existing regardless of her camera filming or not. Using film and slide works, and direct yet subtle interventions in the gallery space, Blightmans work frames and enacts a certain kind of unadorned reality.
Within a structure marked out by deliberately simple gestures, the marking of time gradually gives way to a sense of epiphany. In a series of 16mm films made from 2007, Blightman uses the basic parameters of her chosen medium to emphasise the reality of what is in front of her camera. Each work consists of a single shot, the length of which is dictated by the standard three-minute duration of the film stock. Three o'clock is her favourite hour for filming, a time when she feels that 'nothing happens'. Time is lost, folded for ever inside the medium that was designed to preserve it, in the same way that the past saturates objects that appear to be frozen but are decaying imperceptibly before our eyes.
Selected projects include as a period in which nothing happened, The Chips are Down, Whitechapel Project Space, London, 2007; Satellites, Tanya Bonakdar, New York, 2006, and The Glass Bead Game, Vilma Gold Project Space, Berlin, 2006. Further information on Blightman's practice can be found at http://www.frieze.com/issue/article/juliette_blightman. 
For a printable version of this information please download the following document:
Juliette Blightman: the day grew darker still (Word doc 2000 – 628KB)
Click
here to return to Previous Participants
Click

here to browse ARP Projects