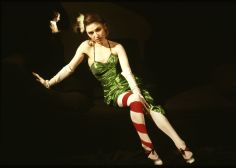 This exhibition presents a significant selection of works by the internationally-renowned Irish artist James Coleman. A collaboration between three of Dublin's leading cultural venues, the exhibition will take place at the Irish Museum of Modern Art; Project Arts Centre; and the Royal Hibernian Academy. Featuring works from the 1970s up to the early 2000s, the exhibition includes many works previously not seen in Ireland, including three of Coleman's most celebrated artworks, Charon (MIT Project), 1989, Seeing for Oneself, 1987-88 and Untitled, 1998-2002.
Recognised internationally as one of the most important and pioneering contemporary artists, the work of James Coleman over the last forty years has transformed the role of image and sound in visual art, and redefined our relationship with the artworks we see today in museums and galleries around the world. His influence can be seen in a generation of younger international artists, including Steve McQueen, Douglas Gordon, Tino Sehgal, Stan Douglas, and Jeff Wall.
In Ireland, James Coleman remains a figure little known to a wider audience. Yet, internationally, his work is recognised as having had a pioneering influence on contemporary art over the last forty years. This exhibition and collaboration between IMMA, the Project Arts Centre, and the Royal Hibernian Academy, hopes to redress this situation, by offering to Irish audiences a unique opportunity to view works from an artist who has profoundly changed and influenced the way we understand and engage with art today.
The works in the exhibition are installed at three venues:
IMMA: So Different… and Yet, 1980
Project Arts Centre: Box (ahhareturnabout), 1977; Untitled, 1998-2002
Royal Hibernian Academy: Charon (MIT Project), 1989; Seeing for Oneself, 1987-88; Connemara Landscape, 1980
The current exhibition is accompanied by a substantial new publication published in association with Thames & Hudson, with new texts by the French philosopher Jacques Rancière, Emeritus Professor of Philosophy at the University of Paris VIII; Jean Fisher, Professor of Fine Art and Transcultural Studies, Middlesex University; Luke Gibbons, Keough Family Chair in Irish Studies, Professor of English, and Concurrent Professor in the Department of Film, Television and Theatre at the University of Notre Dame, and Dorothea von Hantelmann, art historian at the Collaborative Research Centre "Aesthetic Experience and the Dissolution of Artistic Limits" at the Free University Berlin. To buy the publication click 
here 
Opening Hours:
IMMA: Tuesday – Saturday 10.00am – 5.30pm, except Wednesday 10.30am – 5.30pm, Sunday & Bank Holiday 12noon – 5.30pm, Mondays and Good Friday 10 April Closed
Project Arts Centre: Monday – Saturday 11.00am – 7.30pm. Sundays Closed.
RHA: Monday – Saturday 11.00am – 7.00pm, Sundays 2.00pm – 5.00pm.
Admission: Free
Related Links


Press Release
Project Arts Centre
Royal Hibernian Academy
To buy the catalogue from this exhibition click
here
IMMA working in association with