Originally grouped in the context of a large thematic exhibition from the IMMA Collection titled One Foot in the Real World, the following ten works from the IMMA Collection are currently installed and will remain on show until 27 April.
Antony Gormley, Still Falling I, 1991, Cast iron, air, 334 x 115 x 85 cm, Purchase, 1991
Mark Manders, Reduced Summer Garden Night Scene (Re¬duced to 88%), 2002, Sand, porcelain, wood, iron, cat-skin, rope, glass, 202 x 470 x 200 cm, Purchase, 2005
Iran do Espírito Santo, Untitled (Keyhole), 1999, Stainless steel, 8 x 3.6 x 1.8 cm, Donation, the artist, 2010
Giorgio de Chirico, Il Trovatore, c.1960, Oil on canvas, 60 x 48 cm, Heritage Gift, Private Collection, 2008
Rebecca Horn, Cockfeather Mask, Performance II, 1970 – 1995 , C-print , 40 x 30 cm, Donation, the artist, 2001
Candida Höfer, Irish Museum of Modern Art Dublin III 2004, 2004, C-print, 180 x 220 cm, Purchase, 2005
Louise Bourgeois, Untitled, 2001, Pink fabric and aluminum, stainless steel, glass and wood vitrine, 177.8 x 60.9 x 60.9 cm, Donation, the art¬ist, 2005
William Hogarth, The Five Orders of Perriwigs, Published / Reprinted in 1800, Engraving, 36.3 x 24 cm, Donation, Madden / Arnholz Collection, 1989
Bea McMahon, Light Cones (past light), 2008, Leather-clad cone with cosmic microwave background radiation, 80 x 30 cm, Assisted Purchase, Fund:it, 2011
Gerard Byrne, Six years, one month and five days ago (As of 12.10.13) (ITN7202), 2007, Silver gelatin print, 125 x 157.7 cm, Donation, 2011
New IMMA Collection exhibitions are due to open in June.
Watch video on the exhibition with curator Marguerite O'Molloy

Click here to watch video on the exhibition on IMMA's Youtube Channel
Strands
Strands is a series of information sheets created in response to works from IMMA's Collection. Artist Christine Mackey has developed a range of responses to three works from IMMA's Collection featured in the exhibition One Foot in the Real World. These strands are intended for anyone interested in information and ideas to explore the exhibition further.
Please download these information sheets for use before, during or after a visit to the exhibition.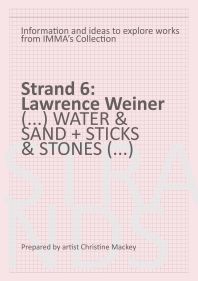 Strand 6: Lawrence Weiner (Acrobat Reader PDF – 1.39MB)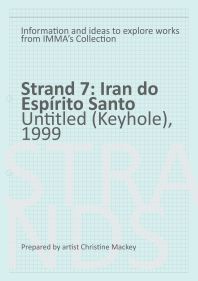 Strand 7: Iran do Espírito Santo (Acrobat Reader PD – 1.07MB)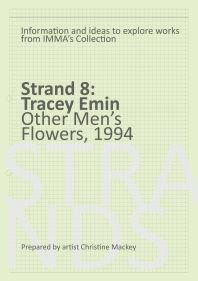 Strand 8: Tracey Emin (Acrobat Reader PDF – 0.99MB)