I knOw yoU is a dynamic exhibition by a new generation of young European artists. The exhibition takes a fresh look at contemporary art in Europe as a reflection of the exchange and openness that exists between artists working today. I knOw yoU examines the idea of cultural capital; what it means to be European; and ideas at the core of the financial heart of Europe. This group exhibition has an open curatorial approach that allows each artist to nominate another artist of their choosing. Uniquely, this can be from any discipline they connect with (ie. a poet, philosopher, musician, scientist, chef, gardener, artist etc.), either on a collaborative or stand-alone basis, thereby extending the connection point for each artists work.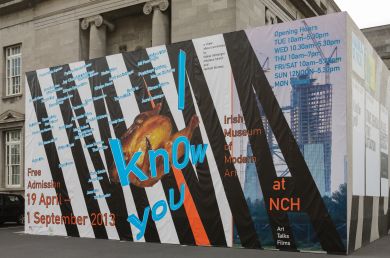 The artists in I knOw yoU have been selected from graduates of the Städelschule academy in Frankfurt am Main, and reflect the ambitious undertaking made by the school in its development as a leading centre for experimental art practice. Artists in the exhibition include Simon Denny, Simon Fujiwara, Jeppe Hein, Jay & Q, Sergej Jensen, Maria Loboda, Michaela Meise, Tris Vonna-Michell, Nora Schultz, Danh Vo Haegue Yang and Thomas Zipp.
I knOw yoU represents the exciting diversity of approach in contemporary art practice today and is curated by artist, Tobias Rehberger; Nikolaus Hirsch, Director of Städelschule and Rachael Thomas, Senior Curator: Head of Exhibitions, IMMA.
Gallery Guide
A gallery guide providing information about the artworks and artists featured in the exhibition and a map indicating their location is available to download or from the reception desk at Earlsfort Terrace.
Download I knOw yoU Gallery Guide (Acrobat Reader PDF – 4MB)
I knOw yoU curator videos on YouTube
Visit our Youtube Channel IMMAIreland to watch videos by curators on the exhibition:
Artist and co-curator Tobias Rehberger on the exhibition
Nikolaus Hirsh, Director of Städelschule, and co-curator of I knOw yoU
Co-curator Rachael Thomas, Senior Curator: Head of Exhibitions, IMMA, introduces I knOw yoU
I knOw yoU Publication
An innovative artist led publication, which includes texts by the curators, published by onestar press, Paris, accompanies the exhibition.  Price €12.00.
Contributors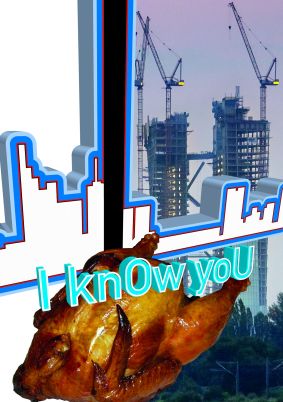 Harold Ancart
Ei Arakawa
Michael Beutler
Michael Callies
Pattara Chanruechachai
Simon Denny
Daniel Dewar
Elstir
Vincenzo Estremo
Jana Euler
Simon Fujiwara
Timothy Furey
Tue Greenfort
Jeppe Hein
Luce Irigaray
Aurel Iselstöger
Jay & Q
Sergej Jensen
Maria Loboda
Denise Mawila
Michaela Meise
Tris Vonna-Michell
Simon Dybbroe Møller
Stefan Müller
Henrik Olesen
Pennacchio Argentato
Kirsten Pieroth
Att Poomtangon
Pratchaya Phinthong
Queen Victoria
Maria von Hausswolff
Mark von Schlegell
Claus Rasmussen
Michael Riedel
Tomás Saraceno
Bernhard Schreiner
Nora Schultz
Sean Snyder
Marcus Steinweg
Woody Tasch
The World
Alexander Tovborg
Jelena Trivic
Torben Ulrich
Danh Vo
Jeronimo Voss
Holger Wüst
Haegue Yang
Thomas Zipp
I knOw yoU is part of the programme of visual arts events celebrating Ireland's Presidency of the European Union and has received dedicated financial support from the Department for Arts, Heritage and the Gaeltacht.
The exhibition is presented in collaboration with the Goethe-Institut Dublin and is supported by the Foreign Office of the Federal Republic of Germany, The French Embassy, The Embassy of the Republic of Poland, The Embassy of Denmark and The Embassy of Belgium.
Related Links