Gordon Lambert Archive / Display and opening Discussion
West Wing First Galleries, First Floor
23 August – 28 August 2016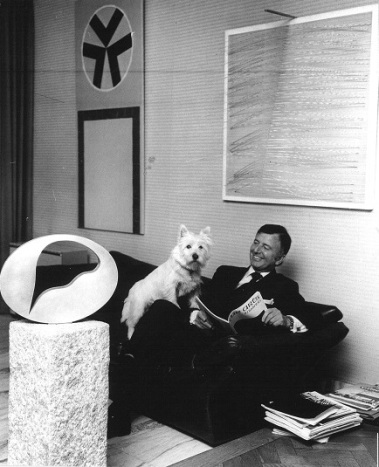 Gordon Lambert at home with his Collection
On Tuesday 23 August from 10.30-11.30am, join us for an introductory discussion and preview of material from IMMA's Gordon Lambert archive, followed by tea and Jacob's biscuits. The Archive will remain on display until Sunday 28 August.
Gordon Lambert was one of the first and most generous supporters of IMMA since the campaign for its creation began in the late 1980s. His private collection of over 300 artworks was gifted in stages to the IMMA Collection following its opening in 1991 and includes many well-loved pieces now familiar to our regular visitors. Since 2005 IMMA has also held Gordon's expansive art library and archive containing letters, cards, photographs, printed material and ephemera collected over six decades. With the help of a grant from the Heritage Council we have now begun the absorbing task of cataloguing this fascinating resource. Read more about Gordon Lambert and the archive project on our blog>
The event is part of National Heritage Week 2016. Admission is free. No booking required.