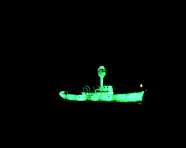 Tallaght Community Arts Centre, Co Dublin
Ghost Ship is Irish artist Dorothy Cross's personal homage to the many lightships which once marked dangerous reefs around the Irish coast.  There were seven lightships in total and each ship marked a reef – Daunt, South Roak, Conigebeg, Kish, Lucifer, Barrels and Codling.  These mobile lighthouses had no engine and were towed into position, anchored in place and crewed by men for weeks on end.  Decommissioned in 1974 they have now been replaced by automated electric buoys. 
This work is also a documentation of the story of the making of the Ghost Ship for the Nissan Art Project in association with IMMA in 1999.   Cross's ship was covered in luminous paint and at nightfall illuminated to glow and fade, evoking the poignancy of the disappeared lightships and the artist's childhood memories, linked to her father's love of the sea.  Cross sees this work as honouring "the memory of the lightships, whose presence was held dear around the Irish coast". 
Born in Cork in 1956, Dorothy's Cross has exhibited internationally in solo and group exhibitions and has works in a number of prestigious public and private collections.  In 1993 she represented Ireland at the Venice Biennale and was shortlisted for the Glen Dimplex Artists Awards in 1995 and 1997.
The IMMA mediator staff will facilitate workshops with five national schools in response to Ghost Ship. Cliona Harmey from IMMA's artist panel will also carry out a focus on project with a local secondary school. 
This exhibition is supported by the Department of Education & Science.