Film Season
Friday 15 September – Sunday 1 October, Lecture Room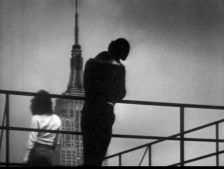 A season of rarely-seen films from a defining period in the history of American underground cinema runs at the Irish Musuem of Modern Art from Friday 15 September to Sunday 1 October 2006. New York: No Wave Cinema focuses on the hotbed of talent and creativity that was New York City's East Village from the mid-1970s to the early 1980s – a period that marked a new era in the relationship between film, art and music. The season includes such seminal films as Rome 78, Underground USA, Downtown 81 and The Blank Generation.  The film season offers Irish cinema buffs an opportunity to see the films that were essentially responsible for developing the American independent film genre, which went on to become a major force in world cinema. In addition to the screening of seven classics of the genre, the season will also feature the cult classic cable network television programme, Glenn O'Brien's TV Party.
Screening Schedule
Fri 15, Thurs 21 and Sat 30 September (two screenings per day)
Rome 78 by James Nares, 11.00am-12.30pm, 2.00-3.30pm                  
Long Island Four by Anders Grafstom, 12.30 – 2.00pm, 3.30 – 5.00pm                      
Sat 16, Fri 22 and Thurs 28 September (two screenings per day)
Downtown 81 by Edo Bertoglio, 11.00am-12.30pm, 2.00-3.30pm, 6.00-7.30pm *  
Underground USA by Eric Mitchell, 12.30-2.00pm, 3.30-5.00pm, 7.30pm-9.00pm*         
*on Friday 22 September only
           
Sun 17, Sat 23 and Fri 29 September
The Blank Generation by Amos Poe, 12.30-1.30pm             
Unmade Beds by Amos Poe, 1.30-3.00pm               
The Foreigner by Amos Poe, 3.00-4.30pm               
 
Sun 1 October
Downtown 81 by Edo Bertoglio, 12.30-2.00pm
Underground USA by Eric Mitchell, 2.30-4.00pm
TV Party by Glenn O'Brien, will be shown on a monitor adjacent to Lecture Room, where the screenings are taking place.
Admission to all screenings is free.  No booking is required.
For this season, the films have been transferred from their original formats of Super 8mm and 16mm to DVD.  This is due to fragile state of many of the original works many of which have not been duplicated into prints.
To download the Film Season brochure please click on the following document:
New York: No Wave Cinema (Acrobat PDF – 306KB)
Related Links
Discussion: A public in-conversation between Glenn O'Brien and David McDermott takes place on Thursday 14 September at 6.00pm.
Press Release