Process Room, 23.08.04- 05.09.04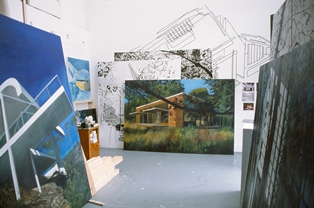 Irish born artist Eamon O Kane currently lives and works in Bristol. Memories, travel and the large- scale panoramas of the 19th century are recurrent themes in O Kanes work. In 2002 O Kane began working on a project called Ani- Mates, the project is based around a group of fictional art assistants and has resulted in animations and large- scale installations. O Kanes current work has developed into an exploration of the ideal studio space. His recent paintings consist of views of architectural interventions where the man-made meets with nature. These works further draw out O Kanes conceptual concerns about art and architecture.
…Certainly O Kanes exploration of the panorama through works such as Panorama Spectator and Panorama Interface explore this further through the formal possibilities/ impossibilities of the two- dimensional representation of the viewer in three-dimensional space. Again, we dont exactly feel as though we are at the spot where we find ourselves. It seems especially in his exploration of the Bourbaki Panorama (a 19th century panoramic painting housed in Lucerne), O Kane is less intrigued by the formal accomplishment of the painting and more by the experience of the visitors in relation to the painting in its own museum. In turn, by layering the images and creating a cacophony of sound, he denies an omnipotent viewpoint. Here O Kane is pointing to the artifice or illusion of representation. Just as the interiors of The Overlook Hotel was constructed at Elstree Studios in England, the establishing shots filmed in Montana and the exterior shots filmed in Oregon, so the panorama of Bourbaki and O Kaness representation of the panorama are constructed fictions.
Claire Doherty, Bristol, February, 2004
For a printable version of this information please download the following document

Eamon O Kane, Process Room doc.
Click
here to return to Previous Participants
Click

here to browse ARP Projects