Process Room, 10.05.05- 22.05.05
Three-minute pilot shot on 16mm film.
Music: Extract from Accumulation by Judith Ring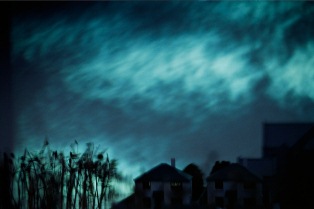 This three-minute pilot is a section from a larger film project being made at the moment. These interior scenes were shot in a house outside Dublin. While on the AWP at IMMA I've been shooting 'exterior scenes' using architectural models and back-projected films, which will be edited into the final film. I will also shoot scenes on location in the landscape.
My working practice involves using handmade filters and lens attachments. They are shot on 16mm Film and transferred to DVD. There is no alteration of the images in the post-production.
My previous film project, A Film Trilogy explores mankinds fragile existence in the face of the limitless forces of nature – spanning the extremities of ice and flooding, to wind and desert, and finally to fire and lava. The films depict the impact of this monumental devastation on the human habitat while, at the same time, posing the question how much this grim fate might be self-inflicted.
Metamorphosis begins where the trilogy left off. It explores our inherent fight for survival in a hostile, transitory world. It is a film about regeneration, renewal, and rebirth. This time it is evident that it is not the elements that are at the root of the destruction, but mankind itself. The film will be completed by the end of 2005.
For more information on this project please click here

http://www.clarelangan.com/metamorphosis13.htm#
For a printable version of this information please download the following document

Clare Langan, process room doc.
Click 
here to return to Previous Participants
Click

here to browse ARP Projects