Calder Jewellery is the first exhibition devoted exclusively to the remarkable jewellery created by the American artist Alexander Calder (1898-1976). The exhibition explores the lifelong output of wearable art pieces made for family and friends by one of the most innovative and influential figures in 20th-century art, best known for his iconic sculptures and mobiles. IMMA is the only venue in Europe where Calder Jewellery is being shown. Also on display is the specially designed BMW Car with which Calder, who trained as an engineer, initiated the company's Art Car series in 1975, later continued by such famous artists as Frank Stella, Andy Warhol and David Hockney. 
Comprising some 100 pieces, including necklaces, bracelets, brooches, earrings and tiaras from the 1920s to the 1960s, the exhibition is the first in which this aspect of the artist's practice is explored in depth and on its own. Also included are photographs of prominent people wearing individual pieces, among them Anjelica Huston, Georgia O'Keeffe and Peggy Guggenheim. These give a sense of the pieces when worn and of their popularity in artistic circles.
A film of Calder's performance work Circus, 1926-31, filmed by Carlos Vilardebo in 1961, is shown as part of the exhibition. This presents an assemblage of wire, leather and found objects fashioned into circus performers by Calder and animated by the artist for dedicated performances in Paris and New York.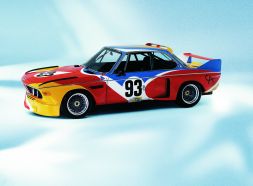 Calder's specially designed BMW car, the first of the company's Art Car series, will be on display in the grounds of IMMA adjacent to the exhibition. As a sculptor who normally devised his own shapes, Calder managed to free himself from the formal structure of the racing car and created a distinctive design using intensive colours and gracefully sweeping surfaces, again echoing his sculptures and mobiles.
Alexander Calder was born in Lawnton, Pennsylvania, in 1898. He attended the Art Students League, New York, from 1923 to 1926 and made his first wire sculpture in 1925. Calder developed this new method of sculpting by bending and twisting wire – he essentially "drew" three-dimensional figures in space. He is renowned for his striking mobiles, whose suspended, abstract elements move and balance in changing harmony. Calder also made large outdoor sculptures from bolted sheet steel for public buildings and spaces. He is also noted for his book illustrations and stage sets. Calder died in 1976 in New York.
Admission: €5.00; concessions €3.00.
Admission free for under-18s, those in fulltime education and on organised Museum programmes, and IMMA Members.
Admission free for all visitors on Fridays.
The exhibition is co-organised by the Norton Museum of Art, West Palm Beach, Florida, and the Calder Foundation, New York.
A substantial book, published by the Calder Foundation, Calder Jewelry, features more than 450 bracelets, brooches, necklaces, and rings, photographed in still life by photographer Maria Robledo. It also includes Calder's inventory drawings; boxes he made to transport and store the jewellery; historic photographs of his exhibitions and of jewellery worn by notable collectors and artists; and an extensive chronology. Essays by Mark Rosenthal and Jane Adlin, Associate Curator, Department of 19th-century Modern and Contemporary Art, The Metropolitan Museum of Art, discuss the relationship of these objects to the artist's other endeavours and in relation to the history of adornment. Other authors include: Alexander S.C. Rower, and artist Holton Rower, grandsons of Calder. To buy the catalogue click
here
The exhibition is supported by BMW and assisted by RTÉ Supporting the Arts and JCDecaux.
Related Links
Press Release
To buy the catalogue for this exhibition click
here
BMW