21 January – 28 March 2004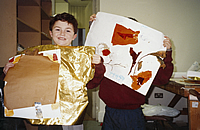 The Branching Out programme, an education and outreach programme supported by National Irish Bank, as part of IMMA's National Programme, enabled six venues – in Clonmel, Mullingar, Ennis, Tallaght, Limerick and Cork – to offer an engaging educational experience linked to exhibitions from the IMMA Collection to various groups within the wider community throughout 2003. As part of the initiative, six students from Limerick School of Art and Design curated an exhibition, Openings, which was exhibited in the Church Gallery, Limerick School of Art and Design, while artist Terry O' Farrell carried out a three-month residency in Raheen Hospital for Older People, Co Clare, working with over 100 day visitors, producing drawings in clay. Documentation of both these projects, as well as the results from the other four venues, will be shown alongside works from the IMMA Collection. This exhibition is curated by Johanne Mullan, National Programmer, IMMA.

An illustrated catalogue accompanies the exhibition with a foreword by Enrique Juncosa, Director, IMMA, and essays by Helen O'Donoghue, Senior Curator: Head of Education and Community, IMMA, and Johanne Mullan.