14 May 2009 – 4 April 2010
Between Metaphor and Object features a range of works from the IMMA Collection, primarily sculptures and installation works from the 1990s. It provides perspectives on the diversity of practice that is represented in the IMMA Collection from this period, explores its particularities, and considers them in the context of international trends of the decade. The title of the exhibition references perceived polarities in art since the 1960s and also proposes the idea of the continuous flux visited upon artworks in the mind of the viewer between symbolism and objecthood. Notably the exhibition incorporates a number of pieces from the Weltkunst Collection, which is on loan to IMMA since 1994. This significant collection of British sculpture and drawings of the 1980s and '90s will return to the Weltkunst Foundation in 2010 and the exhibition acknowledges the generous loan of these works.
The Weltkunst Collection epitomises what is popularly referred to as 'New British Sculpture', a term used to describe the quite disparate work of young sculptors who emerged in the late 1970s and '80s and who showed renewed interest in using traditional materials after the dominance of Minimalist and Conceptual practices. Figurative and metaphoric imagery reappeared, together with poetic or evocative titles. The principal artists associated with this movement and featured in the exhibition are Barry Flanagan, Shirazeh Houshiary, Anish Kapoor and Alison Wilding. Other key Weltkunst artists included in the exhibition are Avis Newman, Julian Opie, Jacqueline Poncelet and Richard Wentworth. The exhibition will also include other works of the 1990s from the IMMA Collection by artists such as Kiki Smith, whose presence references a central focus of the period on issues of identity, gender and the politics of the body and Ilya and Emilia Kabakov, whose works imply stories which must be imagined by their audience.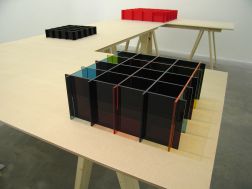 The international dominance in the 1990s of interactive art practices that draw on human relations and their social context, termed 'Relational Art', is not reflected in the Weltkunst Collection, although noted exponent Douglas Gordon does feature with the work Above all else, 1991. Literally Based on H.Z., 2006, by Liam Gillick, which investigates latter-day industrially-inspired production models, goes on view for the first time since its acquisition, on the Landing in the context of this exhibition.
To read the introduction text to the exhibition please download the following document:
Between Metaphor and Object: Exhibition text (Adobe Acrobat Reader pdf – 22.8KB)
To view the list of works in the exhibition please download the following document:
Between Metaphor and Object: List of Works from November 2009 (Word doc 2000 – 1.71MB)
Related Links
Liam Gillick, Literally Based on H.Z., 2006
Press Release
The Irish Times Slide Show – view highlights of the exhibition with curator Marguerite O'Molloy