The Project Spaces, 15.07.14 – 24.08.14
Unseen Presence is a group exhibition which chases concepts of time, repetition and suspense. The exhibition merges contemporary vision and ideals with an aim to imagine and re-call the past. Over the duration of the project works may be shown which are incomplete and some might be removed to make way for new ideas. Unseen Presence supports various research and studio practices of recent and current arts practitioners participating on IMMA's Residency Programme and serves as a testing ground for developing projects at the Museum.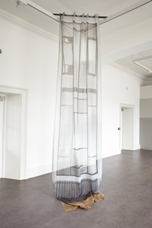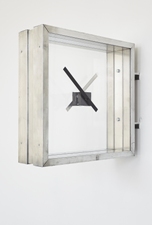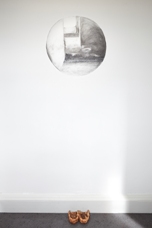 Using Hilaire Hilers 1939 Prismatarium as a starting point Becca Albee has adapted Hiler's use of a colour wheel set in contrast to grey bands on the walls.  Originally created as a "ladies lounge" in the Aquatic Park Bathhouse in San Francisco, it is currently a senior centre and maritime museum, hints of which are visible in the video. The grey mural will serve as a test site for the addition of other elements during the exhibition.
For Unseen Presence David Horvitz has contributed How to exit a photograph a photographic triptych whose print quality files are openly downloadable and printable. Want one? You can retrieve the files HERE. IMMA's Blog features Last Stop the Gravediggers: A dusk till dawn residency at IMMA, an interview with Horvitz about his unique time at the museum.
Antonia Low has photographed a window in the rambling hallways of the Palais des Beaux Arts in Bruxelles and printed the image as a voile. Hidden, forgotten and overlooked areas elude the customary lines of sight, permitting new possibilities as regards their use, purpose and charge.
Moon Room by Leung Mee-ping is a work about the artist's recollection of the first time she saw a Francis Bacon painting. For Unseen Presence Leung merged her personal memories and professional influences with new contexts which mirror the ambiguous spaces found in Bacons paintings.
From a basis in drawing Stephanie Nava is concerned with relationships, engagements and encounters with the natural world. Her work is a montage at its core, assembling ideas as much as images or objects in an inherently narrative form, for Unseen Presence Nava will continue to bring her visual interpretation of IMMA's environment to commence a new visual narrative.
Sonia Shiel's Parse is the story of a young girl determined to bring about the return of her mother from a trip to outer space, in accordance with the laws of jocular physics under which her world is ruled. Set in a cartoon-habitat, where things do fall slowly; space and distance are compressed; death is recoverable from and stars are souvenirs.
Nick Thurston's pocketbook Romantic Tragedy is a potentially infinite epic. It treats the recto-verso cycle of the codex book like an ox-eye daisy. With one ink, one fold, one staple and the equivalent of one A4 sheet of cheap recycled paper, it plays out a classically romantic, first-person tragedy.
Albert Weis' taped silver is a folded sheet of paper attached to the external wall with aluminium tape. The tape hides the paper but also highlights the hidden folds of a spatial structure which refers to the dimensions of the adjacent doors of the museum. In temps (hours) the illusion of a normal clock is given, the hands turn in synchrony, but in the opposite direction. Past and future are reflected and hold the present in the balance.
Open Studios | Saturday 19 & 26 July | 12:00  – 13:00
Talk | Saturday 26 July | 14:00 – 15:00 | Janice Hough discusses Unseen Presence with current residents in the Project Spaces at IMMA
Talk | Wednesday 13 August | 17:00 – 18:00 | Janice Hough discusses Unseen Presence with current residents in the Project Spaces at IMMA
For further information