15 June – 18 September 2011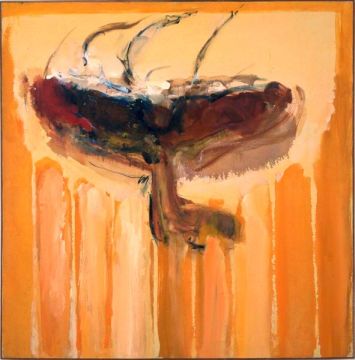 Organised to mark Barrie Cooke's 80th birthday, this exhibition includes some 70 paintings and sculptural works from the early 1960s to the present. It draws from the Museum's own significant holding of his works, including Slow Dance Forest Floor , 1976, Megaceros Hibernicus , 1983 and Electric Elk, 1996, as well as loans from various private and institutional collections.
Nature in its infinite variety and irresistible flux are Cooke's chosen subject matter, as well as the nude figure. Although primarily a painter, the exhibition includes examples of a series that he produced during the 1970s of 'bone boxes' in perspex. The show also feature collaborations through the years with a number of prominent poets, including Seamus Heaney, the British Poet Laureate Ted Hughes, and John Montague, all of whom have shared his fascination with the elemental.
Born in Cheshire, England, in 1931, Cooke moved to the US as a teenager and studied Art History at Harvard University. He then moved to Ireland in 1954 and had his first solo exhibition in Dublin the following year. He has been based in Ireland ever since. Cooke is widely travelled, and his richly expressionistic, semi-abstract paintings have been strongly influenced by the time spent in such far-flung places as Lapland, New Zealand, Borneo and Malaysia.
IMMA and The Lilliput Press are publishing a fully-illustrated colour catalogue to accompany the exhibition, which includes both newly commissioned and republished texts. Authors include Seamus Heaney, Brian Dillon and Karen Sweeney, Assistant Curator, Exhibitions, IMMA, as well as an interview with Barrie Cooke by artist Dorothy Cross and a foreword by IMMA Director, Enrique Juncosa.
Click
here to buy the catalogue. Price 35.00 euro.
The exhibition will travel to the Crawford Art Gallery, Cork, in November 2011.
Related Links
Click here for Press Release
Click
here to buy the Barrie Cooke catalogue
A Limited Edition print Book and Print, 2011, a co-signed collaboration between Barrie Cooke and Dermot Healy, is available to buy, for more information please follow the link to
IMMA Editions