8 March – 8 June 2014, Admission Free
Please Note: Visitors are warned that this exhibition contains flashing lights.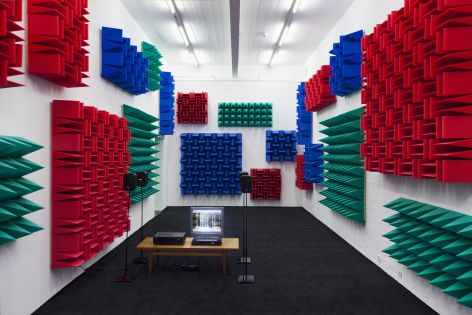 Haroon Mirza , Digital Switchover, 2012, Installation View, Kunst Halle Sankt Gallen, St.Gallen, 2012, 1 x control box, 4 x active speakers, 1 x relay, 1 x DVD player, 1 x TFT monitor, LEDs, foam. Courtesy the artist and Kunst Halle Sankt Gallen, Photo Gunnar Meier, © Haroon Mirza
This is the first solo museum exhibition in Ireland by the renowned British artist Haroon Mirza. Are jee be? is a new body of work created in direct response to the environment and architecture of IMMA. Combining a variety of readymade and time based material to create audio compositions, which are often realised as site-specific installations, Mirza's work complicates the distinctions between noise, sound and music.
Mirza's exhibition features remnants of the recent Eileen Gray exhibition at IMMA. Occupying the same gallery spaces, the Gray exhibition acts as a 'readymade' from which Mirza remixs elements to create a new visual and sonic installation. The new site-specific work, System,has been carefully conceived in response to the very particular architecture of the Royal Hospital Kilmainham. The title of Mirza's new work references the name of the Dublin based '90s nightclub venue System, which although only in existence for a few years framed a very specific moment in music, a genre of which heavily influences the artist's work. 
The exhibition also features a sequence of Solar Powered LED Circuit Compositions directly from the artist's studio and a new departure in Mirza's practice. These panels are controlled and activated by the amount of light in the space, and will change according to the time of day. Mirza also presents, in a new way, the infamous Björk YouTube video in which she poetically explains how she believes a TV works whilst dismantling the device.
Alongside IMMA, Mirza will present solo exhibitions in 2014 at Le Grande Café, Centre d'Art Contemporain, France; and at the Villa Savoye, France. He won the Daiwa Art Foundation Prize (2012), he was awarded the Silver Lion Award at the 54th Venice Biennale Illuminations (2011), and the Northern Art Prize (2010).
IMMA Blog – Read blog on the exhibition by IMMA curator Seamus McCormack
Please Note: Visitors are warned that this exhibition contains flashing lights.
Watch Youtube video with artist Haroon Mirza
Click here to watch video of artist Haroon Mirza talking about his exhibition and IMMA curator Rachael Thomas.
Talks
Lecture: A Critical Response to Haroon Mirza's exhibition Are jee be?
Thursday 5 June, 6pm – 7pm
Marking the final week of Haroon Mirza's exhibition, Luke Clancy (independent radio producer-presenter, Soundoable), draws on his research for the RTE Lyric FM series, Culture File and RTE Radio 1 series Sound Stories, to explore sound objects and audible culture, and their places within contemporary practice.
Click here to book
'90s Club Night at IMMA in association with Totally Dublin! – SOLD OUT
IMMA Presents '90s Club Night in association with Totally Dublin
Saturday 5 April, 8pm – Midnight, the Chapel, Tickets €10.00
SOLD OUT
IMMA has teamed up with Totally Dublin to present a Club Night that will transport you back to the '90s Dublin club scene. Artist Haroon Mirza will headline a retrospective of the music that created the Dublin rave scene. Featuring sets by DJs Donal Dineen (2FM), Adrian Dunlea (Sir Henry's, Cork) and Totally Dublin DJs this night is a tribute to club nights such as the System, Orbit and Dance Crazy.
Connect with this event on Facebook
The event is kindly sponsored by Tiger Beer, The Picture Works and Damson Diner.

Publication on Haroon Mirza Are jee bee?
The exhibition is accompanied by a publication supported by Lisson Gallery, London, which includes contributions by Christophe Cox (Professor of Philosophy at Hampshire College, Massachusetts); Michael Eng (Associate Professor, Department of Philosophy, John Carroll University, Ohio); Declan Long (Lecturer and Course Co-ordinator Art in the Contemporary World, NCAD, Dublin); Rachael Thomas (Senior Curator: Head of Exhibitions, IMMA); Séamus McCormack (Projects Co-ordinator: Exhibitions, IMMA); and an interview with Mirza and Hans-Ulrich Obrist (Co-Director, Exhibitions and Programmes and Director of International Projects at the Serpentine Gallery, London). The publication is  just €15.00. Click here to buy from the IMMA Shop
Visitor Information – Admission Free
Public Tours
Tour times: Tuesday to Friday 1.15pm, Saturday 12noon and 4.00pm, Sunday 2.30pm and 4:00pm. Each tour lasts 30 minutes. No booking required.
Book a Guided Tour
Pre-booked guided tours are available for special interest groups including schools, colleges and adult education. Booking required two weeks in advance. Tour times: Tuesday to Friday at 9.30am; 10:00am, 10.30am, 11.00am and 2.30pm.
Opening Hours
How to get to IMMA
Related Links
Mirza launched
http://www.o-o-o-o.co.uk/ which invites artists and musicians to download audio samples from his work, remix them, and then upload them back to the site via Sound Cloud.
http://www.clickfolio.com/haroon/ 
Press Release
Presented in partnership with: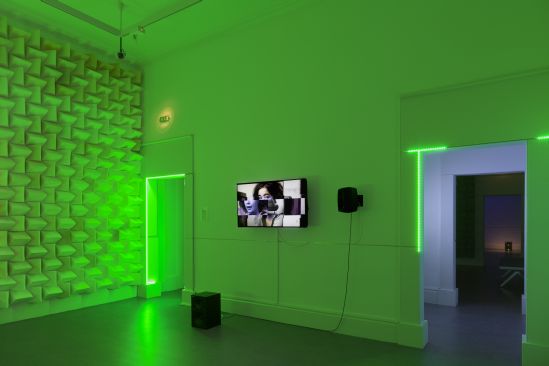 Haroon Mirza, The System, 2014, Foam, LEDs, custom multi-media player, electronics, speakers, 3 channel video, copper tape, mic cable, wire, bell, computer fan, ephemera from previous Eileen Gray exhibition. Installation View, Are jee be? Haroon Mirza, Irish Museum of Modern Art. Courtesy the artist. © Haroon Mirza. Photograph by Davey Moore