Becoming is a mid-career retrospective of the work of Alice Maher, one of Ireland's most respected and influential artists. Including painting, sculpture, photography and animation, the exhibition will include seminal works such as Berry Dress, 1994, from the IMMA Collection; Familiar, 1995, from the Crawford Art Gallery, and many other works held in IMMA's own Collection.  The title Becoming, hints at some of the main preoccupations of the artist and the themes that will be explored in the exhibition.  A dress can be becoming or flattering; one's behaviour can become you, as you act in an appropriate way within a social construct; but becoming also points at a point of transformation where something becomes something else, Maher's work has always placed itself at this nexus, a point of metamorphosis where there is continuous flux as states shift and the familiar becomes otherworldly or unknown – where the inappropriate and the unacceptable are constantly called into play.
Maher's work is itself in a state of continuous metamorphosis as her themes and interests have manifested themselves in differing states during the past twenty years.  Material transformation is evident as the artist has interrogated her subject through the use of painting, drawing, sculpture, video, and more recently digital technologies and new media.  Through constant change, reworking and examination, Maher uncovers evermore complex readings and meanings of the world around us.
Film Screening: Cassandra: fragments of a playscript – A film by Olwen Fouéré and Kevin Abosch from a text by Anne Enright
Thursday 14 to Sunday 17 February, Lecture Room, IMMA at NCH, All day screening. Admission free.
Twenty five years ago, Anne Enright wrote the beginnings of a playscript about the figure of Cassandra for the actor Olwen Fouéré. The text re-emerged in the catalogue of Alice Maher's mid-career retrospective Becoming and ignited Alice Maher's creation of her most recent work Cassandra's Necklace.
Alongside this project, Olwen Fouéré, having collaborated with Alice Maher at an early stage of Cassandra's Necklace, embarks on her own exploration of Enright's text. Performed by Olwen Fouéré and co-directed by Kevin Abosch, the film has been shot in the disused medical and forensic laboratories of the former University College Dublin at Earlsfort Terrace.
Live Performance – The Gift: A respone to Cassandra's Necklace by Alice Maher
Wednesday 30 January 2013 at IMMA at NCH at 7.00pm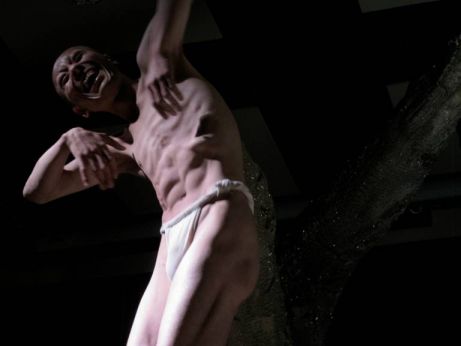 This performance took the form of a live improvisation featuring Paris-based Japanese Butoh dancer Gyohei Zaitsu, composer/keyboardist Trevor Knight and lighting designer Aedin Cosgrove. This performance marks the final days of Maher's exhibition Becoming.
Alice Maher Catalogue
A fully-illustrated catalogue, published by IMMA and distributed by D.A.P. New York, will accompany the exhibition, with texts by Dr Penelope Curtis, Director of Tate Britain; Booker Prize-winning author, Anne Enright; Dr Ed Krčma, Lecturer Modern and Contemporary Art, UCC; Dr David Lloyd, Professor of English at the University of Southern California; Dr Catherine Morris curator and author of Alice Milligan and the Irish Cultural Revival (Four Courts Press, 2012), and curator of the exhibition Seán Kissane. Price €30.00. The catalogue will be available to buy from the IMMA Bookshop or online from 6 October at

The IMMA Shop.
New Alice Maher IMMA Limited Edition now available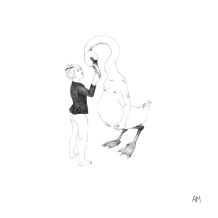 Alice Maher has created a third limited edition for IMMA, price €25, which is available to buy from the IMMA Bookshop, email: [email protected] Please click on the image to see it in larger scale.
Edition details: Alice Maher, Leda's Choice, Silk handkerchief, Edition of 200, Irish Museum of Modern Art, Printed by Glasgow School of Art, Centre for Advanced Textiles,
Sewn by Fashion Hothouse, Dublin
Alice Maher – Biography
Born in 1956, Alice Maher studied at the University of Limerick and the Crawford College of Art, Cork.  She was awarded a Master's degree in Fine Art from the University of Ulster and shortly after a Fulbright Scholarship to San Francisco Art Institute.  Her work involves many different media including painting, drawing, sculpture, print, photography and installation.  She has exhibited widely in Ireland, England and the United States, and represented Ireland in the 22nd São Paolo Bienal.  In 2008, the David Nolan Gallery in New York hosted a solo exhibition of new drawings and sculptures titled Hypnerotomachia.  In 2007, a large survey show of her work, Natural Artifice, was held at the Brighton and Hove Museums.  Also in that year she completed a major drawing installation, The Night Garden, for the Royal Hibernian Academy in Dublin.
Education Information and Gallery Guide
Alice Maher Exhibition Gallery Guide: Information and resources about the exhibition


Click here to download the gallery guide (Acrobat Reader, Adobe PDF – 3.46MB)
Second Level Schools Programme – Resources for students and teachers
Visiting an exhibition: Resources for students and teachers
Part 1: Visiting an Exhibition
Part 2: Alice Maher Becoming
To download the notes please click 

here to go to the Second Level Schools webpage.
Primary School Programme – Teachers Notes
Tour notes for Primary School Teachers are available for Alice Maher's exhibition, to download the notes please click

here to go to the Primary Schools webpage.
Related Links
Press Release
The exhibition is supported by THE IRISH TIMES.